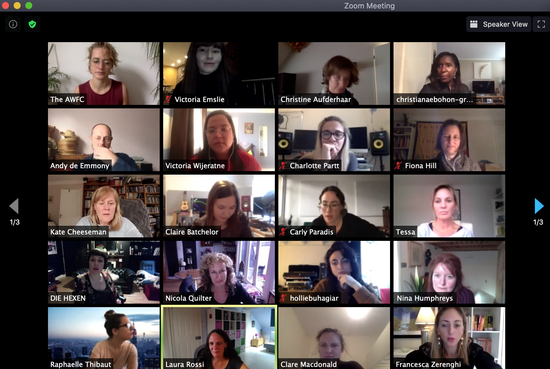 Directors x Composers Primetime Pledge Event
Did you know that last year, 94% of Box Office films were scored by men? As one of the most underpresented departments within the Entertainment Industry we would like to do something proactive about that.

Following our successful Primetime Pledges event for the Camera Departement, we wanted to take this moment of pause as an opportunity to connect Directors & Composers so that as the Industry gets back up on its feet, more female and underrepresented composers will be in the mix for work.
On Thursday 11th June, 5pm BST, we hosted our first virtual Primetime Pledges event with members from LA, to New York to all around UK and Germany. In just over an hour we fasciliated almost 60 1-2-1 meetings between Directors and Composers, many of whom have been in touch since regarding upcoming work. Due to the nature of COVID, the "pledge" aspect is optional, but we hope these meetings will prove fruitful as the Industry starts up again. Watch this space.
For the event we teamed up with the Alliance for Women Film Composers and our Media Partner Cinegirl, who will follow up with all those who work together after this session and highlighting the need to bring people from different departments together in this way. Big shout out to Jenna at AFWC for creating some great content for the session. We also surprised 4 members with an invitation to meet with Ed who is an agent at Manners McDade.
Big thank you to all the Directors who gave their time to work towards more inclusive teams for their upcoming projects, including: Laura Scrivano, Ed Lilly, Christiana Ebohan-Green, Andy De Emmony, Kate Cheeseman, Polly Steele, Tessa Hoffe, Clare MacDonald, Nicola Quilter, Jo Southwell, Lucy Brydon and Emily Lobenz.
For anyone who is asking the question, "Where are all the female composers?" here's a list of brilliant women who attended the event. Hire them! #NoMoreExcuses
Natalie Holt
Sarah Warne