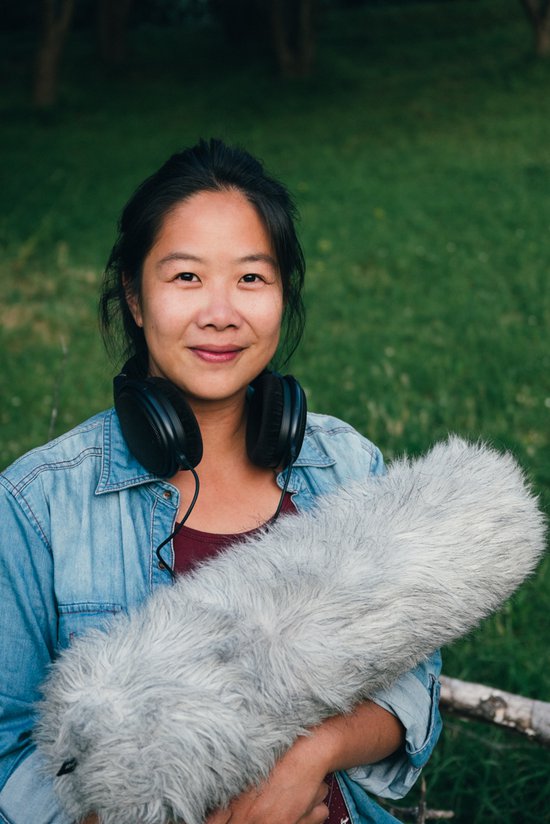 View Stefanie Ng's Primetime Profile
Stefanie is known for her work on The Hobbit Trilogy, The Adventures Of Tintin, Mortal Engines, Another Life and League Of Gods.

Photo credit: Matt Evans

"I've been working with mostly the same Wellington crew since I started at 19; I started off in a trainee position, became an assistant, moved up to first assistant, and am now editing."

WHERE ARE YOU BASED AND HOW DOES THIS PLAY INTO THE WORK THAT YOU DO?
I had just moved to London at the beginning of the year, but due to Covid am currently back home in Wellington, New Zealand! A return to London is definitely the plan once the post-production industry kicks off again. I have been working in Wellington since the beginning of my career.


WHAT INSPIRED YOU TO WORK IN SOUND?
The Behind the Scenes series for Lord of the Rings! I watched it when I was 16. People were whirling cheese graters around on strings to record the wing flap whooshes for the Nazgul. I loved how quirky that was! Before that, I had no idea that sound for the screen was a job - or how much thought goes into film-making in general.


HAS MENTORSHIP PLAYED A ROLE IN YOUR CAREER AND TO WHAT EXTENT?
Not one specific mentor. I've been working with mostly the same Wellington crew since I started at 19, and they've taught me so much. I've been lucky that everyone has always been welcoming and willing to share their knowledge. I started off in a trainee position, became an assistant, moved up to first assistant, and am now editing.


WHAT HAS BEEN THE GREATEST CHALLENGE YOU HAVE HAD TO OVERCOME TO GET TO WHERE YOU ARE NOW?
I'm still learning to overcome it - imposter syndrome! Several times I've caught myself thinking "oh, well they don't have anyone else for that spot, so that's why I've got it". How can I expect others to back me if I don't back myself? I'm still here because I've done the work, and been recognised for it by my peers.


ARE THERE ANY WOMEN WHO YOU PARTICULARLY LOOK UP TO OR WHOSE WORK YOU HAVE BEEN INFLUENCED BY?
Shout out to Mel Graham and Michelle Child, my favourite Wellington lady soundies! Both talented sound designers / supervisors, and A+ humans. I had the pleasure of meeting Midge Costin last year, who is a veteran supervising sound editor and also director of the excellent documentary "Making Waves:  The Art of Cinematic Sound". I would recommend this film to everyone - it really breaks down the elements of a soundtrack and how they all work together.  


WHAT ADVICE WOULD YOU GIVE TO YOURSELF WHEN STARTING OUT?
I would asked more questions at the very beginning, which I was hesitant to do at the time because I was too shy. Pushing myself out of my comfort zone is something I feel I should do more, even now.
IS THERE ANYTHING THAT WOULD MAKE YOUR JOB/ GETTING WORK EASIER?
Ha, a vaccine for Covid-19!? Sound editors with a home setup were well-placed during the lockdown, I think having the gear to work from home is important now more than ever. We watched all the shows during lockdown, we want fresh stuff! There is so much content that will be produced over the next few years, over so many competing streaming services. Audiences now have an eye for high-end production values. Being accessible to productions remotely will be a huge advantage, especially while Covid is hanging around.


THE TIME'S UP MOVEMENT IS NOW IN ITS SECOND YEAR. HAVE YOU NOTICED ANY CHANGES SINCE IT STARTED?
We are all talking about the gender imbalance a lot more now, even though it's been so apparent (to me) all this time. Sound post-production is a male-dominated industry. The last couple of years I've had several students reach out to ask why they're doing their theses on it. But their screen production / tech classes have the same gender ratios as mine did 15 years ago. I do think things will change, but they're just happening too slowly. 


WHAT ARE THE ESSENTIALS THAT YOU TAKE TO WORK WITH YOU?
ProTools is essential for the post-sound world! A tea flask, because I always get absorbed in what I'm doing and it goes cold too quickly. My headphones (Sennheiser HD650s) are essential for dialogue work, and essential for my poor neighbours when doing dialogue work from home. Remember not everyone loves film as much as you do…  


WHAT HAS BEEN ONE OF YOUR GREATEST SUCCESSES SO FAR?

When I was still at high school, people thought I was odd for wanting to pursue sound editing. The careers counsellor didn't have a brochure for that, no one in my family worked in the creative industries, we didn't know anyone who worked in film. Sound editing was an unfamiliar grey area, and I felt like people thought I was wasting my time - like film was a hobby thing, and everyday people don't work in it. I am proud of how far I have been able to come in my career, and the contributions I have made to the projects I've been involved with.


COULD YOU TELL US HOW YOU ARE KEEPING BUSY DURING LOCKDOWN - HAVE YOU DISCOVERED SOMETHING NEW THAT IS BRINGING YOU JOY?
I jumped on the Zoom train and began watching soundie webinars and meeting new people.  It was nice to meet more of the sound community online, as I couldn't meet them in their natural environment of the pub. That was the productive stuff. I also spent a lot of time ignoring the workout schedule I made on Day 1, and watching cleanups of hoarder houses at 3am. Eventually I decided to go back to New Zealand, and by the time I came out of my two week hotel isolation all restrictions had lifted. Life is mostly back to normal here.


WHAT IS YOUR BEHIND THE SCENES PASSION OUTSIDE OF WORK?
I think I've gotten a lot better at the work-life balance. It's much easier to recover from 20 hr work days in your early twenties!  At the risk of sounding like an 80 year old, I do like to grow my own veges. It's something tangible and practical - and you can see the results, unlike when you turn your computer off at the end of the day. I'm also aspiring to become a master of the hand-pulled noodles.  It's a really rock'n'roll lifestyle.


WHAT IS YOUR FAVOURITE QUOTE OR MANTRA?
"Don't be a dick" - you could be the best in the world, but no one's going to enjoy working with you if you're horrible to be around.