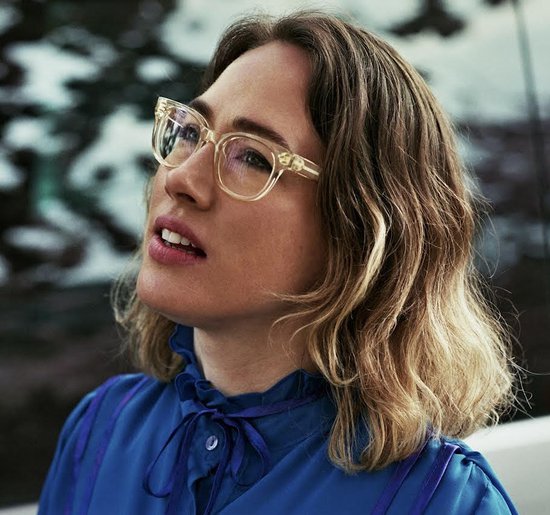 View Carly Paradis's Primetime Profile
Carly is known for her work on Line of Duty, The Innocents and The Rising which is due to air April 22nd 2022!
It's not very often you feel so on the same wavelength and connected with collaborators. It's really inspiring and you pour your everything into it, which pushes you to try new things and evolve yourself.


WHERE ARE YOU BASED AND HOW DOES THIS PLAY INTO THE WORK THAT YOU DO?

I'm based in east London (Hackney) and originally from Canada. I feel surrounded by creativity and creative people in this area so inspiration is not far away at any moment. I bump into Martin Phipps (composer of The Crown) going to the corner shop.

WHAT INSPIRED YOU TO BECOME A COMPOSER?

Hearing my parents vinyl of Elton John's 'Yellow Brick Road' as a kid.
Learning Frederic Chopin's piano works.
Growing up with 80's films having epic thematic scores like Alan Silvestri's 'Back to the Future'. 
Clint Mansell. Oh and being named after singer songwriter Carly Simon.


HAS MENTORSHIP PLAYED A ROLE IN YOUR CAREER AND TO WHAT EXTENT?

Yes, I once reached out to one of my favourite composers Clint Mansell and 6 months later he asked me to perform piano of his works at the Ghent Film Festival. Then do some piano arranging and playing on Duncan Jones Bafta winning film 'MOON'. Through touring live in Clint's band and doing some arranging, I really soaked up a lot and grateful for the experiences.
During the pandemic I had the opportunity to mentor talented composer and artist Alexandra Hamilton-Ayres. Was a lovely experience and felt we both learnt from each other and a great support system during the scary early lockdown days.


WHAT HAS BEEN THE GREATEST CHALLENGE YOU HAVE HAD TO OVERCOME TO GET TO WHERE YOU ARE NOW?

Dealing with isolation and persevering. Being a media composer can be a very lonely job, so working hours, days, and even weeks alone writing/producing can be normal. I moved from Canada to UK so being away from family and friends while pursuing my love of music also had its challenges. I've always kept my Québécois grandfathers words close to heart, ' La persévérance est la clé du succès'.


ARE THERE ANY WOMEN WHO YOU PARTICULARLY LOOK UP TO OR WHOSE WORK YOU HAVE BEEN INFLUENCED BY?

Imogen Heap
Fiest 
Carly Simon
Annie Lennox
Meredith Monk
Anna Meredith
Claire M. Singer 
Karen Carpenter
Stevie Nicks


WHAT ADVICE WOULD YOU GIVE TO YOURSELF WHEN STARTING OUT?

Be patient and enjoy the journey. This is gonna be a lifetime of work.


IS THERE ANYTHING THAT WOULD MAKE YOUR JOB/ GETTING WORK EASIER?

Having a full time assistant.


THE TIME'S UP MOVEMENT IS NOW IN ITS FIFTH YEAR. HAVE YOU NOTICED ANY CHANGES SINCE IT STARTED?

Yes I have but I think it will still take a long time before we are not asking these types of questions.


WHAT ARE THE ESSENTIALS THAT YOU TAKE TO WORK WITH YOU?

Water bottle, a piano, a functioning computer system, French press coffee maker, wrist gel rest, Magic Mouse and citrine crystal.


WHAT HAS BEEN ONE OF YOUR GREATEST SUCCESSES SO FAR?

Line of Duty series hitting over 12 million viewers. Playing piano for Clint Mansell. Performing my score of The Innocents at the BBC Proms Royal Albert Hall with London Contemporary Orchestra.


THE LAST COUPLE OF YEARS HAVE CHANGED THE WORLD AND OUR INDUSTRY AS WE KNOW IT - DID YOU DISCOVER SOMETHING ABOUT YOURSELF OR TAKE UP A NEW HOBBY THAT BROUGHT YOU SOME JOY?

Literally worked like I was living on a space station during first lockdown so realized I need to spread my energy better. Also, did a lot of projects where I never met in person any of the team while working on the project which is cool, but I miss bonding in person.


WHAT IS YOUR BEHIND THE SCENES PASSION OUTSIDE OF WORK?

Ice hockey, rocks, cottage life and baby ducks. Not in that order.


TELL US SOMETHING ABOUT YOURSELF THAT MANY PEOPLE MAY NOT KNOW.

My favourite colour is green and I've wanted to be in a rock band since I was very little.


WHAT IS YOUR FAVOURITE QUOTE OR MANTRA?

'The cure to anything is Salt water. Sweat, tears or the Sea'.


IS THERE SOMETHING YOU LEARNT ON THE RISING THAT YOU'LL TAKE WITH YOU ON FUTURE PROJECTS?

Primetime invited me to a Director x Composer 'speed networking' virtual event [Primetime Pledges]. It was here I met director Ed Lilly and we hit it off very early (we were also wearing the same thing in our first meeting haha). We went on to collaborate on 'The Rising' which has been such an organic, collaborative, energized experience. We were all there for the same reason, to kick ass on this project we were all so passionate about it.
It has felt like a team through the whole process from the actors, music supervisor, producers, costume designer and beyond. It's not very often you feel so on the same wavelength and connected with collaborators. It's really inspiring and you pour your everything into it, which pushes you to try new things and evolve yourself.