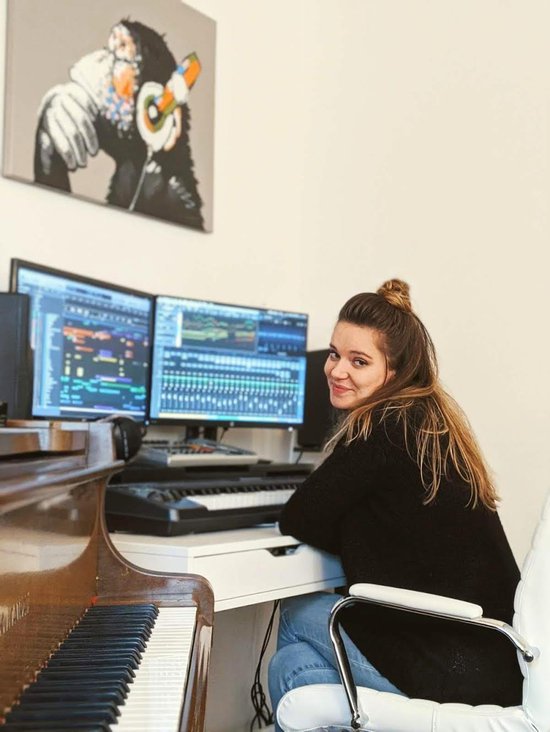 View Sandrine Rudaz's Primetime Profile
Sandrine is known for her work on Find An Identity, Sailing Through Life, Aylesbury Estate, Fate Of The Night, Jiva and the upcoming A For Alpha for HBO.
"When words fail, music speaks."

WHERE ARE YOU BASED AND HOW DOES THIS PLAY INTO THE WORK THAT YOU DO?

I'm based in California. What's great about being a composer is that your location doesn't matter. Even though most of the projects I work on are made in Los Angeles, I'm also working for productions from around the world! I just wrapped up a film produced in New York and I'm about to start another one made in my home country: Switzerland.


WHAT INSPIRED YOU TO BECOME A COMPOSER?

Music has always been part of my life. I entered into the Conservatory in Switzerland at the age of 4 to play the piano and in my early teenage years I simply fell in love with the music of composers like Ennio Morricone and Yann Tiersen. At the same time, I developed a passion for music composition, so going into film music as a profession happened very naturally. I literally couldn't imagine myself doing anything else. What probably attracted me the most is the power that music can have on the emotions of the audience. I was moved by the music of many movies I watched, so my dream was simply to do the same and touch people's hearts with my music.


HAS MENTORSHIP PLAYED A ROLE IN YOUR CAREER AND TO WHAT EXTENT?

That's I think how any career should start. I had the pleasure of meeting composer Hummie Mann while completing my Master's degree in film music. He was truly instrumental in raising me from a student to a professional composer with the necessary skills and mindset to jumpstart my career.


WHAT HAS BEEN THE GREATEST CHALLENGE YOU HAVE HAD TO OVERCOME TO GET TO WHERE YOU ARE NOW?

Starting from nothing and building my own business. Being a composer is not just about writing music. We're entrepreneurs, CEOs of a small startup that grows fast. We sometimes manage more than 100 people if you count musicians. All the business skills I acquired over the years are as important as my musical background.


ARE THERE ANY WOMEN WHO YOU PARTICULARLY LOOK UP TO OR WHOSE WORK YOU HAVE BEEN INFLUENCED BY?

One composer that particularly moved me is Rachel Portman, the first female composer to win an Academy Award. Her music is simple yet very distinctive and powerful.


WHAT ADVICE WOULD YOU GIVE TO YOURSELF WHEN STARTING OUT?

Be confident and believe in your work! There will inevitably be a lot of rejections. This job is about channeling those moments into better and more powerful music!


IS THERE ANYTHING THAT WOULD MAKE YOUR JOB/ GETTING WORK EASIER?
People realizing that composers can actually work remotely for the exact same result. Many directors I worked for really prefer to work with someone who lives close by. Often, we don't even have time to meet in person as the deadlines are so tight. Some don't realize that even if my studio was on the top of a mountain in Switzerland the result would be the same.


THE TIME'S UP MOVEMENT IS NOW IN ITS SECOND YEAR. HAVE YOU NOTICED ANY CHANGES SINCE IT STARTED?

There's an emulsion of initiatives for women! For example, in my field, there are more and more organizations devoted to female composers and many workshops or awards for women composers only. It takes time, but things are definitely changing and improving for women. I'm super positive about it!


WHAT ARE THE ESSENTIALS THAT YOU TAKE TO WORK WITH YOU?

My studio is packed with a lot of equipment and instruments, but all I really need to get started is a keyboard and a computer with the right software.

WHAT HAS BEEN ONE OF YOUR GREATEST SUCCESSES SO FAR?

Success is a very relative concept. I was recently nominated to and won many awards, including a Hollywood Music in Media Award which was a major thing for me. Some people may judge it as a "success". But I think that my greatest success is that my job is to do what I love the most. I write music to move audiences. And when I achieve it, to me, that's a success. I'm currently finishing up the score of HBO's "A" for Alpha. It's a powerful story that asks relevant questions. What is the role of the man in a relationship in today's society? What's acceptable or not for men and women? I produced a modern score with subtle touches of hip-hop and soul that I can't wait to share! I'm also waiting on two new feature films and starting to plan the production of my second piano album that will be released at the end of the year.


WHAT IS YOUR BEHIND THE SCENES PASSION OUTSIDE OF WORK?

One of the reasons why I love cinema so much is that it brings together many different forms of art, and I simply love art in all its forms. From my early childhood to my teenage years, I practiced a lot of different dance styles, going from classical dance to modern. Nowadays, I love to take photos in my free time and I practice yoga.


WHAT IS YOUR FAVOURITE QUOTE OR MANTRA?

"When words fail, music speaks."