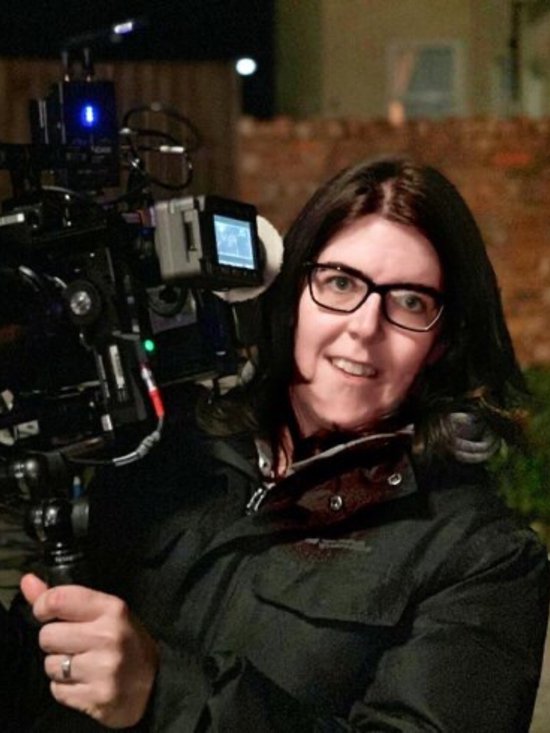 View Zoe Goodwin-Stuart ACO GBCT's Primetime Profile
Zoe is known for her work on 'The Rising' on Now TV, 'Stay Close' on Netflix and the upcoming movie 'Wonka' set to release in 2023. She is a board member of the Association of Camera Operators as well as a member of Women Behind the Camera. She is repped by Laurily Adams at Sara Putt Associates.
Zoe Goodwin-Stuart ACO
Camera Operator
To myself, and everyone starting out really: don't berate yourself too much. Everyone's learning capacity is different I say this to trainees all the time. No one is the same as you, don't compare yourself to other people, take your own path if it's right for you then it's right.

WHERE ARE YOU BASED AND HOW DOES THIS PLAY INTO THE WORK THAT YOU DO?

I live in the Cotswolds near Stratford Upon Avon and it's a great place to be. I have never worried about where I live in terms of my work as I have always had to travel. The UK is so busy right now with Film and TV productions shooting up and down the country that its become less and less London centric. Being in the countryside is also the perfect antidote to getting a work life balance for me.

WHAT INSPIRED YOU TO BECOME A CAMERA OPERATOR?

I was always a keen photographer and loved composition and capturing moments in time. My love of films was from a very young age where my Nan would take me to the pictures every Saturday. But I think for me it was only when I stepped on set for the first time did I really fall in love with the idea of becoming an operator. At the time I had no idea how to get there but I knew that was what I wanted to do.


HAS MENTORSHIP PLAYED A ROLE IN YOUR CAREER AND TO WHAT EXTENT?

Definitely, I've been extremely lucky to have had some of the best mentors I could ask for. From being a fledgling operator and having a great operator/DP Andy Payne stay behind after work with me and during lunch giving me tasks and challenges to up my skillset. Jamie Harcourt teaching me the art of dancefloor dolly work. And countless other Operators and DPs helping me get to grips with new skills and tricky situations. Not to mention the 1st ACs and Grips who are an invaluable source of knowledge and can keep you up to date with the rapidly changing world of tech in the Film and TV industry. I guess the short answer to this is there are too many to mention!


WHAT HAS BEEN THE GREATEST CHALLENGE YOU HAVE HAD TO OVERCOME TO GET TO WHERE YOU ARE NOW?

When I look back over my career so far there have been some challenging times. Mainly, disappointments I guess. At the time you think I missed my opportunity, or, why didn't I get that job? But I think, if you talk to anyone in this industry we've all experienced them. Its important to remember that you learn from every experience negative or positive. You have to challenge yourself push yourself to get better, learn your craft. But, like I said in the previous questions I have been supported by friends and colleagues in the industry to get through the challenging times.


ARE THERE ANY WOMEN WHO YOU PARTICULARLY LOOK UP TO OR WHOSE WORK YOU HAVE BEEN INFLUENCED BY?

Many. I've been lucky enough to work with some incredible women in my career both behind and in front of the lens. From an operating standpoint Lucy Bristow was the first female camera operator I had ever heard of she was a trailblazer. I spent a long period of my career being the only woman I knew operating. So, she was defiantly someone to look up to. In terms of DPs I have over the last few years formed a great working relationship with Dale Elena McCready BSC who has pushed me and taught me so much. I have a great respect and admiration for Mandy Walker ACS ASC her work is always so tonally right for each project and I think she has broken through that Hollywood glass ceiling so many women have been sadly and wrongfully unable to do. That its changing now thankfully but obviously there's still a long way to go to achieve parity. So many women inspire me right now, the amount of women I see on set now in technical roles on the floor has risen incredibly since I first started 17 years ago that is amazing and long may it continue.


WHAT ADVICE WOULD YOU GIVE TO YOURSELF WHEN STARTING OUT?

To myself, and everyone starting out really: don't berate yourself too much. Everyone's learning capacity is different I say this to trainees all the time. No one is the same as you, don't compare yourself to other people, take your own path if it's right for you then it's right.


IS THERE ANYTHING THAT WOULD MAKE YOUR JOB/ GETTING WORK EASIER?

Tough one, I'd probably take the politics out of the negotiations with productions over rates, kit etc.


THE TIME'S UP MOVEMENT IS NOW IN ITS FIFTH YEAR. HAVE YOU NOTICED ANY CHANGES SINCE IT STARTED?

For sure, I think productions and crews in general are more engaged with equality in the workplace. But, they still have a long way to go. The significant change I've seen is with the men on set. The old days of misogyny are certainly not as prevalent. The "lads, lads, lads" mentality has, in my experience for the most part gone away. However, there are still too many instances where I have heard of sexual misconduct, harassment, inequality in pay and treatment and discrimination. This has to be on the agenda of the Productions and Studios themselves. There is no point in actively employing women in the workplace if they can't keep them safe. Protecting their interests ahead of those of the are supposed to be keeping safe in their workplace is not acceptable.


WHAT ARE THE ESSENTIALS THAT YOU TAKE TO WORK WITH YOU?

A coffee mug and water bottle, my equipment and a sense of humour.


WHAT HAS BEEN ONE OF YOUR GREATEST SUCCESSES SO FAR?

Most definitely working as B Camera Operator on a Feature film. It was incredible. Never in my wildest dreams did I think when I started my career that I would be shooting a film for Warner Bros. There were definitely pinch yourself moments every day.


THE LAST COUPLE OF YEARS HAVE CHANGED THE WORLD AND OUR INDUSTRY AS WE KNOW IT - DID YOU DISCOVER SOMETHING ABOUT YOURSELF OR TAKE UP A NEW HOBBY THAT BROUGHT YOU SOME JOY?

During lockdown like most people, I tried my hand at almost everything to keep myself busy and occupied but the one that has stuck is Boxing. It has definitely helped with my mental health and fitness and is hard work and I like learning something that pushes you mentally and physically. Plus, my banana bread was a disaster!


WHAT IS YOUR BEHIND THE SCENES PASSION OUTSIDE OF WORK?

Liverpool Football Club. Best team in the world.


TELL US SOMETHING ABOUT YOURSELF THAT MANY PEOPLE MAY NOT KNOW.

I play the drums and was a Vinyl DJ through university and won a couple of DJ awards.


WHAT IS YOUR FAVOURITE QUOTE OR MANTRA?

Life is not a rehearsal.


IS THERE SOMETHING YOU LEARNT ON 'THE RISING'/ 'WONKA' THAT YOU'LL TAKE WITH YOU ON FUTURE PROJECTS?

I think on every job you learn new things and if you don't maybe there's something wrong. Overcoming challenges and difficulties on a shoot is part of the process of making TV and Film. Over the course of my past three jobs, I have significantly improved in the skill of operating with wheels and geared heads. Thanks to supportive teams and great grips. Most skills and tips I've ever learnt as an operator has always been thanks to the guidance and knowledge of the people around me. It's a collaborative environment and it has to be, it's the only way to get the best out of everyone.