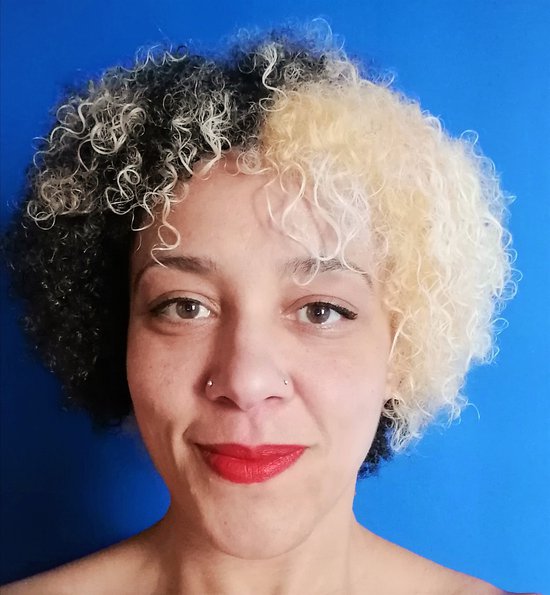 View Zeb Achonu's Primetime Profile
Zeb is known for her work on Jimmy Akingbola: Handle With Care (ITV), Queens of Rap (Channel 4) and Where Have All the Lesbians Gone? (Channel 4). She is repped by Sara at Sara Putt Associates.
Be open to new experiences. Absorb as much as you can from your peers, not just the technical stuff, but the people skills involved in editing. Be confident in what you know, and sure of what you can fake. Don't be afraid to ask. The edit community is so much better connected now than when I started out. Plus having the internet in your pocket at all times is a game changer!


WHERE ARE YOU BASED AND HOW DOES THIS PLAY INTO THE WORK THAT YOU DO?

I am based in London, which was obviously useful for the start of my career, as I was able to work at the BBC in White City and later on at the various post facilities across London without having to relocate. These days I work mostly from home so I am able to work anywhere remotely, which has led to some interesting opportunities across the UK and in the USA. It's great to be able to work remotely with people, and the technology available to us makes this fairly simple, allowing me to have a much better work life balance, and to actually see my family and friends outside the industry!


WHAT INSPIRED YOU TO BECOME AN EDITOR?

I sort of fell into it without realising it was an option and discovered my role models as I went along. Looking back over my career I see points where I was starting on the path, like experimenting with VHS recordings in my early teens, and making scratch videos with uni equipment. I got onto a BBC Post Production Apprenticeship scheme in 2000, and, having always thought I would work in sound, discovered an interest and skill in editing the pictures as well. Once I got properly into the role I started to look at my editing peers, and further afield. Although I really enjoyed my role, it was still a few years before I realised I had found my ideal job, and that was after taking part in the Women in Film & TV mentoring scheme. It was only then I was able to allow myself to focus on the type of work I wanted to do and really found my stride and started aiming towards my areas of interest.


HAS MENTORSHIP PLAYED A ROLE IN YOUR CAREER AND TO WHAT EXTENT?

100%! I have mentored and menteed, and there is so much to gain in both positions. I was mentored for the first time on the Women in Film & TV mentoring scheme, and again as a One To Watch on the Edinburgh TV Festival's scheme. Both of those schemes went beyond traditional mentoring and involved other sessions and peer support, which was incredibly motivating. Having had mentoring at different stages in my career, I have looked for and got different things from it, each time incredibly valuable.
I have also been a mentor for both WFTV and Edinburgh TV Festival's The Network participants, as well as through other sources, and find it very interesting to be on the other side. It's useful knowing what I want to be able to offer and also what I would look for in a future mentor myself.


WHAT HAS BEEN THE GREATEST CHALLENGE YOU HAVE HAD TO OVERCOME TO GET TO WHERE YOU ARE NOW?

Hanging on in there through expectation of my abilities, when I knew I didn't fit the usual image of an editor. I used to say I enjoyed the challenge of proving people wrong, or challenging stereotypes, but being not what people expect can subtly eat away at you, and the constant proving yourself worthy is EXHAUSTING, and a waste of everyone's time. Also, motherhood has been the most obviously difficult thing for me. There is no easy way to do it and hold down an intense job like editing, always juggling and feeling the "mum guilt". Working from home has helped with the mum guilt, but the intensity and the time juggle still exists! With both of these challenges I have realised that it's so important to find your tribe or your cheerleaders and stick with them. They will raise you and you must raise them too.


ARE THERE ANY WOMEN WHO YOU PARTICULARLY LOOK UP TO OR WHOSE WORK YOU HAVE BEEN INFLUENCED BY?

My current edit role models are Una Ni Dhonghaile and Elen Pierce Lewis. Their talents are immense and both are genuinely nice women! Also, my friend, the sound mixer, Emma Butt, for her consistent efforts to raise the levels of diversity in all of post production.


WHAT ADVICE WOULD YOU GIVE TO YOURSELF WHEN STARTING OUT?

Be open to new experiences. Absorb as much as you can from your peers, not just the technical stuff, but the people skills involved in editing. Be confident in what you know, and sure of what you can fake. Don't be afraid to ask. The edit community is so much better connected now than when I started out. Plus having the internet in your pocket at all times is a game changer!


IS THERE ANYTHING THAT WOULD MAKE YOUR JOB/ GETTING WORK EASIER?

Longer schedules, more edit time, trust, pay transparency, flexible childcare. Working from home and having an agent has definitely helped massively in both of those areas.


THE TIME'S UP MOVEMENT IS NOW IN ITS FIFTH YEAR. HAVE YOU NOTICED ANY CHANGES SINCE IT STARTED?

I think there is a greater awareness of what equality should look like in the workplace, and hopefully people are more likely to stand up and speak out about discrimination, harassment or bullying, or feel secure that we would have the necessary backing if we were to be in an uncomfortable situation. There is still a long way to go but there are far more conversations being had now.


WHAT ARE THE ESSENTIALS THAT YOU TAKE TO WORK WITH YOU?

Snacks, charger, notebook and pen.


WHAT HAS BEEN ONE OF YOUR GREATEST SUCCESSES SO FAR?

I have had many personal successes, but most recently for me it's been the chance to work on a range of music documentaries. Having been told about a year ago that there were very few music docs being made, I've since worked on Queens Of Rap, a music doc for Channel 4, Iconic Albums for BET, a 3-part series for BBC 1Xtra about British music scenes Jungle, Garage and Grime, and a music feature documentary. It's great to be able to combine my passions outside work with my job.


THE LAST COUPLE OF YEARS HAVE CHANGED THE WORLD AND OUR INDUSTRY AS WE KNOW IT - DID YOU DISCOVER SOMETHING ABOUT YOURSELF OR TAKE UP A NEW HOBBY THAT BROUGHT YOU SOME JOY?

I certainly run a lot more than I used to, because I have the time back that I used to lose to the commute! Also, it's not really a hobby, but being able to do the school run more often, due to working from home, has been wonderful!


WHAT IS YOUR BEHIND THE SCENES PASSION OUTSIDE OF WORK?

Singing. I've always sung in bands and choirs. I think it's quite common for editors to be involved in music making of some sort.


TELL US SOMETHING ABOUT YOURSELF THAT MANY PEOPLE MAY NOT KNOW.

I have toured Europe with a band called Euphonic, released three albums of solo material as Neech, and performed at various festivals in the UK and abroad. I also sang onstage with Basement Jaxx at a festival with the London Contemporary Voices choir.


WHAT IS YOUR FAVOURITE QUOTE OR MANTRA?

One woman's trash is another woman's flash.


IS THERE SOMETHING YOU LEARNT ON 'QUEENS OF RAP'/ 'WHERE HAVE ALL THE LESBIANS GONE' THAT YOU'LL TAKE WITH YOU ON FUTURE PROJECTS?

I had a great time working on Queens Of Rap, with an incredible and passionate team. I learnt an awful lot about archive too - clearance, licensing, costs and fair dealing, which has come in very useful on every single documentary I've worked on since. It's a tricky, and potentially very expensive area! But equally, archive, when used right, can really elevate a story. I love working with it. I also love working with music and exploring everything it involves or is involved in, which is just about everything.
There are so many directions a doc can go in, for example, with Queens Of Rap, we had the story of women in a male dominated music scene, conversations about what it is to be a black woman in the music industry, and about black women's bodies in general. White Lion, the story of a dancehall artist from the Isle of Sheppey in Kent, full of intriguing controversy and contradiction, had me questioning my views on cultural appropriation vs appreciation. Where Have All The Lesbians Gone? let me into very personal conversations about identity and sexuality. It's why I love working on documentaries. I get to learn so much about such a variety of subjects, and then collaborate to create a narrative that shares just some elements of what I have discovered. It's fascinating.