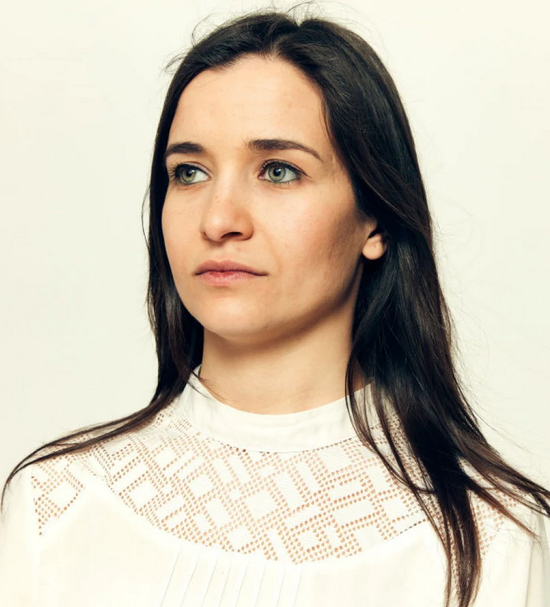 Waad's film For Sama is currently nominated for 4 BAFTAs and an Academy Award.
Photo by Robby Klein/Contour by Getty Images.
"Believe in your work and when you believe in it, all the challenges and all the big issues become smaller and you will find your way."
WHERE ARE YOU BASED AND HOW DOES THIS PLAY INTO THE WORK THAT YOU DO?
I live now in London and that helped me a lot when we were editing the film. The first year I was travelling between Turkey and London for a while to be in the edit room. But when I moved to London, it was much easier being closer to the project; I was able to have more control and also to be with Ed (Watts), our Editor and most of our team. So it was much easier to make decisions whilst in London instead of making decisions over the phone or over Skype. During the time I was in Turkey, everything we needed to do or to discuss we had to do over the phone which made it complicated, finding a suitable time that everyone was able to make, so being in London really helped the film a lot. Also now, being able to travel all over the world and after being granted asylum with the help of the UK government, I am able now to move all over the world. It is not easy as I am still a refugee and need to apply for a visa every time I need to go anywhere but at least there is an option to be able to do that.
WHAT INSPIRED YOU TO BECOME A FILMMAKER?
Being a filmmaker was something I dreamt about when I was younger but it was impossible in Syria, a country controlled by a very powerful and bad authority. So when the Syrian revolution started in 2011, I started filming at Aleppo University, capturing all the protests and demonstrations that I was part of until the time I gradually I became a real filmmaker.
HAS MENTORSHIP PLAYED A ROLE IN YOUR CAREER AND TO WHAT EXTENT?
Unfortunately, during the 5 years of filming I was totally alone. I had some support from some filmmaking courses but it was very limited. The longest one I took was for five days. I also got some support from feedback from some journalists who were coming into Syria. The last year, in 2016, when I started working with Channel 4 news, one of my colleagues there, Fede, was in touch with me, giving me feedback about the footage that I had, helping me to build the story. I was helped a lot by all this great support. And then through two years working on the film, I was working very closely with Edward, and I learnt so much from this experience, also from our Editor and from all of our Executive Producers and I really feel like now I am able to go for work with my own projects by myself. But I will say the main thing that improved my skills and helped me to be better was all the mistakes I've made over these five years. When I was totally alone, and this experience I am so proud of that I was able to capture this amount of footage in that way. And also the collaboration between myself and the other filmmakers and the local journalists who we were, as friends, living together in those bad circumstances. We were supporting each other all the time and trying to help each other be better and without them I wouldn't be where I am today.
WHAT HAS BEEN THE GREATEST CHALLENGE YOU HAVE HAD TO OVERCOME TO GET TO WHERE YOU ARE NOW?
I really don't know about the greatest challenge; it's not about filmmaking, it's more about life. Being a woman in those circumstances and being a female filmmaker. Just to create that hope and that strength to keep going and to keep filming everything I was witnessing with my own eyes. The bad circumstances that we were living through, the death that was surrounding us. We felt at every second this could be the last minute of our lives and just to keep the camera recording and believe in the importance of the picture or the of visuals to save the story, I was thinking all the time that I might not be able to make it out and that's really why I kept filming. It was also to try to ignore all the bad feelings that we had, being emotional when you have seen a child that is in very bad circumstances and try to focus on how you should make this footage perfect as best as you can, and give the people outside a chance to watch this material in good quality, good scenes and good frames. You know, you have to think about all of this in addition to the bad circumstances you are living in. And also being a female in that community wasn't easy to deal with. It took a while until I had built that trust between myself and the community to prove to them that, because I am a woman that it doesn't mean that I am any less than any other filmmaker and I'm like a male filmmaker. And that is how they thought about us. Also the pressure to find a balance between my life as a mother, between my work. Unfortunately I felt this many times that I wasn't able to find the balance. Everything I was trying to do was a mix between being a mum and being a filmmaker and I'm so proud now to reach this point where the film is out and I have my two little daughters. So far, I am struggling with all of this. In every field, in everything, you need to improve yourself as a female filmmaker, you need to keep pushing and keep fighting for our rights to be equals with other people. And also in that conversation, the lack of diaspora; being a refugee now, every point and every level you need to fight more to present yourself and present your work. Also, the risk that I was putting myself and my family in to decide to film everything, and also just to be alive. The regime were targeting journalists, filmmakers, artists and anyone who could create hope in that situation. Just to know that that risk exists. To this day, I don't know if I am safe or now, I am still not sure what the regime wants to do something to me or to my family. But the importance of getting the story out was greater than all of these challenges.
ARE THERE ANY WOMEN WHO YOU PARTICULARLY LOOK UP TO OR WHOSE WORK YOU HAVE BEEN INFLUENCED BY?
There is not one particular woman, but since I was very little I looked up to my mum. I looked up to so many great women in my community who challenged everything and who did amazing things in Aleppo in those bad circumstances. I think about Afra, the other woman who was in the film, her work, her sacrifice for her daughter and her family. There are so many other names and so many people who I feel like they are my heroes. The woman who shouted at me to keep filming when she had just lost her child. I can't, I've never, and I will never forget that woman. There are so many women, after I left Syria and after the film came out. Being alongside other female filmmakers, I have learnt a lot from their experience. One of them, Julia, co-director of 'American Factory', she's now one of my heroes. There are so many amazing women, Tamara from 'Honeyland', Petra from 'Edge of Democracy', all of these amazing women who are now in this place where you can look at them and be so proud to be next to them on this amazing journey. Another example, which gives another understanding about what I am doing and importance of my work Marie Colvin, the journalist who was killed in Homs in 2012. She risked her life to tell the story and she is one of the people who I will never forget in my life. And really, while we are talking about women, every woman has done an amazing job in her life; just to be a part of this community, trying to do something, sacrificing yourself, your work and so many things. I'm so proud of all of these women from all over the world.
WHAT ADVICE WOULD YOU GIVE TO YOUR YOUNGER SELF?
My main advice is not to be shy about anything. Express your feelings and speak out about all the things you want to say.
IS THERE ANYTHING THAT WOULD MAKE YOUR JOB/ GETTING WORK EASIER?
I don't think there's anything that would make my job easier. When I started, taking that decision to film, I knew that this was one of the most dangerous things to do but I think that the thing that makes it easier for you: Believe in your work and when you believe in it, all the challenges and all the big issues become smaller and you will find your way.
THE TIME'S UP MOVEMENT IS NOW IN ITS SECOND YEAR. HAVE YOU NOTICED ANY CHANGES SINCE IT STARTED?
Since the Time's Up movement, I think that we are now open to the conversation. There are still many challenges to make bad situations better but I feel like we are more open to talking about it. Not only can we ask about it, as is our right to do so, but we are also not shy anymore to say 'Yes, this is our right.'
WHAT ARE THE ESSENTIALS THAT YOU ALWAYS TOOK WITH YOU WHILST FILMING FOR SAMA?
The thing that I always took whilst filming 'For Sama' was my belief in the importance of the media and telling this story. Through the five years, I was pretty sure in my heart that we wouldn't make it out and I knew that every picture I captured, every picture, every sound would be stronger than all the propaganda that the regime was trying to do or stronger than even the weapons that were killing us. Now after nine years of the Syrian Revolution, having 'For Sama' out, accepting the story and hearing the women's voices, gives a lot more understanding of our situation to the whole world. You now know what is happening right now in Syria.
WHAT HAS BEEN ONE OF YOUR GREATEST SUCCESSES SO FAR?
We've been to many award ceremonies, I think we've now had over 63 awards. This year we've also had a great nomination, which we will hear the result of soon. But you know, all of these things aren't the greatest success. I would say it is how many people have been engaging with the film, how many people after 'For Sama' knew about Syria and about the suffering and now understand the situation better. Also, the hope that the film gave to Syrians. I am so shocked and proud about how Syrian people reacted to the film and how they we able to find so much hope through this film. For me, the hope that this film created for these people was the greatest thing that could ever happen.
COULD YOU TELL US ABOUT YOUR FUTURE PROJECTS?
I am trying to write something now. I've had some chats with some people, about which the project will be about them. But I can't really say anything else so far as I'm right at the beginning of the project. But what I know is that, I hope I will be able to start a new documentary. I also have a fiction project about my story. All of these are still very early days. The only thing I know about all the projects I will do next, is that they will be serving the Syrian cause, the freedom and democracy that we dreamt of in 2011. So I really want to keep going and keep fighting for our rights in different ways.
BEHIND THE SCENES PASSION OUTSIDE OF WORK
I really just want to be with my family, to spend that time and give my daughters what they really need and deserve. My mind is all the time doing things as an activist, as a freedom fighter, and I want to do that for the whole of my life, for Syria and for any other country or any other people who want help.
WHAT IS YOUR FAVOURITE QUOTE OR MANTRA?
The revolution is an idea and ideas never die.
Watch 'For Sama' here now and support Action For Sama, a campaign to end the targeting of healthcare facilities in Syria. #StopBombingHospitals