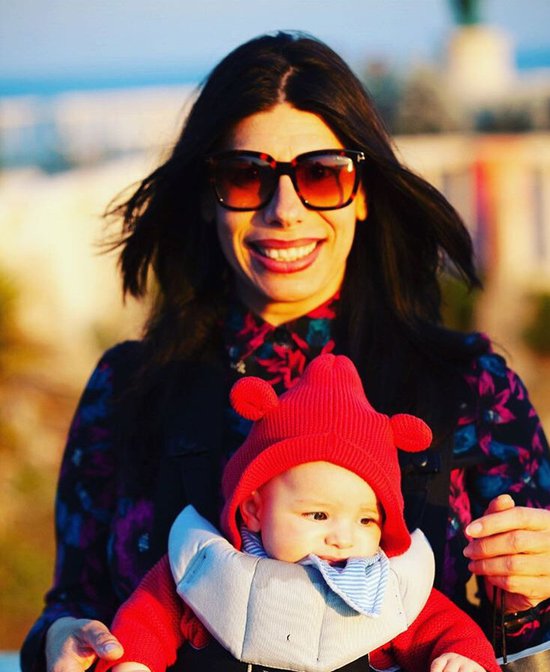 View Valeria Bullo's Primetime Profile
Valeria is known for her work on Judy, A United Kingdom, Suffragette, Selma, Florence Foster Jenkins and many more. She is also the founder of Cinemamas and project lead on The Whole Picture project at The Film & TV Charity.
Valeria Bullo
Production Executive
It's been an incredibly humbling and wonderful experience seeing women supporting women.

WHERE ARE YOU BASED AND HOW DOES THIS PLAY INTO THE WORK THAT YOU DO?

I'm based in Hackney and like many, I work from home. Having been a freelancer for a long time, I am quite used to working from my living room table, the only difference is that now I have a young toddler so ensuring that the lines between work/home life don't get too blurred can sometimes be tricky. Working from home allows me more time with my family which means that I have significantly improved my work/life balance and my overall mental wellbeing.


WHAT INSPIRED YOU TO BECOME A PRODUCTION EXECUTIVE AND NOW AS THE VERY EXCITING NEW ROLE AS THE PROJECT LEAD ON THE WHOLE PICTURE PROGRAMME AT FILM & TV CHARITY?

What inspired me to work in production was a combination of loving films but also really enjoying seeing all the pieces of a project come together. I am a total production nerd and love spreadsheets and I think have pretty good organisational skills. I have almost always worked in physical production, working my way up through the ranks from indies through to big studio productions. I had my daughter and I felt like a shift, I was no longer willing to accept the long gruelling hours and often tough environments. I just didn't think that working in production would be feasible with a small child. The reality is that most women in our industry are either pushed out, drop out completely or simply do something else because they can't see a way around it. Some choose different career routes with better hours and more flexibility.

I decided to take some time off to think about how to best support other mums going through the same dilemma, which is how Cinemamas was born. The opportunity of joining the Whole Picture Programme has felt like I was bringing together my skills and expertise as well as my desire to make positive changes to the industry. The Whole Picture Programme is an incredibly exciting programme which aims to improve mental health for all those working in film & TV.


HAS MENTORSHIP PLAYED A ROLE IN YOUR CAREER AND TO WHAT EXTENT?

Absolutely – I was on the 2018 WFTV mentoring scheme and it is where this whole journey began and where I started trying to understand where I fit into the industry. It was an amazing experience where I was lucky to meet many wonderfully talented women, many of whom have become lifelong friends. It was exciting and challenging and it really helped me focus on my career. I was mentored by Sam Jukes-Adams who has been such a huge source of inspiration and support.


WHAT HAS BEEN THE GREATEST CHALLENGE YOU HAVE HAD TO OVERCOME TO GET TO WHERE YOU ARE NOW?

I have always been driven and passionate about my career, mainly because I love what I do. I started out rather late in the industry, so I was super keen to work hard to find my break. This at times, led me to accept unreasonable circumstances. The price to pay often felt too high – tolerating toxic behaviour, missing birthdays, weddings and even funerals was the norm. There were moments when I felt like the only way for me to have some stability in my life was to leave it all behind. Overcoming this and finding a way to keep my passion whilst not having to sacrifice everything was a huge challenge.


ARE THERE ANY WOMEN WHO YOU PARTICULARLY LOOK UP TO OR WHOSE WORK YOU HAVE BEEN INFLUENCED BY?

There are quite a few women whose work I admire but there are three that have really stood out for me. The first is an American producer called Denise di Novi whom I worked with almost 10 years ago. She was so different to any other producer I'd met before and was incredibly nurturing to the whole crew. Denise introduced me to mindfulness and meditation during a particularly challenging time. She used to force the production team to walk away from our laptops every evening for a guided meditation session.

Next up is Nahrein Kemp who is a friend, mentor, producer, mother and founder of Equal Access Network for Film London. Nahrein has done so much to improve the industry, she is an incredibly inspirational and humble person. And finally, the formidable Sara Putt - Sara is a philanthropist and a huge champion of positive work within the industry. She is so incredibly generous and encouraging, as well as offering incredible opportunities to anyone with potential. What all these women have in common is altruism. They have all inspired me by wanting to improve the way we work within the industry and by championing inclusion and change. They have helped me shape my vision and the way I want to be present in the industry. I hugely admire all of them.


WHAT ADVICE WOULD YOU GIVE TO YOURSELF WHEN STARTING OUT?

As I mentioned above, I came into the industry slightly later in life so I was naturally in a huge rush to work as hard as I could and progress quickly. I felt I had to accept everything and anything and that if you didn't, you could be replaced in a heartbeat. I would remind my younger self that it's okay to say no! Especially to free work, low wages, inappropriate behaviour, bullying etc. The industry is a very different place now and it's refreshing to see and hear so many people nowadays calling out unacceptable behaviour and saying NO very loudly.


IS THERE ANYTHING THAT WOULD MAKE YOUR JOB/ GETTING WORK EASIER?

More flexibility for working parents and people with caring responsibilities. There was a point during the pandemic, when I was caring for a sick elderly parent as well as for my daughter and it was a really challenging time. The industry has never felt like a place where I could openly discuss any of these issues and I had to find ways of juggling everything as best I could without asking for any support or even speaking about it. This had a huge impact on my mental health. Thankfully I have found a way to channel my desire for change into a job that wants to make the industry a better place! My hope is that more people in similar situations will start feeling more supported.


THE TIME'S UP MOVEMENT IS NOW IN ITS FOURTH YEAR. HAVE YOU NOTICED ANY CHANGES SINCE IT STARTED?

It certainly feels like the industry is shifting and changing thanks to the formidable work of movements like Times Up. However, with devastating news like the disappearance of Sarah Everard, we are reminded of how women continue to live in fear in contemporary society, that is women who are asked to change their behaviour rather than men's violence being the thing that is challenged. The disfunction that inspired the Times Up movement is society wide and so there is a long way to go – but the conversation has started!


WHAT ARE THE ESSENTIALS THAT YOU TAKE TO WORK WITH YOU?

Punctuality, respect, professionalism and enthusiasm.


WHAT HAS BEEN ONE OF YOUR GREATEST SUCCESSES SO FAR?

Am I allowed two things? The first would have to be my daughter Eliana and the second is creating Cinemamas.


COULD YOU TELL US HOW YOU ARE KEEPING BUSY DURING LOCKDOWN - HAVE YOU DISCOVERED SOMETHING NEW THAT IS BRINGING YOU JOY? PLEASE TELL US MORE ABOUT CINEMAMAS.

Cinemamas stemmed from my own experience of becoming a mother and feeling isolated. I couldn't find my space in the industry anymore. I felt like I needed to choose between spending time with my family or furthering my career and it weighed heavily. I didn't know many industry mothers so couldn't really share my concerns with anyone. During lockdown I was joined by my amazing friend Aline Harjani and together we developed Cinemamas. By creating a community support group, we discovered some truly incredible women who all want to share experiences, advice and support. It's been an incredibly humbling and wonderful experience seeing women supporting women.


WHAT IS YOUR BEHIND THE SCENES PASSION OUTSIDE OF WORK?

I am passionate about spending time with friends and family, enjoying each other's company, eating and drinking. I love anything that involves spending time with my family. Travel has always been part of my life and this past year has really made me reflect on how easily we can take things for granted. Our families don't live in the UK so it has been really challenging not being able to visit grandparents and siblings overseas.


TELL US SOMETHING NOT MANY PEOPLE KNOW ABOUT YOU.

I am a shy extrovert.


WHAT IS YOUR FAVOURITE QUOTE OR MANTRA?

Samuel Beckett is always a fantastic source of great quotes and this one is my favourites: Ever tried. Ever failed. No matter. Try again. Fail again. Fail better.