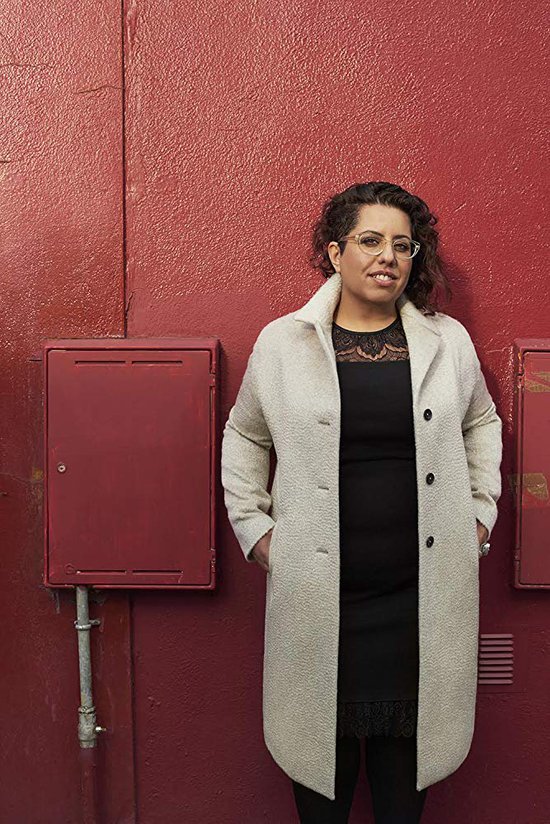 View Tina Gharavi's Primetime Profile
Tina was BAFTA-nominated for I am Nasrine, and known for People Like Us and the upcoming Tribalism Is Killing Us. Photo credit: Mary McCartney.
"There is a poverty of cinema... one that lacks the stories that I long to see. I am filling in the gaps."
WHERE ARE YOU BASED AND HOW DOES THIS PLAY INTO THE WORK THAT YOU DO?
At the moment I live between the UK and Los Angeles and being "bi-coastal" has essentially meant I have both authenticity and sunshine. Both incredible things to have to influence my work... 
WHAT INSPIRED YOU TO BECOME A DIRECTOR?
I didn't set out to be a director. I went to art school to be a painter and picked up cameras along the way and was hooked. I made 16mm and Super-8 films, video art and installations... Then slowly the narratives became increasingly complex.  But ultimately I have been in love with movies ever since I was a child... and cinemas were my cathedrals... If I am ever unhappy or depressed... I go to the cinema and I am soon right as rain. However, I know that there is a poverty of cinema... one that lacks the stories that I long to see. I am filling in the gaps. Cinema is about processing the world and if your story is missing, that fact can lead to distorted sense of self. We need representation as much as any of our ancestors who spent time scarring the cave walls with the prints of their palms. We need to see our stories projected... it's vital and necessary. Quite simply: we are stories and nothing more.
HAS MENTORSHIP PLAYED A ROLE IN YOUR CAREER AND TO WHAT EXTENT?
I have been mentored by Beeban Kidron (whist I was completing my debut feature film) who herself was mentored by Eve Arnold, the great photographer. At the same time I was mentoring a 14 year old young woman. I really liked that daisy chain. Supporting each other is vital to getting equality and representation..
WHAT HAS BEEN THE GREATEST CHALLENGE YOU HAVE HAD TO OVERCOME TO GET TO WHERE YOU ARE NOW?
The biggest challenge I deal with is unconscious bias. I am often surprised by the questions I get asked which are heavily biased because people have not seen a 5' 2 inch beige Iranian woman kick ass on set. In an ideal world, they would know that Persians have a long, long history of female warriors... sadly, I am seen as potentially less strong than a male counterpart. I would challenge any male director to a gruelling experience working in the toughest emotional and physical conditions. Then we can see. I am in the SAS of filmmaking. Usually producers who have worked with me know... so that is good to have them speak about their experiences. 
ARE THERE ANY WOMEN WHO YOU PARTICULARLY LOOK UP TO OR WHOSE WORK YOU HAVE BEEN INFLUENCED BY?
I am particularly inspired by Joan of Arc. She seemed to have a singular, bloody minded mission and also the courage to stand up for what she believed. Also one of my all time fav films La Passion de Jeanne d'Arc by Carl Dreyer.
WHAT ADVICE WOULD YOU GIVE TO YOUR YOUNGER SELF?
Self-belief. I don't know where it has come from- perhaps the strength my father had leaving post-revolution Iran- but I'm lucky to have it. Thick-skin. An inability to be dissuaded. Being perceptive. Focusing on the essential and letting the rest slide. Finding alternative/circuitous routes. What's not there, I have found. What isn't possible to find, I have done without. No excuses. Being bold (asking Sir Ben Kingsley to be the patron of my film when I saw him in reception at the BBC- successfully). Onward motion, that is the only strategy that has worked. Never give up!

Leadership is paramount to change. Whether you are leading staff, crews, building links with the external or relationships with the stakeholders, it is a process. Many leaders believe that they make the changes, however, in my experience it is mostly the change that they inspire which is of consequence.
Michael Abrashoff, a retired Navy captain who turned around the USS Benfold in the late 1990s, raising its retention rate from the worst in the Pacific fleet to the best, says his own transformation from a mediocre leader to a good one came when he decided to start managing. Rather than rule by regulation, Abrashoff got to know every one of the 300 sailors and officers on his ship, told them to make the Benfold the best ship in the Navy, and left it to them to figure out how to do it. He spent much of his time praising good performers and trying to turn around bad ones. He also made sure that he got sailors the tools they needed to do their jobs. The Benfold soon outperformed every other ship in the fleet on a variety of measures. This is the 'It's your ship' approach. I believe I am a good leader, whether from the front or the rear, I believe in empowering others. I am also inventive and imaginative and am an intuitive team player.

And most importantly: enjoy it, realize the privilege. Keeping perspective is important as you go down a career of directing and and so vital to appreciate the journey.
IS THERE ANYTHING THAT WOULD MAKE YOUR JOB/ GETTING WORK EASIER?
Patronage is the most important thing there is. As a woman director, having allies, male or female, who have your back makes the biggest difference. I recently got a job based on a recommendation from someone who had reviewed some of my work. That got me a job for a mid-level budget film. This man said: yeah, I believe in her vision... that endorsement made a huge difference!  
THE TIME'S UP MOVEMENT IS NOW IN ITS SECOND YEAR. HAVE YOU NOTICED ANY CHANGES SINCE IT STARTED?
No comment. 
WHAT ARE THE ESSENTIALS THAT YOU ALWAYS TAKE ONSET WITH YOU?
I always take my own script with hand-drawn storyboards. I think visually (having studied art) so I find working that out gets the shots clear in my mind. I often don't refer to the drawings but I know they are there. It's like a back up brain to remember how you thought about working out the scene. 
WHAT HAS BEEN ONE OF YOUR GREATEST SUCCESSES SO FAR?
The greatest success is that I am still doing it. So much should have made me quit by now. I also am most proud of the relationships I have built along the way. Filmmaking is a community effort. 
COULD YOU TELL US ABOUT YOUR FUTURE PROJECTS?
I have recently set up my first TV series, an Icelandic detective noir with a twist (with Endor/Red Arrow and my own TV company Which Witch) and finishing touches on a feature documentary, Tribalism is Killing Us a purely archive film which is about why we create inside outsider groups... Finishing touches to two other feature scripts which are both in finance stage and have recently been hired on a British period drama which I am very excited about! 
BEHIND THE SCENES PASSION OUTSIDE OF WORK
Motorbikes.... Polaroid cameras... Darkroom photography (When I find time!) 
WHAT IS YOUR FAVOURITE QUOTE OR MANTRA?
"Nobody knows nothing". Nobody knows nothing" is a statement made by screenwriter William Goldman about the movie business. He meant that even after making movies for over 100 years, no one actually knows exactly how to make a successful movie.