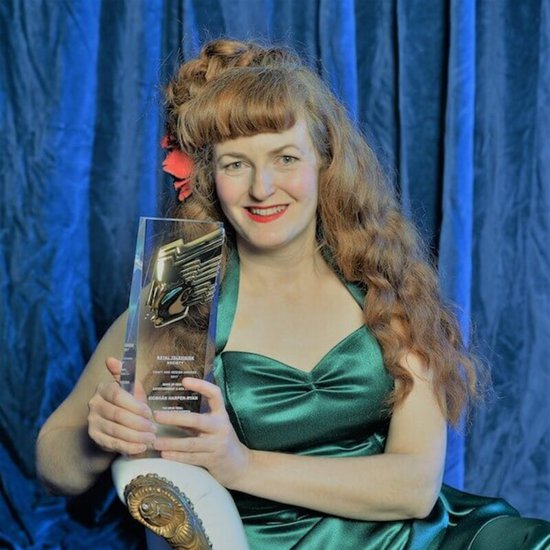 View Siobhán Harper-Ryan's Primetime Profile
Siobhán is an RTS winner known for her work on I Hate Suzie, The Souvenir Part 1 & 2, Spaceship, Finding Joy, Unseen, Tales of Uplift & Moral Improvement and much more. She is represented by Lucy Price at Loop Talent.
Siobhán Harper Ryan
Hair & Make Up Designer
On Lockdown: "I put my skills to use and turned the house into a small factory producing scrubs for local health facilities and carehomes. It was great to be busy."

WHERE ARE YOU BASED AND HOW DOES THIS PLAY INTO THE WORK THAT YOU DO?

In the SE of England, handy for major studios and motorway links.


WHAT INSPIRED YOU TO BECOME A HAIR & MAKE UP DESIGNER?

It feels like I grew up in the TV/Film Industry; I attended theatre school as a child and was always making costumes and experimenting with hairstyles. I had a Mary Quant tin of facepaints which I'd use to create bruises and copy the latest make-up styles of Toyah.


HAS MENTORSHIP PLAYED A ROLE IN YOUR CAREER AND TO WHAT EXTENT?

It hasn't but I absolutely see the value in it, I sometimes wish I had this, the support etc can be invaluable.


WHAT HAS BEEN THE GREATEST CHALLENGE YOU HAVE HAD TO OVERCOME TO GET TO WHERE YOU ARE NOW?

Overcoming various social issues which overwhelmed me when younger. Struggling to understand what we all now know as Aspergers Syndrome, it's so good to see in recent years, more of an understanding of this, how ASD presents differently in women. I also have to mention the challenge that is being a single mum in this Industry. My son is now almost 12 so things are becoming easier but I can not stress how tough it is finding childcare with the hours we do. 


ARE THERE ANY WOMEN WHO YOU PARTICULARLY LOOK UP TO OR WHOSE WORK YOU HAVE BEEN INFLUENCED BY?

Jenny Saville for her art, Ve Neil for her MU artistry, Gloria Steinem for her politics, Madeline Williams a friend since the 1970s & my boss in the 80s when I was apprentice in her studio, for her patience and creative talent and Edith Head for her costumes.


WHAT ADVICE WOULD YOU GIVE TO YOURSELF WHEN STARTING OUT?

Take more and better photographs of your work. 


IS THERE ANYTHING THAT WOULD MAKE YOUR JOB/ GETTING WORK EASIER?

Anything to speed up the process in the chair is always welcome. 


THE TIME'S UP MOVEMENT IS NOW IN ITS SECOND YEAR. HAVE YOU NOTICED ANY CHANGES SINCE IT STARTED?

I certainly noticed how younger female crew and cast members feel more empowered generally. We are, as a collective, more open with each other, more aware. 


WHAT ARE THE ESSENTIALS THAT YOU TAKE TO WORK WITH YOU?

As well as the usual suspects in the set-bag I always have a bar of 85% fairtrade chocolate and my homemade peppermint mouth spray. 


WHAT HAS BEEN ONE OF YOUR GREATEST SUCCESSES SO FAR?

Obviously winning a Royal Television Society award for my work on The Drug Trial: Emergency at the Hospital was fantastic but working with Joanna Hogg on The Souvenir Parts I and II has been a major coup for me. It was also an absolute treat to HMU design the recent Sky Atlantic series I Hate Suzie, another project, produced by, created by, written by & directed by women with excellent female parts. 


COULD YOU TELL US HOW YOU ARE KEEPING BUSY DURING LOCKDOWN - HAVE YOU DISCOVERED SOMETHING NEW THAT IS BRINGING YOU JOY?

I put my skills to use and turned the house into a small factory producing scrubs for local health facilities and carehomes. It was great to be busy. Whilst sewing I listened to as many audiobooks as time would allow. 


WHAT IS YOUR BEHIND THE SCENES PASSION OUTSIDE OF WORK?

Politics, social history and mid-century design. I also follow closely the news about cruelty-free make-up and skincare. I like to keep abreast of new legislature worldwide, my commitment to cruelty-free make-up is very important. 


TELL US SOMETHING NOT MANY PEOPLE KNOW ABOUT YOU.

I am a London Underground fanatic. I collect tube memorabilia and have over 30 books on the subject, from the history of the network to the map design. 


WHAT IS YOUR FAVOURITE QUOTE OR MANTRA?

"Think before you speak Siobhán"...  Still working on that one...