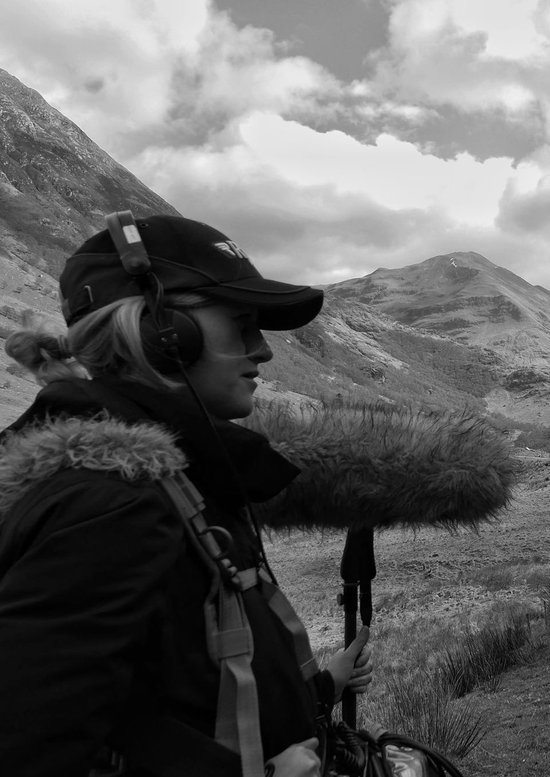 Nina is known for The Crown, Marcella, Mr. Selfridge, Mission Impossible - Rogue Nation and Justice League.
Nina Rice
Sound Recordist
"Stay calm, trust your instincts, have confidence that you know what you're doing and not to second-guess yourself."
WHERE ARE YOU BASED AND HOW DOES THIS PLAY INTO THE WORK THAT YOU DO?
I'm originally from Belfast but I am now based in West London. This is a great place for studio work as well as getting into central London for jobs.
WHAT INSPIRED YOU TO BECOME A SOUND RECORDIST?
What inspired me to become a Sound Recordist would have to be my grandfather. He had an old reel-to-reel recorder that I used to play with. He would also record my voice and play it back to me, showing me how to speed it up to make my voice sound silly. As I got older I made some films with friends and then went on to making films at school and then university. I was drawn to recording the sound for all our projects. It was the sound recording for film and television course at the National Film and Television school that helped me progress. During my time at the school I was given the opportunity to travel making documentaries and to work on fully crewed fiction films. It was a dream come true getting into this prestigious school and then onto working as a professional in the industry.
HAS MENTORSHIP PLAYED A ROLE IN YOUR CAREER AND TO WHAT EXTENT?
I've been so lucky to come across such a variety of amazing sound mixers and boom operators who I have listened to and taken onboard what they've said over the years.
WHAT HAS BEEN THE GREATEST CHALLENGE YOU HAVE HAD TO OVERCOME TO GET TO WHERE YOU ARE NOW?
My greatest challenge I've had to overcome is moving away from my hometown of Belfast to London. Starting a new career away from my friends and family was a huge risk but luckily it has paid off.
ARE THERE ANY WOMEN WHO YOU PARTICULARLY LOOK UP TO OR WHOSE WORK YOU HAVE BEEN INFLUENCED BY?
Loveday Harding is an incredible boom operator who I've been lucky enough and had the chance to work with on a few things. Her beautiful and courageous work ethic is something to be treasured. What a lady!
WHAT ADVICE WOULD YOU GIVE TO YOUR YOUNGER SELF?
Stay calm, trust your instincts, have confidence that you know what you're doing and not to second-guess yourself.
IS THERE ANYTHING THAT WOULD MAKE YOUR JOB/ GETTING WORK EASIER?
What would make getting work a lot easier would be if I had an agent or diary service I was part of.
THE TIME'S UP MOVEMENT IS NOW IN ITS SECOND YEAR. HAVE YOU NOTICED ANY CHANGES SINCE IT STARTED?
Some recent productions have made it clear they operate a zero tolerance policy and have provide a number to call in case of any incidents which I think has helped a bit but there is still a lot of work to do. There are still some dinosaurs out there making female crew members uncomfortable but I'd like to think this generation is dying out and younger more enlightened crews are coming up.
WHAT ARE THE ESSENTIALS THAT YOU ALWAYS TAKE ONSET WITH YOU?
As a sound person the essentials I take to set with me are headphones, microphones, a mixer and the endless supply of sound tricks I've picked up over the years, medical tape, moleskin etc. Also having quality wet weather gear is a must when working out in the elements.
WHAT HAS BEEN ONE OF YOUR GREATEST SUCCESSES SO FAR?
My greatest success of work is getting to travel the world and doing what I love best. Meeting the most incredible people from all walks of life and getting to record their story. Doing all this while being pregnant earlier this year has been one that I will look back on.
COULD YOU TELL US ABOUT YOUR FUTURE PROJECTS?
My Husband and I are currently doing a job share on The Netflix Series The Crown. It will be my time to return to season 4 the beginning of December. Having worked on series 2 and 3 I am very much looking forward to working with all the cast and crew again.
BEHIND THE SCENES PASSION OUTSIDE OF WORK
I'm a new mum so my beautiful new daughter is my current passion.
WHAT IS YOUR FAVOURITE QUOTE OR MANTRA?
"Be good to one another kind to one another" (Elisabeth II – The Crown)