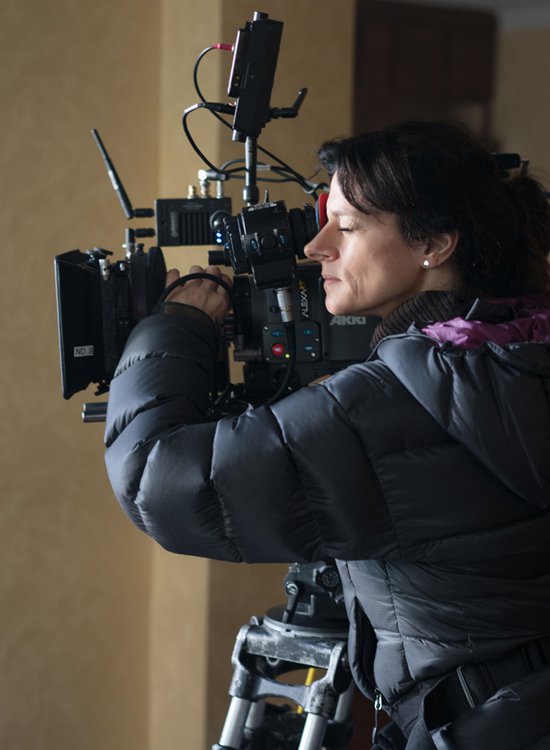 View Nanu Segal's Primetime Profile
Nanu Segal is known for: The Levelling, Donkey Punch, The Children, An Evening with Beverly Luff Linn.
Nanu Segal
Cinematographer
"Be kind. Be bold, be brave."
WHERE ARE YOU BASED AND HOW DOES THIS PLAY INTO THE WORK THAT YOU DO?
I'm currently based in London, but work internationally in Europe and the US as well as the UK. The work I pursue is led by finding collaborators and stories I am drawn too. Location definitely plays a part in the meetings I can attend in person, but video calling makes it easy to be open to opportunities elsewhere.
WHAT INSPIRED YOU TO BECOME A DOP?
I grew up in rural areas, without a TV or local cinema, so it wasn't until I was at university studying chemistry that I discovered the beauty of film. I started going to the local cinemas avidly around then -  the thrill of being moved and transported while sitting in a cinema was where it started for me. The cinema felt like home and I wanted to follow that feeling. I didn't know what cinematography entailed at the time, but from the outside, it seemed to offer the perfect combination of technical intrigue and artistry. Since I took my first steps as a trainee, that sensation has never left me.
HAS MENTORSHIP PLAYED A ROLE IN YOUR CAREER AND TO WHAT EXTENT?
At film school I was incredibly privileged to have been taught by the most inspiring cinematographers. Seamus McGarvey, Sue Gibson, Billy Williams and Brian Tufano all came in to lead practical master classes with us - I learnt so much, both technically and as a human being. The lessons I took away from the time I spent with these DPs have been touchstones throughout my career.
WHAT HAS BEEN THE GREATEST CHALLENGE YOU HAVE HAD TO OVERCOME TO GET TO WHERE YOU ARE NOW?
My greatest challenge as a nomadic DP is finding a balance between personal and professional life. To progress creatively as a DP,  I've found it necessary to take jobs away from home and family life. The logistics of childcare is complex emotionally and practically, so making this work has been my greatest challenge, requiring partnership and a great deal of support.
ARE THERE ANY WOMEN WHO YOU PARTICULARLY LOOK UP TO OR WHOSE WORK YOU HAVE BEEN INFLUENCED BY?
Lynn Ramsey's work has been an enduring source of inspiration, from "Small Deaths" to "You Were Never Really Here". Reed Morano and Rachel Morrison's cinematography is incredibly inspiring, as is the stills photography of Hannah Starkey, Nan Goldin and Vanessa Winship.
WHAT ADVICE WOULD YOU GIVE TO YOUR YOUNGER SELF?
I would advise my younger self to be more fearless! To take risks and not be afraid of unknown outcomes. If you don't put yourself out there, you'll never know… Also to enjoy the unique period of time when you are an emerging film-maker. Things may feel unstable, but it's an incredibly fresh, exciting, creative time.
IS THERE ANYTHING THAT WOULD MAKE YOUR JOB/ GETTING WORK EASIER?
More hours in the day would make all our work easier!
THE TIME'S UP MOVEMENT IS NOW IN ITS SECOND YEAR. HAVE YOU NOTICED ANY CHANGES SINCE IT STARTED?
People are increasingly asking me what it's like to be a cinematographer, rather than what it's like to be a female cinematographer!
WHAT ARE THE ESSENTIALS THAT YOU ALWAYS TAKE ONSET WITH YOU?
My essentials are my light meter, my thermos coffee cup and a bag full of wet weather gear and thermals (I'm shooting in Scotland at the moment).
WHAT HAS BEEN ONE OF YOUR GREATEST SUCCESSES SO FAR?
To do a job that I love is definitely my greatest professional success.
COULD YOU TELL US ABOUT YOUR FUTURE PROJECTS?
I'm hoping to continue shooting a mix of film, TV and commercials with inspiring collaborators.
WHAT IS YOUR FAVOURITE QUOTE OR MANTRA?
Be kind. Be bold, be brave.