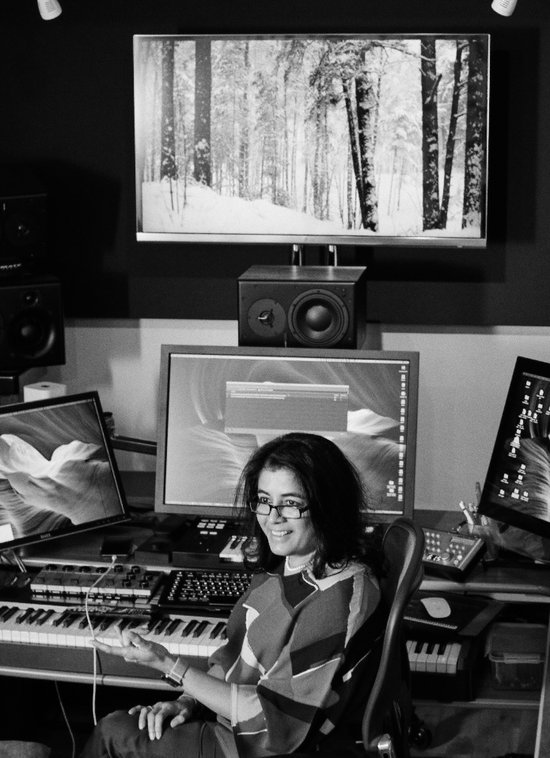 View Nainita Desai's Primetime Profile
Nainita a BAFTA Breakthrough Brit who is known for For Sama, Enemy Within, Darkness Visible, Enemy Within, Telling Lies and Untamed Romania. Photo by PRS.
"I've never looked at myself from the outside in, but instead from the inside out – so I don't let my gender, race etc stop me."
WHERE ARE YOU BASED AND HOW DOES THIS PLAY INTO THE WORK THAT YOU DO?
I'm based in London where many of my clients are based but I like to meet the people I'm working with in person at least once before a project starts, so I do like to travel. Seeing people face to face can communicate so much that emails and phone calls simply can't. However, many of my clients are based all over the country and in the US and Canada as well, so in theory I can be based anywhere as I can send music through to edit suites easily.
WHAT INSPIRED YOU TO BECOME A COMPOSER?
I loved storytelling and the magic of film from a very young age and I've always played musical instruments and created music as a teenager building up my own home studio. The power of film and music creates something very special that has the ability to take you on an incredible emotional journey.  So I've always wanted to be a part of creating that magical experience and bringing compelling interesting stories to a wide audience.
HAS MENTORSHIP PLAYED A ROLE IN YOUR CAREER AND TO WHAT EXTENT?
My career has been a series of breaks. I started off as a sound designer on features and assisted the tope sound designers in the industry - Andy Kennedy, and Eddy Joseph. Peter Gabriel and Real World studios gave me a break when I worked in music engineering. It's always been a highly competitive, cut throat industry so every now and again someone gives you a break and when you see that door open slightly, it's a case of pushing wide open. I now also really enjoy giving talks at events, giving masterclasses and mentoring young composers myself. Most people were very guarded and didn't want to be open or give help and honest advice so now I feel it's important to be giving to those starting out.
WHAT HAS BEEN THE GREATEST CHALLENGE YOU HAVE HAD TO OVERCOME TO GET TO WHERE YOU ARE NOW?
People tend to want to typecast you in terms of genre or musical style. I've never looked at myself from the outside in, but instead from the inside out – so I don't let my gender, race etc stop me.
ARE THERE ANY WOMEN WHO YOU PARTICULARLY LOOK UP TO OR WHOSE WORK YOU HAVE BEEN INFLUENCED BY?
I'm a huge admirer of Laurie Anderson, Bjork, and Marina Abramovic. They have powerful, bold strong creative identitles who are unafraid and have been utterly true to themselves and their creative selves and vision. In my own field, Rachel Portman and Anne Dudley are those rare successful female composers that have forged their own singular enviable paths.
WHAT ADVICE WOULD YOU GIVE TO YOUR YOUNGER SELF?
To be brave, true to yourself and to get out and network. Learning and honing your craft is a given. Tenacity, perserverance, working hard, having a thick skin (as you'll be rejected a lot!) and being nice to everyone, are all so crucial as well.
IS THERE ANYTHING THAT WOULD MAKE YOUR JOB/ GETTING WORK EASIER?
Being brought on earlier in the process so I have more time ! Think about music as early as possible, a composer can be experimenting and writing ideas from even script stage.
THE TIME'S UP MOVEMENT IS NOW IN ITS SECOND YEAR. HAVE YOU NOTICED ANY CHANGES SINCE IT STARTED?
There is greater awareness and people are much more vocal and unafraid to speak out. I've definitely seen female centric groups spring up, that work as safe places of open communication and comradeship.
WHAT ARE THE ESSENTIALS THAT YOU ALWAYS TAKE ONSET WITH YOU?
I have my own recording studio filled with equipment but my main tools are my keyboard and mac pro filled with over 30 terabytes of software and sound libraries.
WHAT HAS BEEN ONE OF YOUR GREATEST SUCCESSES SO FAR?
My dream was to be a professional film & TV composer so that in it very self is my greatest success in spite of all the cultural, gender biases I encountered when starting out. Professionally, there have been some great moments of validation – being made a BAFA Breakthrough Brit was a huge honour. And 2019 has been phenomenal – with 11 music award nominations and wins and 5 soundtrack releases it's been a most exciting and adventurous year - the score for Untamed Romania was my first big symphonic score, a huge personal achievement. My first major video game / interative movie Telling Lies became one of the most acclaimed releases of the year, For Sama won Best Documentary at Cannes Film Festival and 2 other feature films I scored were also released.
COULD YOU TELL US ABOUT YOUR FUTURE PROJECTS?
A beautiful feature 'The Reason I Jump' will be out soon. Other projects releasing next year are natural history series 'Fierce Queens' for Quibi, 'Bad Boy Billionaires' for Netflix, 'Miscarriages' a feature doc for C5, 'Walking with Elephants' and a series about the Holocaust with Rob Rinder, for C4 and BBC soon. 'My Grandparents War' starring Kristen Scott Thomas, Carey Mulligan, Mark Rylance and Helena Bonham Carter is airing now on C4, and 'Enslaved', a major series presented and exec produced by Samuel L Jackson about the history of slavery is something I'm very excited about.
BEHIND THE SCENES PASSION OUTSIDE OF WORK
I do love cinema, and experiencing all forms of art culture, restaurants, but I also like to travel. This year I've been luck to travel to Ukraine, Rio de Janeiro, Belgium, Germany, LA, Romania, Cannes, Toronto, and early next year I travel to the USA, Oslo and India – I find it incredibly nourishing and am so privileged to be able to travel for work.
WHAT IS YOUR FAVOURITE QUOTE OR MANTRA?
My current one is "You've got to be in to win" – I'm enjoying these life rules I heard recently:
1 Have a good bullshit detector
2 Fear nothing and no one
3 Be Tender