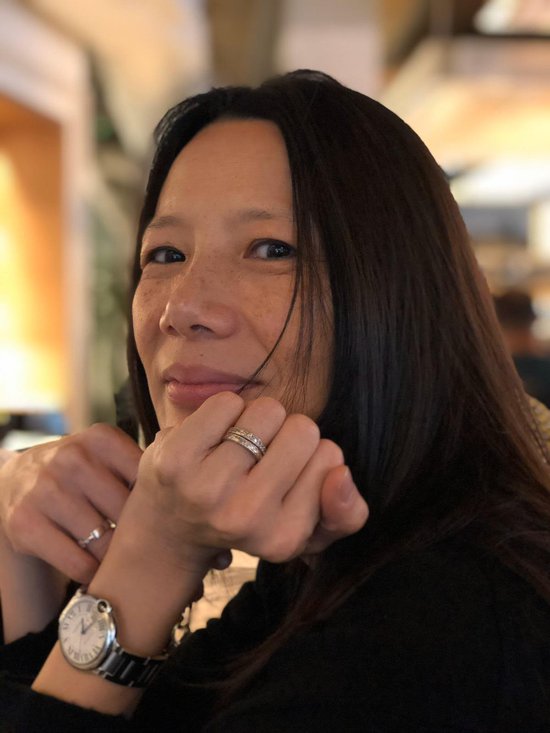 View May Leung's Primetime Profile
May is known for her work on: The Hunger Games: Catching Fire, Captain America: The First Avenger, The Dark Knight Rises, Harry Potter And The Half-Blood Prince, Inception and many more.
Fight for what you want and deserve, be honest and you will succeed.
WHERE ARE YOU BASED AND HOW DOES THIS PLAY INTO THE WORK THAT YOU DO?
I'm based in London, UK. London is a great place to work and live. Its art culture is inspiring, it's multicultural, it's full of talent, easy access to studios and it's the hub of some of the top VFX Facilities in the world; one being DNEG where I'm employed. With my work, it doesn't really matter where you are based as you can travel to any destination. My last project brought me to Mauritius and Dublin.  
WHAT INSPIRED YOU TO WORK IN VFX?
I always had a love for film and watched every Movie Magic episode on television and every behind the scenes available on VHS, now DVD.
HAS MENTORSHIP PLAYED A ROLE IN YOUR CAREER AND TO WHAT EXTENT?
My first supervisor that hired me when I came out of 3D Training was a great mentor. He was extremely hard working, meticulous and no matter what show he worked on, be it TV, Commercials or Film, he always applied the same work ethic. He always encouraged me to progress and move to the next level. He never made me feel that nothing was unachievable.
WHAT HAS BEEN THE GREATEST CHALLENGE YOU HAVE HAD TO OVERCOME TO GET TO WHERE YOU ARE NOW?
There are many challenges in the VFX industry and varies between technical, creative and teams. It's definitely been a long road for me, however, as each of these challenges presents itself and resolved, you progress forward. For me, as long as you are consistent in your work ethics, stay focus, be honest and stand by your decisions you can overcome any challenge.  
ARE THERE ANY WOMEN WHO YOU PARTICULARLY LOOK UP TO OR WHOSE WORK YOU HAVE BEEN INFLUENCED BY?
Fortunately, not just one, I am inspired by all women who push forward in their careers.
WHAT ADVICE WOULD YOU GIVE TO YOUR YOUNGER SELF WHEN STARTING OUT?
Funny enough, I have two teenage daughters and I have instilled in them, that they should strive to have passion in their choice of career, work hard, persevere, fight for what you want and deserve, be honest and you will succeed.
IS THERE ANYTHING THAT WOULD MAKE YOUR JOB/ GETTING WORK EASIER?
A supportive team always makes work easier.
THE TIME'S UP MOVEMENT IS NOW IN ITS SECOND YEAR. HAVE YOU NOTICED ANY CHANGES SINCE IT STARTED?
I think there are notable changes as there are more visibility. You see this in recent films and tv series like, 'Bombshell' and ''The Morning Show'. However, more awareness is still required as there are still a lot of ignorant people out there that needs to understand that this behaviour is no longer tolerated, that we don't need to stand silent and there are consequences to those actions.
WHAT ARE THE ESSENTIALS THAT YOU TAKE TO WORK WITH YOU?
No. 1 coffee, laptop and references that helps inspire my team.
WHAT HAS BEEN ONE OF YOUR GREATEST SUCCESSES SO FAR?
It's really hard to pin down which is my greatest success as all of it leads to my current role. I can say that I am always proudest when I hear from my fellow peers how I've assisted or inspired them in their work. 
COULD YOU TELL US HOW YOU ARE KEEPING BUSY DURING LOCKDOWN - HAVE YOU DISCOVERED SOMETHING NEW THAT IS BRINGING YOU JOY?
I'm actually quite busy as we are just finishing post on my current project and prepping for the next if it gets green lit and when the travel bans are lifted.  
Aside from work I'm also home schooling and trying out new cooking and baking recipes since we can't go out to eat at our favourite restaurants.  I've learnt to make from scratch pizza dough, focaccia, soup filled dumplings, various cakes, cinnamon rolls and cookies. 
When I have a minute for myself I'm catching up on reading and improving my life drawing sketches.
WHAT IS YOUR BEHIND THE SCENES PASSION OUTSIDE OF WORK?
Movies, theatre, art, visit museums and food.
WHAT IS YOUR FAVOURITE QUOTE OR MANTRA?
Don't cry over spilt milk.