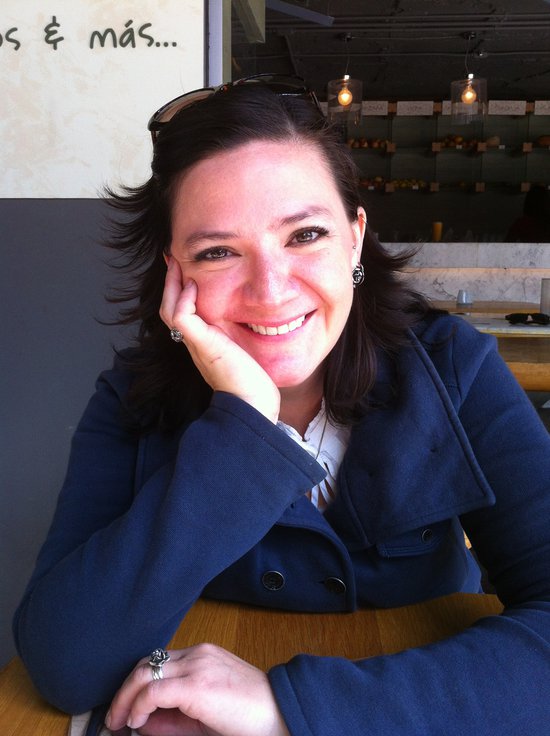 View Luisa Maria Martinez Arcaraz's Primetime Profile
Luisa Maria is known for her work on Club De Cuervos, La Balada De Hugo Sanchez, Fandango At The Wall and is the go-to Producer/ Line-Producer for Stephen Fry In South America and Joel & Nish Vs The World.

Luisa María Martínez Arcaraz BFE
Editor
"My mom was a single mother and a Producer and one thing didn't stop her from doing the other - she was amazing at both."

WHERE ARE YOU BASED AND HOW DOES THIS PLAY INTO THE WORK THAT YOU DO?

I am currently based in my hometown of Mexico City and have been splitting my time between London and Mexico City for the past 8 years. I've edited mostly local things while being in one city or another, but just last year I edited a US-produced feature film documentary "Fandango At The Wall" while in Mexico City, with the director based in LA and only coming down to Mexico City for the last stage of the edit. I think our industry will be more open to this kind of remote collaboration now, especially after Covid-19.


WHAT INSPIRED YOU TO BECOME AN EDITOR?

My parents were both filmmakers - my father a Director and my mother a Producer. My father had a group of film crew friends with which he would get together every Saturday to have a barbecue and play dominoes, and this would happen at an Editor's lab and studio. His name was Carlos Savage. So I would go with my father sometimes and walk around the different rooms, where Mr. Savage had pieces of celluloid hanging and Moviolas too. And he would show me how he edited on the Moviolas. I loved it. That experience was wonderful for my imagination. I loved that editing was like putting a puzzle together out of all the different fragments of celluloid.


HAS MENTORSHIP PLAYED A ROLE IN YOUR CAREER AND TO WHAT EXTENT?

Mentorship has played a huge part in my career. Even though I went to film school, most of what I learned about editing and post production came after school through mentors who took me under their wings.


WHAT HAS BEEN THE GREATEST CHALLENGE YOU HAVE HAD TO OVERCOME TO GET TO WHERE YOU ARE NOW?

The first couple of times I went to London and back was like having to start over again in each place. And getting people in London to believe in my work while being Mexican was difficult. My first opportunity as an Editor in London wasn't until a Spanish speaking editor was needed, before that they wouldn't even consider giving an opportunity to my work.


ARE THERE ANY WOMEN WHO YOU PARTICULARLY LOOK UP TO OR WHOSE WORK YOU HAVE BEEN INFLUENCED BY?

I was very fortunate to grow up surrounded by very strong, independent, intelligent women, like my mother, my grandmother, my aunts, cousins and friends. My mom was a single mother and a Producer and one thing didn't stop her from doing the other and she was amazing at both. In terms of editing, I would say Thelma Schoonmaker, Anne V. Coates, Lyudmila Feyginova and Sally Menke have been amazing influences.

WHAT ADVICE WOULD YOU GIVE TO YOURSELF WHEN STARTING OUT?

Trust more in yourself and your instincts.


IS THERE ANYTHING THAT WOULD MAKE YOUR JOB/ GETTING WORK EASIER?

What would make my job better would be having more time to edit, less crazy turnarounds. And getting work - if directors and producers would be more open to seeing the work and let it speak for itself.


THE TIME'S UP MOVEMENT IS NOW IN ITS SECOND YEAR. HAVE YOU NOTICED ANY CHANGES SINCE IT STARTED?

I think it has definitely opened up the conversation and the road for important changes to equality, inclusiveness, holding people in power accountable, and just our way of facing and thinking about equality.


WHAT ARE THE ESSENTIALS THAT YOU TAKE TO WORK WITH YOU?

A notebook and pen for notes.


WHAT HAS BEEN ONE OF YOUR GREATEST SUCCESSES SO FAR?

I think finishing each project has always felt like a success. But the greatest so far has been the documentary I mentioned earlier, "Fandango At The Wall", which has just recently premiered on HBO and HBO Max in the US and will be released everywhere else soon. I started working on the edit halfway through the shoot, with director Varda Bar-Kar shooting in the US and Mexico and then based in LA and me in Mexico City. And we edited this way, long distance, for a long time. So reaching our final cut was a great, deep challenge. We had a wonderful team, and the process, I think, also made it what it is in the end. It's a project I am deeply proud of.


COULD YOU TELL US HOW YOU ARE KEEPING BUSY DURING LOCKDOWN - HAVE YOU DISCOVERED SOMETHING NEW THAT IS BRINGING YOU JOY?

I fortunately was already on a project that we managed to finish remotely so I had work for the first 3 months of lockdown. But this last month has given me the time to do research into some personal projects that I hadn't had the time to work on in a long time. And there have been some wonderful online activities while on lockdown, like online film festivals, and chats with colleagues all over the world. For example, the British Film Editors (BFE) organized some fantastic online chats for their members which are available online. And I also edited remotely a couple of short films for two amazing directors and ex-film school mates, Adriana Solís Quezada and Berenice Ubeda, which has kept us busy, creative and in contact, and given us much joy.


WHAT IS YOUR BEHIND THE SCENES PASSION OUTSIDE OF WORK?

Music, going to concerts, going to the movies, spending time with my friends and loved ones, swimming (all of which I've very much missed during lockdown).


WHAT IS YOUR FAVOURITE QUOTE OR MANTRA?

"The images themselves are not sufficient: they are very important, but are only images. The essential is the length of each image, what follows each image: it is the very eloquence of the cinema that is constructed in the editing room." - Orson Welles