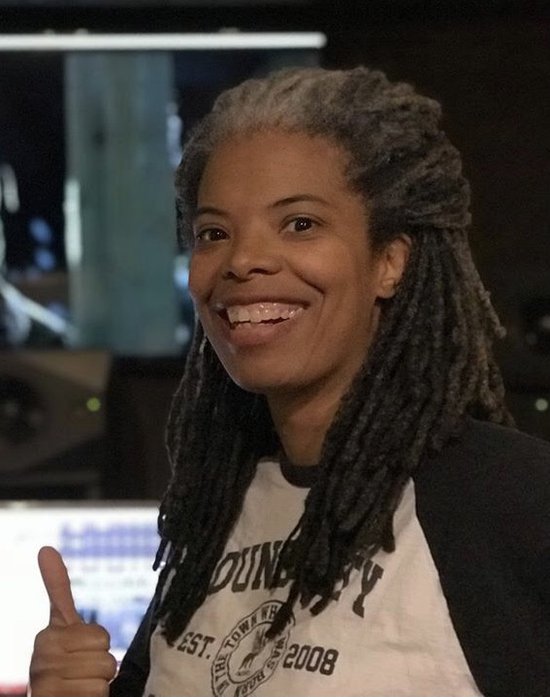 View Leslie Gaston-Bird's Primetime Profile
Leslie is sound re-recording mixer. Her work includes A Feral World, Klocked and the upcoming Medusa Deluxe. [Image is taken with permission from Leslie's website].
Leslie Gaston-Bird
Sound Re-Recording Mixer

It takes a great team and great communication to make a great finished product. When all of those cylinders are firing together you can make an amazing sound for films.

WHERE ARE YOU BASED AND HOW DOES THIS PLAY INTO THE WORK THAT YOU DO?

I am based in Brighton, England. I have been working on a new initiative called "Immersive and Inclusive", so having an immersive studio is important to the work I am doing, and I am proud to say this project is supported with funding by Innovate UK's Women in Innovation programme. I will offer workshops and short courses supported by travel funding, so women and minorities will be able to come here and participate in the workshops. I am also a freelance re-recording mixer, and a lot of the work that I do is remote, which makes life a bit easier.

WHAT INSPIRED YOU TO BECOME A SOUND RE-RECORDING MIXER?

I remember seeing Leslie Ann Jones on the cover of Mix magazine. She was seated in front of a huge mixing console back in the 1980s. I believe she was at Skywalker when that facility was first built. I had techno-lust and wanted to learn how to operate that desk! But it would take me another 20 years to find my first opportunity to work in post production sound. I worked in public radio from 1988 to 2002, and then was able to get a job at Post Modern Company in Denver, Colorado. That's where my professional sound-for-picture journey began, including work in immersive audio for planetariums and surround sound for film and television.


HAS MENTORSHIP PLAYED A ROLE IN YOUR CAREER AND TO WHAT EXTENT?

Definitely. For some people, mentoring has connotations with "hands-on training", but in my case it meant "encouragement". I already had the skills, knowledge, and passion for the field, but my mentors always pushed me to go farther than I thought possible. My first mentors were my professors at Indiana University; then at National Public Radio I had a few colleagues that saw my talent and drive and allowed me to get involved with NPR's first adoption of digital audio. In Colorado, my masters degree mentors encouraged me to take leadership roles in the Audio Engineering Society. When I got hired as an assistant professor, having faculty mentors was key to understanding how promotion through the various ranks worked. Some of my mentors have been men; some have been women. I have found – and research has shown - that mentorship is crucial for women and minorities in order to build "social capital" (one's reputation and access to networks and opportunities). I highly recommend the book Pull, written by my faculty mentor, Pamela Laird.


WHAT HAS BEEN THE GREATEST CHALLENGE YOU HAVE HAD TO OVERCOME TO GET TO WHERE YOU ARE NOW?

Perhaps the greatest challenges for me are "self belief" (not the same as "self confidence") and risk tolerance. To believe in yourself is not the same as having confidence. For example, I have the confidence to jump off of a high platform into a swimming pool, but I don't believe I could be a competitive swimmer. I have confidence in my abilities as an audio engineer, but if I had truly followed my passion and "believed in myself" I would be in Los Angeles making music! I chose instead to play it safe and find steady employment, regular hours, and a reasonable sleeping schedule. Having said that, I think the next hurdle is to work with other women and minorities to continue breaking down barriers to "even the playing field" for everyone. I don't think challenges really exist; it is true that we all have talents and abilities and we can all excel in our chosen craft. However, I do believe that artificial barriers exist which exclude participants. So those need to be dismantled. And I think self belief is related to risk tolerance: what are you willing to sacrifice to make that bet on yourself?


ARE THERE ANY WOMEN WHO YOU PARTICULARLY LOOK UP TO OR WHOSE WORK YOU HAVE BEEN INFLUENCED BY?

Terri Winston of the Women's Audio Mission and Karrie Keyes of SoundGirls; Eddie Dobson who founded the Yorkshire Women's Network; Ava Duvernay who is working to create opportunities for underrepresented crews in film and television … Elisabeth Löchen who founded L.C. Concept Systems and deserves to finally be awarded her Oscar certificate! There are several inspirational women in this industry – so many that I wrote a book, Women in Audio, which features almost 100 profiles of audio engineers who are women.


WHAT ADVICE WOULD YOU GIVE TO YOURSELF WHEN STARTING OUT?

Take more risks and follow your passion!


IS THERE ANYTHING THAT WOULD MAKE YOUR JOB/ GETTING WORK EASIER?

Things that would make my job easier: A clone perhaps? I take on way more than I should! Things that would make getting work easier: I suppose it depends on whether this question is about societal barriers or perhaps logistics...? For the former, continuing to fight for equality and perhaps divesting from exclusionary spaces is one solution; for the latter I really do need a clone! Perhaps more than one!


THE TIME'S UP MOVEMENT IS NOW IN ITS FIFTH YEAR. HAVE YOU NOTICED ANY CHANGES SINCE IT STARTED?

I have seen a number of initiatives in the last five years and more which aim to level the playing field for women and minorities; the include Times Up, #metoo, and Black Lives Matter. But really these social justice initiatives are part of a continuum that has lasted for years and years and years; second wave feminism, suffragettes, abolition …! In terms of women's rights, I recall that in the 1970s or early 80s my mother fought to have tampon dispensers replaced in the federal building where she worked because administrators wanted to "make things equal" by removing them (the men's bathrooms didn't have them). Perhaps what makes contemporary feminist movements different is the access to social media and networking in addition to advocacy; instead of incidents being isolated at "one federal building" or "one recording studio", these issues are coming together and women are finding each other much more easily. So I can't say whether our fight for equality is getting "more effective", or "louder", or "stronger" because much of the data I've seen reflects very slow and incremental change. But that just means we can't stop now.


WHAT HAS BEEN ONE OF YOUR GREATEST SUCCESSES SO FAR?

If I had to name one, it would be the book, "Women in Audio". However, my "Immersive and Inclusive" initiative, supported by a grant from Innovate UK, the UK's innovation agency, is another milestone about which I am proud. With their Women in Innovation programme, will make an impact by providing training in immersive audio to women and minorities, and I am excited to be embarking on this journey.


THE LAST COUPLE OF YEARS HAVE CHANGED THE WORLD AND OUR INDUSTRY AS WE KNOW IT - DID YOU DISCOVER SOMETHING ABOUT YOURSELF OR TAKE UP A NEW HOBBY THAT BROUGHT YOU SOME JOY?

During the pandemic I decided there wasn't enough room in our house for my partner, myself, and our two children, so for the first time I am leasing space for my own studio. It's very cool; it relieves what used to be a stress point for me, and this space does bring me joy!


WHAT IS YOUR BEHIND THE SCENES PASSION OUTSIDE OF WORK?

I love working with the Deaf community and am nearly fluent in American Sign Language. Here in England, however, I haven't had the chance to make new Deaf friends, but I have learned a few new signs in British Sign Language.


WHAT IS YOUR FAVOURITE QUOTE OR MANTRA?

"Without commitment, you'll never start. But more importantly, without consistency, you'll never finish" – Denzel Washington.
I also tried to find a quote from Björk from a documentary she did years ago, something to the effect of, "you have to make lots of mistakes, otherwise you won't get any little surprises."


IS THERE SOMETHING YOU LEARNT ON PUBLISH OR PERISH/MEDUSA DELUXE THAT YOU'LL TAKE WITH YOU ON FUTURE PROJECTS?

It takes a great team and great communication to make a great finished product. When all of those cylinders are firing together you can make an amazing sound for films.