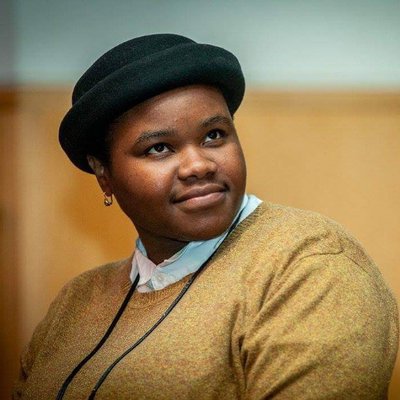 View Joy Gharoro-Akpojotor's Primetime Profile
Breakthrough Producer Nomination - BIFA 2019 for Blue Story, Joy is also known for Boxx and Haircut and runs her own production company, Joi Productions.
Joy Gharoro-Akpojotor
Producer
"I believe that there are many untold stories to come from the UK and also many Pan-African stories to be told and that is what I want to do."
WHERE ARE YOU BASED AND HOW DOES THIS PLAY INTO THE WORK THAT YOU DO?
I'm based in London, but I'm from Nigeria and I think both play heavily into my work. I believe that there are many untold stories to come from the UK and also many Pan-African stories to be told and that is what I want to do. 
WHAT INSPIRED YOU TO BECOME A PRODUCER?
I've always wanted to be a storyteller - I fell into producing but after reading Christine Vachon's A Killer Life, I figured it was for me. It was the first time I read something that told me what being a producer was and to me, I liked the idea of being able to tell stories but also knowing that no day is ever the same. 
HAS MENTORSHIP PLAYED A ROLE IN YOUR CAREER AND TO WHAT EXTENT?
100% - I think mentorship is so important to help guide us. Ben Roberts was my first mentor and through him I learned a lot about the industry. I came from working outside of it, I made two no-budget features on around £35K and then I got the BFI Flare mentorship - that was my first time understanding what making films in the industry was. I spent a year just learning; I learned from Ben and I learned from Stephen Kelliher at Bankside who was also one of my mentors. I'm also currently learning from Elizabeth Karlsen as well. 
WHAT HAS BEEN THE GREATEST CHALLENGE YOU HAVE HAD TO OVERCOME TO GET TO WHERE YOU ARE NOW?
My greatest challenge was believing that I was a producer. I remember when I went to one of the BFI Weekenders and it was for producers and after that session Ben asked me "Do you feel like a producer now?" - it occurred to me that for a long time I didn't think I was a "proper" producer. There are times I still struggle with this because I didn't take a traditional route to get here, so sometimes I think I struggle with validation, but it's something I'm working on. 
ARE THERE ANY WOMEN WHO YOU PARTICULARLY LOOK UP TO OR WHOSE WORK YOU HAVE BEEN INFLUENCED BY?
Christine Vachon because I think her structure / model is one that I aspire to.
WHAT ADVICE WOULD YOU GIVE TO YOUR YOUNGER SELF WHEN STARTING OUT?
Don't be too hard on yourself and trust your instinct, it'll lead you to where you need to be. Everything happens for a reason so be proactive but don't be hard. 
IS THERE ANYTHING THAT WOULD MAKE YOUR JOB/ GETTING WORK EASIER?
£10m development fund Ha! I think just having being able to have access to development money to pay people properly would definitely be easier - UK isn't that big so we're always fighting for money in the same pools, so creating / having access to something outside of the current pool of monies. 
THE TIME'S UP MOVEMENT IS NOW IN ITS SECOND YEAR. HAVE YOU NOTICED ANY CHANGES SINCE IT STARTED?
I have, I think people are more conscious. Also in the way I've started to approach my work now, I'm trying to create safer spaces for all; a space in which we can be open to share, a space in which we can feel emotionally empathetic and being more cautious and conscious of our actions.  
WHAT ARE THE ESSENTIALS THAT YOU TAKE TO WORK WITH YOU?
Just water and a warm jacket - I'm usually dressed in a tracksuit because it's important to be comfortable. 
WHAT HAS BEEN ONE OF YOUR GREATEST SUCCESSES SO FAR?
Definitely making Blue Story and also within the timeframe that we did. I'm very proud of what we achieved on screen and behind the scenes too.
COULD YOU TELL US ABOUT YOUR FUTURE PROJECTS?
I'm currently in development with some great talent which are all Queer or Black or female-led. So I'm working with Koby Adom, Ronke Adekoluejo, Annetta Laufer and Matthew-Jacobs Morgan. I'm excited about just being able to create inclusive work.
WHAT IS YOUR BEHIND THE SCENES PASSION OUTSIDE OF WORK?
I love cooking. It's my way of de-stressing. 

WHAT IS YOUR FAVOURITE QUOTE OR MANTRA?
Be calm. Nothing good happens in stress.