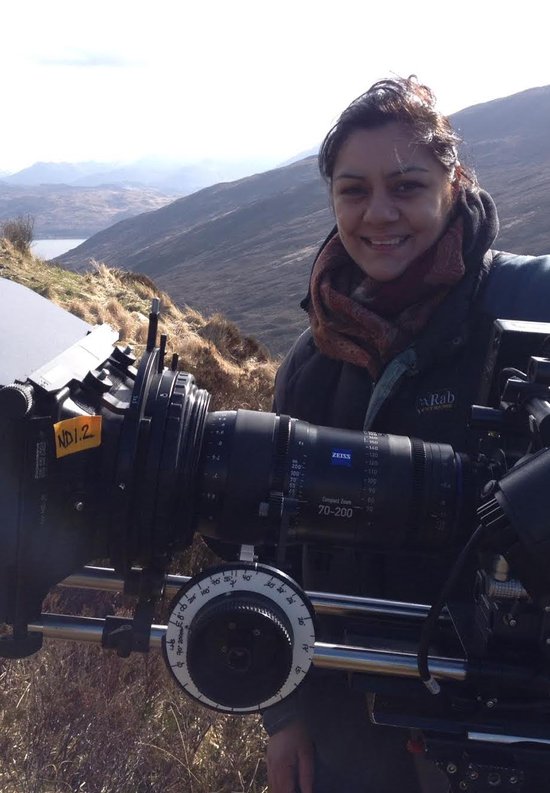 View Jaspreet Bal's Primetime Profile
Jaspreet is known for: The Wife, Churchill, Under The Skin, Fast & Furious 6, Whisky Galore, World War Z and is a member of GBCT.
Jaspreet Bal GBCT
First Assistant Camera
"My greatest success is having made a living doing what I love for 25 years."
WHERE ARE YOU BASED AND HOW DOES THIS PLAY INTO THE WORK THAT YOU DO?
I am based in West London, within reach of Pinewood, Shepperton and Warner Brothers Studios. Ideal, really. I'm from Glasgow originally and I love getting the chance to work in Scotland too when I can. I also keep a 'go bag' and my passport handy, so I'm ready to catch a flight at short notice, if an overseas job comes up.
WHAT INSPIRED YOU TO BECOME A 1ST ASSISTANT CAMERA?
I studied film theory at the University of Glasgow. That made me think about film at a critical and theoretical level. My interest then moved from theory to praxis. How do lights, cameras, sound, acting etc., all coalesce into a narrative? I continue to be fascinated by that process.
HAS MENTORSHIP PLAYED A ROLE IN YOUR CAREER AND TO WHAT EXTENT?
I think most people who work in the film industry would say they worked with people who had a big influence on them at some point, either by pointing them in the right direction or taking them under their wing at a crucial point in their development. I've worked with many DOPs over the decades, but John Rhodes stands out as a key figure. Not only is he a great cinematographer, but he is just a great person: funny, humane, witty and a rock. He was pivotal in my transition from being a loader to working as a 1st AC on high end dramas, and throughout our years together I learned so much from him both professionally and personally.
WHAT HAS BEEN THE GREATEST CHALLENGE YOU HAVE HAD TO OVERCOME TO GET TO WHERE YOU ARE NOW?
The greatest challenge for me was finding my identity. When I started out, the percentage of women working in camera department was relatively small, so that was definitely a challenge. There's a lot to be said for resilience.
ARE THERE ANY WOMEN WHO YOU PARTICULARLY LOOK UP TO OR WHOSE WORK YOU HAVE BEEN INFLUENCED BY?
I am inspired by every woman who has achieved success in the industry. Athough Joan Churchill A.S.C. certainly left a lasting impression. I loaded for her on a commercial where she did 50 takes of one continuous handheld shot. That was 20 years ago. From the current generation, Reed Morano A.S.C. is hugely inspiring, both as a director and a DOP. Outside of work? Greta Thurnberg. This 16 yr old just sailed to New York to take on climate deniers. This is the REAL Wonder Woman.
WHAT ADVICE WOULD YOU GIVE TO YOUR YOUNGER SELF?
It's just a ride. Enjoy it.
IS THERE ANYTHING THAT WOULD MAKE YOUR JOB/ GETTING WORK EASIER?
Film crews are often composed of established teams, which can make it harder to get a gig. It would be great if crews were more open to working with new people. Giving someone a break can change their life.
THE TIME'S UP MOVEMENT IS NOW IN ITS SECOND YEAR. HAVE YOU NOTICED ANY CHANGES SINCE IT STARTED?
Change is rarely instantaneous. It takes a coordinated effort to make a difference. But certainly, the physical presence of more women in camera departments is noticeable and as a result changes the dynamic on set in a positive way. One hopes it's a paradigm shift. Certain production companies conduct mandatory sexual harassment and conduct training now. But there is more to be done to create a future facing film industry.
WHAT ARE THE ESSENTIALS THAT YOU ALWAYS TAKE ONSET WITH YOU?
A clear mind and a can-do attitude. If the mind isn't focused, the eyes don't matter. Beyond that: tape measure, disto, Lumicolor pens, Sensor torch, lens cloths, T- bar, an aromatherapy roller ball and a banana!
WHAT HAS BEEN ONE OF YOUR GREATEST SUCCESSES SO FAR?
My greatest success is having made a living doing what I love, for 25 years. Any fans of Alan Watts out there will know what I mean.
COULD YOU TELL US ABOUT YOUR FUTURE PROJECTS?
I have been working on a lot of commercials recently and have a few more coming up. Plus, I'm always in talks with DOPs about projects that might be happening.
BEHIND THE SCENES PASSION OUTSIDE OF WORK
I love cooking and eating out. My ideal holiday is being in a new city and finding a back street place that serves the most amazing local food and wine. My idea of heaven.
WHAT IS YOUR FAVOURITE QUOTE OR MANTRA?
There will always be a million reasons not to try anything, so I'll go with Mark Twain's advice: 'Don't wait. The time will never be just right.'