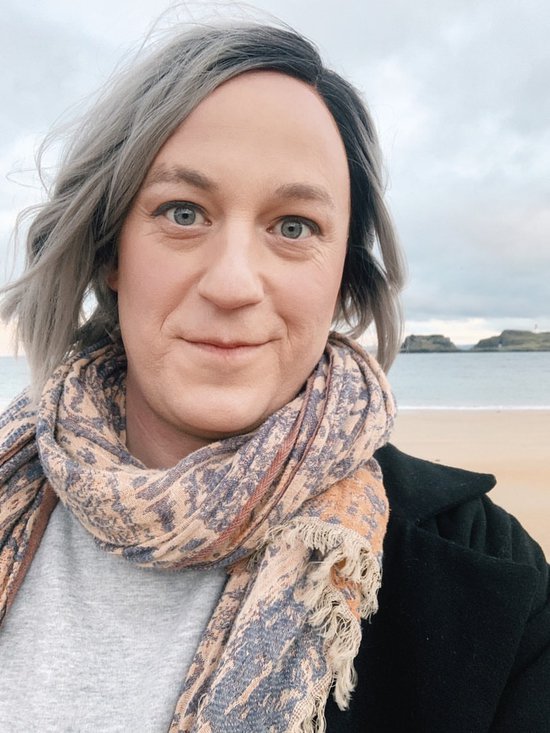 View Jamie Lapsley's Primetime Profile
Jamie is known for her work on: Bodyguard, Trust Me, Tommy's Honour, Kill Command and Fearless.
Jamie Lapsley
Production Designer
"Design is less about what things look like, more what things are: what storytelling element does it fulfil. If you can solve that problem, the execution is inevitable."
WHERE ARE YOU BASED AND HOW DOES THIS PLAY INTO THE WORK THAT YOU DO?
I'm split between London and Glasgow.  I've spent most of my career north of the wall, but have been working in London consistently since around 2016 - mainly to break into TV drama, the landscape for independent cinema had started to get very bleak about 5 years ago, and up until that point that was the majority of what I did.  There was little long form drama being made in Scotland, so had to go where the work was (and then deal with the idea of being seen as a 'Film' designer and not suitable for Television… madness I know.)
WHAT INSPIRED YOU TO BECOME A PRODUCTION DESIGNER?
I discovered my calling pretty late, had always obsessed about film craft but never considered it as a viable career (it's sometimes hard to shake the preconceptions of youth and the environment you grew up in) but trained as an industrial designer, but then post degree found myself working as project manager, VJ, graphic designer, illustrator until I stumbled across a theatre design course and a light bulb went ping in my head… this was everything I loved, in one place.
HAS MENTORSHIP PLAYED A ROLE IN YOUR CAREER AND TO WHAT EXTENT?
It got me started. As I say I studied a design summer school under theatre designer (and now good friend) Sarah Paulley at the Tron theatre in Glasgow and went on to apprentice her for about a year while I was still working the day job at the university. She's a proper genius and everything you would want from a theatre designer (think she might be my style icon too...) and encouraged me to start designing my own stuff. I was part of a collective who wrote and put on work at the (now defunct) Arches in Glasgow, and she introduced me to my next mentor, the Production Designer Alan Wright at the BBC. He took me on as Art Director on a series of TV shows in Glasgow and pretty much we split the design workload 50/50. Proper dropped in the deep end. I worked with him exclusively until he sadly passed away, but with the encouragement of the Producers and Directors who we'd worked for, stepped up to design myself, and here we are 18 years later.
WHAT HAS BEEN THE GREATEST CHALLENGE YOU HAVE HAD TO OVERCOME TO GET TO WHERE YOU ARE NOW?
My own inhibitions. The idea of working as an 'artist' or creative was never really on the cards when I was younger, although I drew and painted all the time, it was always viewed as a hobby by those around me. Took me a long time to shake that. And more, recently, accepting who I really am and letting go of the masquerade of my old self.
ARE THERE ANY WOMEN WHO YOU PARTICULARLY LOOK UP TO OR WHOSE WORK YOU HAVE BEEN INFLUENCED BY?
Sarah Paulley as mentioned was such an influence on how I work - to this day her process informs my approach, a deconstructive dramaturgy based method based around taking the story to its simplest elements and discovering the contradictions and problems and then using those as the design brief. It takes a while, much to the sometime annoyance of my collaborators...
WHAT ADVICE WOULD YOU GIVE TO YOUR YOUNGER SELF WHEN STARTING OUT?
Be bold. Be yourself. Listen.
IS THERE ANYTHING THAT WOULD MAKE YOUR JOB/ GETTING WORK EASIER?
Coming from a film background where aesthetics were respected, I found it hard to get a foothold in TV as that seemed to rarely be a consideration - designers were often seen as just controlling the colour and working within a budget (totally paraphrasing) but the explosion in high end work seems to be changing this approach. I pride myself on the work I do being authored and being a part of the storytelling, not just drapes and wallpaper (but gotta get them right).
THE TIME'S UP MOVEMENT IS NOW IN ITS SECOND YEAR. HAVE YOU NOTICED ANY CHANGES SINCE IT STARTED?
I'm working with more women DP's, and it has changed the tone of the workplace for the better, the laddishness that used to be such a part of the job get's cut off pretty quickly now, often to much amusement. The ratio's on set are better too, which pretty much makes all the difference.

WHAT ARE THE ESSENTIALS THAT YOU TAKE TO WORK WITH YOU?
My wits, and a willing department. I'm nothing without my Art Director and Set Decorator, they realise my ramblings into coherent worlds.

WHAT HAS BEEN ONE OF YOUR GREATEST SUCCESSES SO FAR?
Actual 'success' would be 'Bodyguard', but the work I consider my best is the set we built for the film 'Shell' (dir Scott Graham) in 2011. We constructed the whole environment, a dilapidated petrol station in the Highlands of Scotland that the drama took place in. The set became a character in the film, a representation of the absence of the mother figure in this intimate story about a father and daughter struggling though life (and everyone was surprised that it was build and in fact thought we'd found a location).
COULD YOU TELL US HOW YOU ARE KEEPING BUSY DURING LOCKDOWN - HAVE YOU DISCOVERED SOMETHING NEW THAT IS BRINGING YOU JOY?
Not so much new, but actually having time off without the pressure to find work is a revelation. Hanging out with my kids, sorta home schooling them (badly) and working on my base skillset, drawing, is keeping me going.  
WHAT IS YOUR BEHIND THE SCENES PASSION OUTSIDE OF WORK?
My kids, watching films and endlessly noodling on the guitar.  

WHAT IS YOUR FAVOURITE QUOTE OR MANTRA?
I'll go with my basic work mantra - "Design is not what things look like, but what they are." I bang on about design process to my team all the time, how you discover what a piece should look like, and this is the most basic version of that idea.