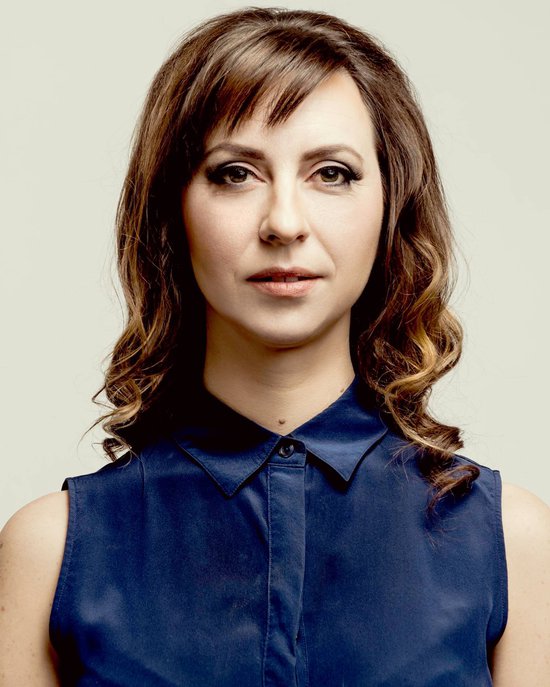 View Izzy Mant's Primetime Profile
Credits
Photographer

Idil Sukan / Draw HQ
Izzy Mant is known for: Peep Show, The Windsors, Toast Of London, Cuckoo.
Izzy Mant
Producer - Scripted TV Comedy
"'That's lunch'. There is no sentence that makes a cast and crew happier."
WHERE ARE YOU BASED AND HOW DOES THIS PLAY INTO THE WORK THAT YOU DO?
I'm based in London. Most of the shows I've produced are shot in and around London, but I've also filmed in Liverpool and two wonderful winters in Glasgow. 
WHAT INSPIRED YOU TO BECOME A PRODUCER?
I came to TV quite late, having been a director in theatre, radio and live comedy. I was inspired to make the switch when I worked at the BBC comedy department for six months, running a writing competition. Being in that BBC comedy office, seeing comedy shows get made, I realised what a fascinating and fulfilling job TV producer is. 
HAS MENTORSHIP PLAYED A ROLE IN YOUR CAREER AND TO WHAT EXTENT?
Absolutely. I wouldn't have thought of becoming a TV producer if Steven McCrum hadn't let me shadow him for a day, and if I hadn't been encouraged by the wonderful Sophie Clarke-Jervoise who was BBC head of comedy at the time. I was given my big break by Sam Bain & Jesse Armstrong, creators of Peep Show, when they took a gamble on me to produce their fifth series (my first producing gig), which would have been even more terrifying than that sounds if I hadn't had the guidance of legendary producer Phil Clarke throughout. 
WHAT HAS BEEN THE GREATEST CHALLENGE YOU HAVE HAD TO OVERCOME TO GET TO WHERE YOU ARE NOW?
The people whose trust and respect you gain on a job (writers, performers, directors), are not the people who decide whether you get hired for the next gig. So building up a reputation is a long, slow process. Unless you're one of those slick types who never finds an old sock in their trouser leg half way through the day.
ARE THERE ANY WOMEN WHO YOU PARTICULARLY LOOK UP TO OR WHOSE WORK YOU HAVE BEEN INFLUENCED BY?
Sophie Clarke-Jervoise, for showing that professional status and power can coexist with mischievous wit, thoughtfulness and honesty. I'm also inspired by brilliant writers who also produce and/or direct, like Sharon Horgan and Julia Davis. Plus the brilliant performers and writer-performers I've been lucky enough to work with: Dawn French, Kathy Burke, Morgana Robinson, Katherine Ryan, Roisin Conaty, and countless others. 
WHAT ADVICE WOULD YOU GIVE TO YOUR YOUNGER SELF?
While you're trying to make the best shows you can make, try to reserve just a fraction of your time and energy for letting people know what you're doing, for forming potential collaborations, and for having and sharing ideas that might lead to the next project.
IS THERE ANYTHING THAT WOULD MAKE YOUR JOB/ GETTING WORK EASIER?
A forum for freelance producers to share tips and stories of woe. 
THE TIME'S UP MOVEMENT IS NOW IN ITS SECOND YEAR. HAVE YOU NOTICED ANY CHANGES SINCE IT STARTED?
Possibly more willingness to listen, a recognition that bullying behaviour isn't an essential part of the creative temperament, and less of a tendency to make assumptions about the limits of a woman's skills or ambition. But I'm sure there's still a long way to go.
WHAT ARE THE ESSENTIALS THAT YOU ALWAYS TAKE ONSET WITH YOU?
Portable scripts (A5 print outs of the whole series), portable phone charger, portable snacks. 
WHAT HAS BEEN ONE OF YOUR GREATEST SUCCESSES SO FAR?
Harry & Paul. We won a BAFTA.
COULD YOU TELL US ABOUT YOUR FUTURE PROJECTS?
I'm currently producing series 2 of GameFace, Roisin Conaty's Channel 4 comedy, I'm writing a comedy-drama pilot, and I'm planning my Edinburgh Fringe debut as a comedian - Izzy Mant: Polite Club. 
WHAT IS YOUR FAVOURITE QUOTE OR MANTRA?
'That's lunch'. There is no sentence that makes a cast and crew happier. Though if you say it too many times a day, people do stop taking you seriously.