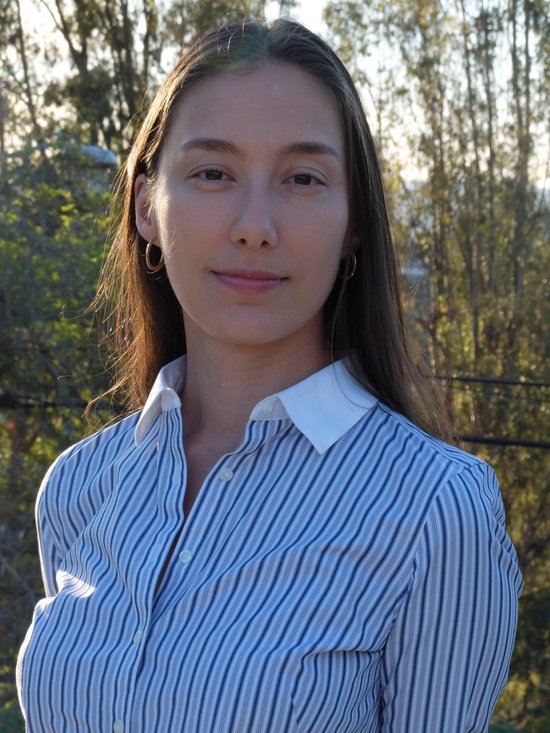 View Isabell Chavez Vega's Primetime Profile
Isabell is known for her work on No Time to Die, The Last Kingdom and National Champions.
Isabell Chavez Vega
1st Assistant Editor
We're often fed a narrative that there must be one big thing we aspire towards. This of course creates a lot of pressure. But I started thinking that maybe success is doing a lot of little things, all of which bring me joy.

WHERE ARE YOU BASED AND HOW DOES THIS PLAY INTO THE WORK THAT YOU DO?

I'm currently based in Los Angeles, and it really helps to be in the hub, where so much of the work happens.


WHAT INSPIRED YOU TO BECOME A FIRST ASSISTANT EDITOR?

My degree is in Film Studies but with a very academic and historical approach. I enjoyed my studies a lot and consider my degree to be a solid base, but I wanted to be more involved in the "creation" process instead of the academic. I researched various roles and editing appealed to me the most because of how much control you have over the storytelling process. You get to piece the story together, take by take, while working closely with the director. I liked the idea of being among the last people to touch the story before it is released to audiences. So, assistant editing for me is a stepping stone to becoming an editor.


HAS MENTORSHIP PLAYED A ROLE IN YOUR CAREER AND TO WHAT EXTENT?

Mentorship hasn't played a huge role, I must say. It's not that I didn't want more mentorship: I love working with other people, learning from others, hearing opinions and thoughts as well as constructive critique. But there isn't a strong mentorship structure in the film editorial department. One is quite lucky if they find a mentor who shows them the ropes. The mentorship that I have received while working as an assistant has been cutting a few scenes, then sitting down with the editor to get feedback. But this doesn't happen on every job, it very much depends on the editor, and whether there is even time to do any editing alongside all the assistant duties! A structured mentorship program is something that definitely needs to be developed for editorial.


WHAT HAS BEEN THE GREATEST CHALLENGE YOU HAVE HAD TO OVERCOME TO GET TO WHERE YOU ARE NOW?

I feel quite lucky about where I am in my career, the opportunities I've had have been a combination of my persistence and "the right place at the right time" idea. When I look back at the past few years, what stands out the most is how often I have had to move cities and countries in the pursuit of opportunities. This meant repeatedly leaving behind my family, friends and communities I created. It's definitely not easy, and not something I would advocate to others, it's simply the path I chose. I've always managed to meet new people in the new places, but having to say goodbye and go through the adaptation process over and over again isn't easy.


ARE THERE ANY WOMEN WHO YOU PARTICULARLY LOOK UP TO OR WHOSE WORK YOU HAVE BEEN INFLUENCED BY?

I look up to women who combine art with activism in order to make our world a better place by educating humanity and protecting the natural world. For example, the photographer and co-founder of SeaLegacy, Cristina Mittermeier uses photography to show us the beauty of nature while advocating for the health of our oceans. This is what I ultimately aspire towards, to create stories that inspire people to do more for the common good. I think film is the perfect tool for combining art with activism in order to better our world. I hope to be able to do this with other women by my side, as I would really like to see more women in creative roles!


WHAT ADVICE WOULD YOU GIVE TO YOURSELF WHEN STARTING OUT?

To try to have more of a life-work balance from the very start. When you're starting out you're eager to please people and help out the team, to put in extra hours and energy, no matter if that means cancelling plans with friends or skipping on proper sleep. Our industry can be very intense with working hours and expectations, and we need to change that. In one word: sustainability. It's hard to draw boundaries at the start of your career, but it's no good if it comes at a cost of endless missed occasions and sleep deprivation. Rest and relaxation is just as important as work.


IS THERE ANYTHING THAT WOULD MAKE YOUR JOB/ GETTING WORK EASIER?

My job would be easier if I knew I would be able to make plans, book holidays and have regular working hours. Normally when I go onto a job, I don't make many plans because I know I will most likely have to cancel or simply not have the energy. On a positive note, I feel like in recent years (especially during the pandemic) people have started to question these norms. There's a lot more work to be done to change that culture.


THE TIME'S UP MOVEMENT IS NOW IN ITS FIFTH YEAR. HAVE YOU NOTICED ANY CHANGES SINCE IT STARTED?

There has definitely been a shift in the air. What I, as a woman, really like is that people are more careful and cautious. There are sexual harassment training courses one has to complete, there is more awareness. I certainly feel more comfortable about speaking up without fear of my career or reputation being affected negatively. It feels like my opinions and concerns are more valid.


WHAT ARE THE ESSENTIALS THAT YOU TAKE TO WORK WITH YOU?

Since my work is at a desk with three screens, my office essentials are: standing mat, prickly massage ball for my feet, vertical wireless mouse (for better wrist positioning), large mouse mat, water bottle, vitamins and (thanks to my husband) an Ember mug because my tea always gets cold before I get a chance to drink it!


WHAT HAS BEEN ONE OF YOUR GREATEST SUCCESSES SO FAR?

I'm quite proud of how I've managed to work on so many amazing films since I've started freelancing five years ago, while at the same time creating long-lasting friendships along the way. I'm proud of the pace at which my career is developing, first in London and now in LA.


THE LAST COUPLE OF YEARS HAVE CHANGED THE WORLD AND OUR INDUSTRY AS WE KNOW IT - DID YOU DISCOVER SOMETHING ABOUT YOURSELF OR TAKE UP A NEW HOBBY THAT SUPRISED YOU?

Definitely! It's a shame it took a pandemic for so many of us to come to these realisations! I picked up knitting and gardening. Both of these hobbies made me realise how much I missed creating something with my hands (away from electronics). The pandemic also gave me time to redefine what success means to me. We're often fed a narrative that there must be one big thing we aspire towards. This of course creates a lot of pressure. But I started thinking that maybe success is doing a lot of little things, all of which bring me joy. So, it's not just about the career and that one dream job or position. Hobbies are equally important, spending time with loved ones is equally important. It's about joy and happiness now, in this moment, as opposed to in 10 or 20 years once I've reached my "goal".


WHAT IS YOUR BEHIND THE SCENES PASSION OUTSIDE OF WORK?

Self-discovery. As much as I love my comfort zone, it's very thrilling to delve deeper into myself, whether it's through spiritual practices or the discovery of new interests. It's hard for me to stay still for too long. I'm always finding ways to push myself just a bit further because it makes life feel more full and exciting.


TELL US SOMETHING ABOUT YOURSELF THAT MANY PEOPLE MAY NOT KNOW.

I was born in the Soviet Union to a Russian mother and a Peruvian father. At the age of five we moved to Finland where I grew up. I studied in Canada and England and started my film career in London. I speak three languages fluently and two brokenly. My mixed ethnicity makes me feel like a true nomad who belongs everywhere and nowhere at the same time. I'm always in search of my mixed community and my fellow third culture kids, because it's very hard to put into words what life is like when you're the embodiment of two worlds coming together.


WHAT IS YOUR FAVOURITE QUOTE OR MANTRA?

Always trust yourself. I believe it's important to listen to opinions and advice, but when the decision-making time comes, always trust in yourself and what you truly feel is right for you. This has always been my guide, and so far I'm very happy with my path!