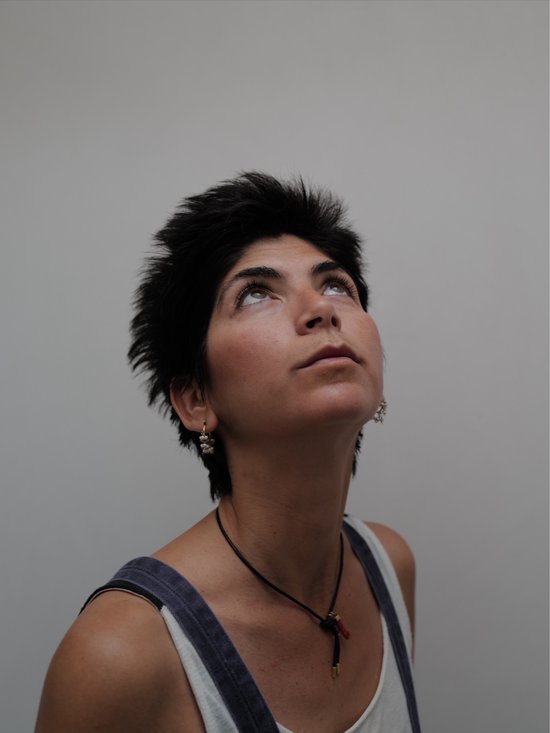 View Gabriela Yiaxis's Primetime Profile
Gabriela is known for her work on Homebound, the upcoming Somewhere Boy on Channel 4 and the TV series The Following Events are Based on a Pack of Lies from Primetime sponsor Sister Pictures and BBC One. She is repped by Daniela Manunza & Andrew Naylor at United Agents.
Gabriela Yiaxis
Costume Designer
For me it was never about a costume being pretty but how a costume could tell a true story about a character to an audience. Obviously when I was young, I didn't understand that clearly. It was just my heart singing when I saw something really good.

WHERE ARE YOU BASED AND HOW DOES THIS PLAY INTO THE WORK THAT YOU DO?

I've been based in London for the past 12 years. I started my career in Brazil where the industry works in a very different way. You need to be incredibly creative and resourceful to turn rubbish into gold. You have no other choice but to think outside the box and find solutions all day long. Working in London felt like being a kid in a sweet shop - you have the best fabric shops, haberdasheries, vintage, antique markets, high end & upcoming designers' boutiques, rental houses. Everything you wish for in the world - the possibilities are endless. I think having the chance to work in both worlds shaped me as the designer I became.


WHAT INSPIRED YOU TO BECOME A COSTUME DESIGNER?

That's a difficult question. I remember getting excited with costumes from very an early age. My mum was a set designer and I used to come to set with her some weekends and I remember being fascinated seeing actors arriving in their own clothes and being transformed in to characters after having their costumes on. For me it was never about a costume being pretty but how a costume could tell a true story about a character to an audience. Obviously when I was young I didn't understand that clearly. It was just my heart singing when I saw something really good. In particularly remember the first time I watched Fellini's Juliet of Spirits and how thrilled I felt.

HAS MENTORSHIP PLAYED A ROLE IN YOUR CAREER AND TO WHAT EXTENT?

I'm personable so I love to learn from people who I feel inspired by and are generous enough to share their knowledge. I think as a human being sharing your knowledge is the best legacy you can leave so yes I had absolutely incredible mentors and they were strong pillars in my career.


WHAT HAS BEEN THE GREATEST CHALLENGE YOU HAVE HAD TO OVERCOME TO GET TO WHERE YOU ARE NOW?

I think moving my career from one country to another and having to start a whole new contact list of suppliers, team members, makers, etc. This was probably the greatest challenge but once you get there you bring the best of both worlds together.


ARE THERE ANY WOMEN WHO YOU PARTICULARLY LOOK UP TO OR WHOSE WORK YOU HAVE BEEN INFLUENCED BY?

Louise Bourgeois for the way she endured a long career always keeping true to herself, her beliefs and her background. She is someone who makes me proud of being a woman and an artist.


WHAT ADVICE WOULD YOU GIVE TO YOURSELF WHEN STARTING OUT?

Don't let people label or judge you, be yourself always and keep open to underdog projects.


IS THERE ANYTHING THAT WOULD MAKE YOUR JOB/ GETTING WORK EASIER?

Having a good team you can trust and that you can have a laugh together is always the answer. 


THE TIME'S UP MOVEMENT IS NOW IN ITS FIFTH YEAR. HAVE YOU NOTICED ANY CHANGES SINCE IT STARTED?

Yes, I think we have all noticed a big change but we still have a long journey to go.


WHAT ARE THE ESSENTIALS THAT YOU TAKE TO WORK WITH YOU?

Safety pins and Muji notebooks. I can't live without them. Writing lists and crossing off tasks when they are done. Very satisfying!


WHAT HAS BEEN ONE OF YOUR GREATEST SUCCESSES SO FAR?

I think working with the same level of passion as when I started my career is my greatest success.


THE LAST COUPLE OF YEARS HAVE CHANGED THE WORLD AND OUR INDUSTRY AS WE KNOW IT - DID YOU DISCOVER SOMETHING ABOUT YOURSELF OR TAKE UP A NEW HOBBY THAT BROUGHT YOU SOME JOY?

It's cliche but I think everyone learned how to find happiness in the little things in our everyday lives. Spending time with my partner listening to good music and eating delicious food is enough to make me very happy.


WHAT IS YOUR BEHIND THE SCENES PASSION OUTSIDE OF WORK?

Art galleries.


TELL US SOMETHING ABOUT YOURSELF THAT MANY PEOPLE MAY NOT KNOW.

I was initially trained as an architect.


WHAT IS YOUR FAVOURITE QUOTE OR MANTRA?

Nam-myoho-renge-kyo.


IS THERE SOMETHING YOU LEARNT ON 'BRIAN AND CHARLES' THAT YOU'LL TAKE WITH YOU ON FUTURE PROJECTS?

It was the first time I had to design costumes for actors who were also the writers of the show. It's a different journey. Normally, actors are reading their script and creating their characters mannerism and body language while the costume designer creates what these characters will look like visually. There are obviously a lot of conversation between us, the director, producer and actors. It's a collaboration but this building process happens at the same time. When your two leads are not only the stars of the show but also the writers, they have been already immersed in the story much longer than you so it was a very interesting process for me. Luckily they were incredibly open and generous in letting me bring so many new ideas on board. Well, I can't forget to mention that designing clothes for a 6ft robot with a washing machine body was quite something unprecedented in my life BUT I don't think I will take other projects where I have to dress actors with washing machine bodies.


75% OF THE COSTUMES ON YOUR LATEST PROJECT 'SOMEWHERE BOY', WERE VINTAGE, SECOND HAND OR HIRED - HOW IMPORTANT IS IT TO YOU THAT THE COSTUME DEPARTMENT BECOMES GREENER AND WHAT TANGIBLE ACTIONS CAN PRODUCTIONS TAKE TO FOLLOW IN YOUR CARBON-REDUCED FOOTPRINTS?

I've been increasingly interested in bringing sustainability into the way I work in the past few years.
The costume industry is inherently wasteful and there are so many little things that can be done to make your production more environment-friendly. I suppose you just need to shift an old way of thinking into a more green mindset. Of course each project has different requirements but we costume designers have the power to make our department less wasteful and more sustainable.
It's fundamental that everyone starts to be aware and make changes in the way they design characters for films, TV and advertising. Costume designers must try to reuse, recycle, use vintage, second hand and hire where they can. And when they can't, we must be inventive, resourceful and come up with new ideas and solutions to try to waste as little as possible. Hopefully producers and directors will start to soon understand the difference we can make in the industry and come on board this journey of sustainability with us as sometimes we solely depend on them.
These are some questions and suggestions we should keep in mind throughout prep, shoot and wrap …
1- Does it need to be new?
We know there is nothing better than lived-in clothes on screen
2- Hire, shop pre-used clothes, use and share stock & equipment with other designers every time you can.
3- At the end of a job, look for independent film & TV productions that might be starting. 
If we all try to reuse from one production to another we will be massively helping extend the life of items that would have been ended up in landfill. 
4- Big crowd scenes: buying brand new clothes and accessories for SAs for a contemporary non specific scene is a crime. We should be sharing more, hiring or buying second hand instead of encouraging the fashion industry to continue to produce billions garments per year wasting million tonnes of textiles with 78% ending up in landfill.
This is obviously just a drop in the ocean but we need to start somewhere and remember we are stronger together!


Somewhere Boy is out on Channel 4 in early October - don't miss it!