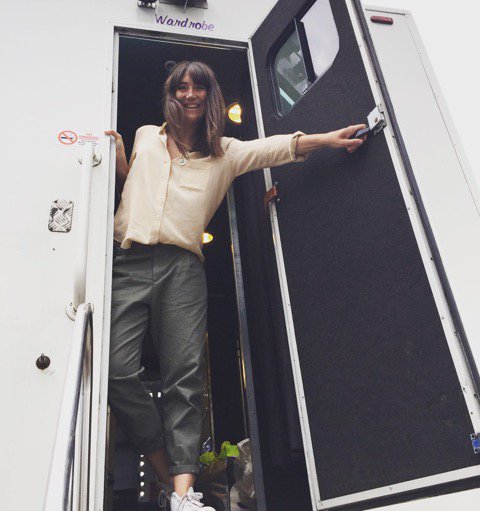 View Emma Lamp's Primetime Profile
Emma is known for her Costume Designs & Styling on high end commercials for brands including Coca Cola, Samsung, Disney, and Bacardi, in addition to commercials, she has worked on music videos including Florence And The Machine, Maximo Park, Jamie Cullum, Take That, Jamie T, Mumford & Sons and many more.  
Emma Lamp
Costume Designer
"I think costume design is more a study of people than of clothes themselves."

WHERE ARE YOU BASED AND HOW DOES THIS PLAY INTO THE WORK THAT YOU DO?

I now live in Melbourne, Australia. At the moment we've been in lockdown for nearly 8 months (aside from June and a bit of July) so unfortunately being in Melbourne means I'm unable to do any work until restrictions lift. However, in 'normal' times I've so far found this has been a great city to live and be a Costume Designer in. The industry is smaller here and I'd say a really nice community of friendly crew who i often see on the same jobs. In London sometimes I wouldn't see the same crew for months or years but here you're fairly sure to run into them next job or a few jobs later. Australia has some great outdoors locations that I normally would not have access to. That said, theres a lot more long distance driving here. 

WHAT INSPIRED YOU TO BECOME A COSTUME DESIGNER?

I always loved watching 'The Making Of...' films. I was obsessed with The Making of Titanic and Jurassic Park - seeing the camera pan out to reveal the work off screen with loads of busy people and camera cables everywhere and thinking I'd love to be part of that. I think I still find this interesting - the screen image vs the reality. 
When I was in my early 20's I really loved going clubbing. There was a club in London on Wednesday nights called Nag Nag Nag - they played electro but I went every Wednesday because everyone would dress really flamboyantly with theatrical makeup and hair, but most of the people attending were young with no money so all the outfits were really creative and original. Every week Boy George was there and I think Bjork and Kate Moss attended sometimes as well, there was always a magazine photographing people there - to me I imagine this was what Moulin Rouge or Studio 54 was like in the day. I think here I was first inspired to work in fashion, but after working as a Stylist Assistant at Vogue I realised I was less interested in the latest trends and more about the way clothes were put together and what that communicates about the person wearing them. I think costume design is more a study of people than of clothes themselves.


HAS MENTORSHIP PLAYED A ROLE IN YOUR CAREER AND TO WHAT EXTENT?

There's been certain people who have really helped me move up in my career by taking a chance on me in the early days - trusting me with my first music videos and commercials when they easily could have gone with someone who had previous experience. Then later in my career and still now, there are the ones pushing me to take opportunities that I wouldn't have been confident enough to seek out myself, and having complete confidence that I was up to the task at hand - like my Agent Lucy at Loop Talent. I also have met a really good group of Producers and PM's in Melbourne who have my back, not just with jobs but with advice and understanding that I'm a working mum now too. Working mums helping other working mums are really important in an industry which has irregular hours and everything needs to be done by yesterday.
As head of your department with just an assistant or sometimes completely on your own, it can be hard to know if you're doing it right! I've also found that working in a shared studio space with other freelancers has helped like a mentor would - a lot of the things I need help with are problems other creative people have had in their own careers, so they are a great source of advice too. Even if it's just how to answer an email in a certain way or find a supplier for a material to be used in a costume. 


WHAT HAS BEEN THE GREATEST CHALLENGE YOU HAVE HAD TO OVERCOME TO GET TO WHERE YOU ARE NOW?

I think starting out in an industry where work can be very inconsistent, competitive and fickle and then trying to live and pay rent in an expensive city was my biggest challenge. Often you'd get nothing for weeks then two jobs at once which you'd have to juggle and still be in complete control of, which was stressful. I couldn't help thinking sometimes I'd be better off just getting a 9 to 5 desk job with a salary. But I realised this lifestyle isn't for everyone but if you can stick it out in the beginning and keep going, you'll get used to the up and down being normal. Getting to be a part of such creative work that loads of people see and enjoy everyday is such a great career perk so I think in the end it's definitely worth it.

ARE THERE ANY WOMEN WHO YOU PARTICULARLY LOOK UP TO OR WHOSE WORK YOU HAVE BEEN INFLUENCED BY?

A few years ago I got into reading autobiographies on female musicians. I really love Brix Smith (formerly of the Fall) and Viv Albertine (formerly of the Slits). They're both women who were in Punk bands, and I'm not super into Punk music but I love their attitude. They rose to the top in a male dominated environment and found their own niche. Both are resourceful and intrepid.
Recently I watched a talk with Costume Designer Jennifer Johnson about her work on 'I, Tonya'. She had hardly any time (I think 6 weeks) to prep that whole film and also comes from a TVC background. She did a great job on that film and I'm looking forward to seeing more from her soon. I also think Grace Snell is smashing it and always look forward to seeing her work too.


WHAT ADVICE WOULD YOU GIVE TO YOURSELF WHEN STARTING OUT?


- Try and take every job you can at the start- work breeds work.
- Learn to drive! I can't believe I did so many years of work getting taxis or buses to fittings and shoots.
-  Don't be afraid to speak honestly to directors about your work - if you really think an idea is worth fighting for then speak up. They employed you for your expertise and often I find people respect you more for defending a design decision than just being passive and in agreement with everything clients say. BUT also read the room and know when to pipe down!- Be polite and helpful to everyone, I've worked with Runners who are now Directors.


IS THERE ANYTHING THAT WOULD MAKE YOUR JOB/ GETTING WORK EASIER?

I've been working on a TV commercial since July that due to the pandemic has kept being pushed later and later. I think it's now due to shoot in November. This is frustrating, however having so much time to prepare the costume and do in depth research has been really great and I only wish we could always have more time in the pre-production stages to come up with ideas and try things out. 


THE TIME'S UP MOVEMENT IS NOW IN ITS SECOND YEAR. HAVE YOU NOTICED ANY CHANGES SINCE IT STARTED?

I feel like Time's Up has opened up a dialogue that has highlighted how sidelined women are/were in meetings and in workplaces in general. I hated being called 'glam squad' on set and the impatience that the male crew had when having to wait for costume or hair/makeup departments to make changes mid-shot, but were not as visibly annoyed when it came to a more male dominated role like lighting holding up the shot. Costume is a fairly female role on set (in comparison to other roles) so to me its always felt accessible to women. But this did need a shake up in other roles like in the camera team and I am now seeing more females as grips and AD's etc. I've heard of producers looking to hire all female crew on some jobs and I think this is great, and will definitely help. 


WHAT ARE THE ESSENTIALS THAT YOU TAKE TO WORK WITH YOU?

I often wear overalls or dungarees on set - they have loads of pockets, they are durable if you're shooting in a field or a forest but also great if you have to suddenly crawl around on a studio floor checking peoples shoes or fixing a trouser hem.
I also copied the makeup artists who have a set bag that they wear around their waist with loads of pockets for combs and brushes but mine are filled with double sided tapes, safety pins and scissors. 
Also peppermint tea bags - its refreshing to have an alternative to coffee on set. 


WHAT HAS BEEN ONE OF YOUR GREATEST SUCCESSES SO FAR?

Moving countries in 2018 and starting from scratch whilst pregnant was a bit of a gamble. However I think so far its worked out. I was working on a commercial here within 3 weeks of arriving. I think the work I've done in the UK has been good for getting my foot in the door here, but also people have been really welcoming and eager to help me out.


COULD YOU TELL US HOW YOU ARE KEEPING BUSY DURING LOCKDOWN - HAVE YOU DISCOVERED SOMETHING NEW THAT IS BRINGING YOU JOY?

I have an 18 month old boy who refuses to stay indoors - so that has kept me busy. I also am starting to take photos of people I've come across whilst out and about who have interesting style with the idea to use as a 'style library' reference point when creating costumes in future. I've been surprised at people still making the effort to dress well whilst in lockdown and I've collected some great photos already. I'm going to start sharing them on instagram in a kind of street style way. Hopefully it will inform my future work in a more creative way rather than just relying on the same tired images on Google.


WHAT IS YOUR BEHIND THE SCENES PASSION OUTSIDE OF WORK?

I love running - I run 4-5 miles around the streets and parks of Melbourne 3 times a week and love it. Running is great for clearing my head, and also realising how great this city is, even if it's all shut and locked down. When I lived in London, every year I'd watch the marathon at the 13 mile location and yell encouragement at all the random runners like I was a mad old lady or a mum at a school sports day - it makes me really emotional watching them all. 


WHAT IS YOUR FAVOURITE QUOTE OR MANTRA?

Everything is possible - It will always works out on the day!