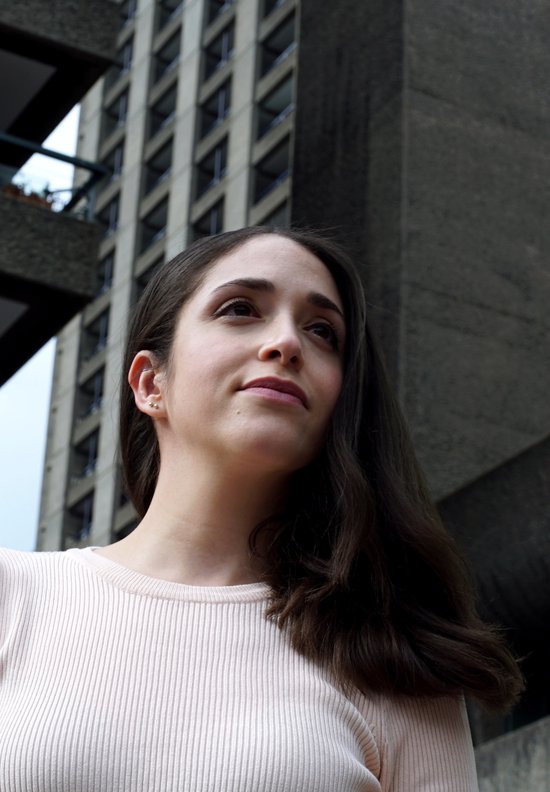 View Emilie Levienaise-Farrouch's Primetime Profile
Emilie is a BIFA-nominated Composer known for her work on Rocks, Only You, Censor, The Forgotten Battle, Art Ache, Tiger Orange and is repped by Manners McDade Artist Management. Catch the 7-time BAFTA nominated Rocks on Netflix now!
Emilie Levienaise-Farrouch
Composer
Even if the results were never shared with anyone I would still compose music.

WHERE ARE YOU BASED AND HOW DOES THIS PLAY INTO THE WORK THAT YOU DO?

I'm based in London, in normal times a very culturally active and diverse city, which I find creatively nourishing.


WHAT INSPIRED YOU TO BECOME A COMPOSER?

Compulsion... even if the results were never shared with anyone I would still compose music. It's my way to process emotions and to express myself, I genuinely love it. Thankfully it's a mode of communication other people respond to, and that can be used as a narrative layer within films, another art form that I love.


HAS MENTORSHIP PLAYED A ROLE IN YOUR CAREER AND TO WHAT EXTENT?

I didn't have a mentor when starting out, but I've been a mentor myself and have found it very rewarding.


WHAT HAS BEEN THE GREATEST CHALLENGE YOU HAVE HAD TO OVERCOME TO GET TO WHERE YOU ARE NOW?

Perseverance, it takes some time to be at a stage where people will trust you with creating the score to their feature film or TV show, and it's easy to feel discouraged.


ARE THERE ANY WOMEN WHO YOU PARTICULARLY LOOK UP TO OR WHOSE WORK YOU HAVE BEEN INFLUENCED BY?

Jane Campion's The Piano had a huge impact on me as a young teenager, the story of course, but also the way it is so intelligently crafted and for the use of music. And now, I'm surrounded by friends and collaborators whose talent and work inspire me.


WHAT ADVICE WOULD YOU GIVE TO YOURSELF WHEN STARTING OUT?

Don't be timid or embarrassed to explore your musical ideas to their full potential in the process of finding your own voice, even if it's weird or going against the accepted way to score a certain type of scene.


IS THERE ANYTHING THAT WOULD MAKE YOUR JOB/ GETTING WORK EASIER?

I'm on the lookout for a new soundproofed studio space, which is annoyingly rare and costly in London, but grants a lot of creative freedom when working with sound. 


THE TIME'S UP MOVEMENT IS NOW IN ITS SECOND YEAR. HAVE YOU NOTICED ANY CHANGES SINCE IT STARTED?

I've noticed a shift in what is perceived as genres of films and scores that could be created by a female composer/director/etc, and at a much slower pace, an increase in the size of projects we're seen as capable of tackling.


WHAT ARE THE ESSENTIALS THAT YOU TAKE TO WORK WITH YOU?

Laptop/computer, I can't even begin to imagine the challenges faced by film composers when they were still working within fully analogue setups.


WHAT HAS BEEN ONE OF YOUR GREATEST SUCCESSES SO FAR?

To be able to collaborate with people who care about the work, from directors to visual artists and musicians, people who truly put their minds and heart into it without cynicism.


COULD YOU TELL US HOW YOU ARE KEEPING BUSY DURING LOCKDOWN - HAVE YOU DISCOVERED SOMETHING NEW THAT IS BRINGING YOU JOY?

I have been quite busy over the past 12 months, scoring Prano Bailey-Bond's Censor and a Dutch WWII feature De Slag Om de Schelde/ The Forgotten Battle which will be out on Netflix later this year, as well as some solo projects. It has been really cool to witness all the strategies put in place by everyone in the music department (from orchestras to recording and mixing engineers) to guarantee we can still produce beautiful sounding scores despite the current restrictions.


WHAT IS YOUR BEHIND THE SCENES PASSION OUTSIDE OF WORK?

I'm a bookworm, the only positive aspect of the lockdowns was freeing up even more reading time.


TELL US SOMETHING NOT MANY PEOPLE KNOW ABOUT YOU.

I've read Lord of the Rings an embarrassing amount of times.


WHAT IS YOUR FAVOURITE QUOTE OR MANTRA?

It's lengthy and flows better in Italian, but this quote from Paolo Sorrentino's La Grande Bellezza. Written down it seems quite serious and sad, but in the context of the film it's beautifully bittersweet,

"This is how it always ends… with death. But first there was life, hidden beneath the blah, blah, blah… It is all settled beneath the chitter chatter and the noise. Silence and sentiment. Emotion and fear. The haggard, inconstant splashes of beauty, and then the wretched squalor and miserable humanity. All buried under the cover of the embarrassment of being in the world. Beyond there is what lies beyond. I don't deal with what lies beyond. Therefore let this novel begin. After all, it's just a trick. Yes, it's just a trick."