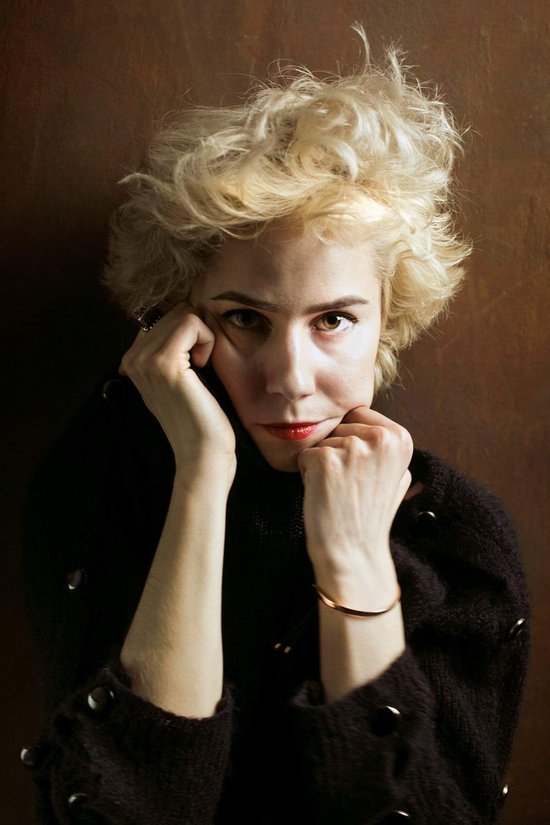 View Diana Olifirova's Primetime Profile
Diana is known for her work on We Are Lady Parts (Channel 4/Peacock), Heartstopper (Netflix) and The Baby (Sky/HBO Max).
Diana Olifirova
Cinematographer
All the discoveries you make from these jobs will help you to get to the next level. It's important to remember this is a fun challenge and curiosity will lead you through to the next challenge and that part of the journey. It's fun to find new ways of doing it, by doing it. Be patient and enjoy. This is going to be a lifetime of work.

WHERE ARE YOU BASED AND HOW DOES THIS PLAY INTO THE WORK THAT YOU DO?

I'm Diana Olifirova, a cinematographer from Ukraine based in London and I love the diversity of the city, I always say London is the best city in the world and I feel very inspired here. I feel a lot of collaboration is happening between different cultures and opinions and tastes and histories and this place is so exciting and energetic, I feel like I'm flying!

WHAT INSPIRED YOU TO BECOME A CINEMATOGRAPHER?

I kind of always liked to experiment with images and when I was a teenager, I had old phones and cameras and I would always take different photos of what is around me and self-portraits. I just really liked experimenting and through that came love to photography. Through photographic studies, I fell into cinematography it was kind of like a natural progression cinematography for me is also an image with the added challenge of time and movement, you have to be very precise about each frame and where the attention goes because there is only a limited amount of time in the film that is set to each image. That's how I fell into that.


HAS MENTORSHIP PLAYED A ROLE IN YOUR CAREER AND TO WHAT EXTENT?

I've met various DOPs and asked to be my mentors, some of them didn't accept it and some of them did but I don't like to make it an official thing. I have so many peers and so many DOPs that I aspire to. I can always call them, and they will give me advice and sometimes we'll meet for dinner or something and it will be a chilled exchange. I can still call them my mentors because they give me a lot of knowledge and support. I always had some teachers of some sort and for me it is very important - I went through 2 film schools, 1 in London and 1 in Ukraine and I studied for 7 years overall as a cinematographer as well as doing lots of photography courses. Teachers from that time are still in my life who I still call and show them my work. I like to be able to hear people's opinions and discuss things it's important for me to share. I sometimes help other cinematographers to grow and give them advice and I am open to anything. I think it's a nice circle of knowledge that goes round and round.


WHAT HAS BEEN THE GREATEST CHALLENGE YOU HAVE HAD TO OVERCOME TO GET TO WHERE YOU ARE NOW?

I think the challenge is to keep going. One of the best advices is just keep going because you often feel like you might not be worth it or you start thinking you're not good, you start to self-doubt and deconstruct your work and start judging yourself harshly and comparing yourself. I find that's quite a difficult thing to let go of and keep going. Sometimes there's a quiet period and you think you will never get back to being busy. You have to find a way to live this weird life when you don't know when is the next project, it's all very unpredictable, you never know what's going to happen to the film you shot if it comes out or not. It's important to accept everything as it comes, listen to your intuition and keep going. Push yourself and find other inspiring things to do in your life apart from your job.


ARE THERE ANY WOMEN WHO YOU PARTICULARLY LOOK UP TO OR WHOSE WORK YOU HAVE BEEN INFLUENCED BY?

Nina Kelgrin was a teacher at the National Film School and I was really inspired by her work and her general approach. Rina Yang, Katya Resmedi - both so fun, bold, open and authentic. I think its really interesting times for women leaders we kind of have to invent ourselves a little bit because it's quite a new thing and you don't want to just copy male leader's qualities but so you have to not be afraid, be who you are. Represent what you want to represent without being ashamed of it. I think I found a way of combining my job and my personality in a way that works.


WHAT ADVICE WOULD YOU GIVE TO YOURSELF WHEN STARTING OUT?

That's an interesting one. Just learn and trust your intuition. Listen to your gut and see if the script works for you. Also, show up everywhere and try to do as much networking as possible. Also, always challenge yourself, I think it's important to have this approach on every job. Sometimes if you need to "fake it before you make it", ask for advice, keep pushing because all the discoveries you make from these jobs will help you to get to the next level. It's important to remember this is a fun challenge and curiosity will lead you through to the next challenge. It's fun to find new ways of doing it, by doing it. Be patient and enjoy the journey. This is going to be a lifetime of work.


IS THERE ANYTHING THAT WOULD MAKE YOUR JOB/ GETTING WORK EASIER?

In a way, it's nice that its hard as it makes you think a bit more and it makes you do other things in between. I feel that the right projects find you and in some ways it's good that it's not easy. That's a weird point of view, isn't it? Haha.


THE TIME'S UP MOVEMENT IS NOW IN ITS FIFTH YEAR. HAVE YOU NOTICED ANY CHANGES SINCE IT STARTED?

I've noticed a lot of push for women in the industry and its really nice. I really feel like it's not just words it's also action.


WHAT ARE THE ESSENTIALS THAT YOU TAKE TO WORK WITH YOU?

I take my sense of humour. My speaker, to have some music before we start the day or at lunch break, it's good to be in as good a mood as possible. I have my customized female vest easy rig and it's great.


WHAT HAS BEEN ONE OF YOUR GREATEST SUCCESSES SO FAR?

The TV show 'We Are Lady Parts', which was nominated for a BAFTA, was great to be there with everyone I loved. 'Heartstopper', the show we did for Netflix, the response was overwhelming, and both of these projects were close to my heart and I'm excited to see what's next.


THE LAST COUPLE OF YEARS HAVE CHANGED THE WORLD AND OUR INDUSTRY AS WE KNOW IT - DID YOU DISCOVER SOMETHING ABOUT YOURSELF OR TAKE UP A NEW HOBBY THAT BROUGHT YOU SOME JOY?

I'm a bit of an overachiever and do lots of things. I do art, dancing, martial arts, poetry, music, singing, everything. I just like to dip into everything because it develops me into different directions and gives me the opportunity to meet other people so I'm always very inspired to take something new on. This year it's been yoga, which I never thought I'd like but it's quite dynamic and exciting. Also, these days I'm trying to take time and be by myself and listen to my mind and body and try not to get distracted too much because when I'm restless I find other things to do but it can be very interesting to just be calm and sit with yourself and meditate. So that's really what I'm working on and what I discovered during the lockdown.


WHAT IS YOUR BEHIND THE SCENES PASSION OUTSIDE OF WORK?

I like exploring contemporary dance and movement and I love jazz. I love music and going to live gigs.


TELL US SOMETHING ABOUT YOURSELF THAT MANY PEOPLE MAY NOT KNOW.

Fun fact: I've done more than 40 short films and I've done about 15 by myself and it's a fun exercise to tell the story through visuals so I've developed my own website called www.didi.film and there you can find examples of my personal artwork that I love doing.


WHAT IS YOUR FAVOURITE QUOTE OR MANTRA?

"Don't be afraid of perfection, you will never reach it." - Salvador Dali
"I'm round slowly moving within fast winds" - this is something I came up with during moving meditation and based on this, came up with my last film 'Intrance.'


IS THERE SOMETHING YOU LEARNT ON THE RISING THAT YOU'LL TAKE WITH YOU ON FUTURE PROJECTS?

I did the final block for 'The Baby' with Sister pictures and Sky. I've never just done a single block before and it was a good learning experience. I loved the show, and the director Ella Jones and it was exciting and inspiring to dig into the story and look into the previous episodes that were already shot and work out our episodes' styles. I've learned a lot, met crew members I want to work with again and felt one can learn a lot from doing part of the series and have a lot of fun as well.