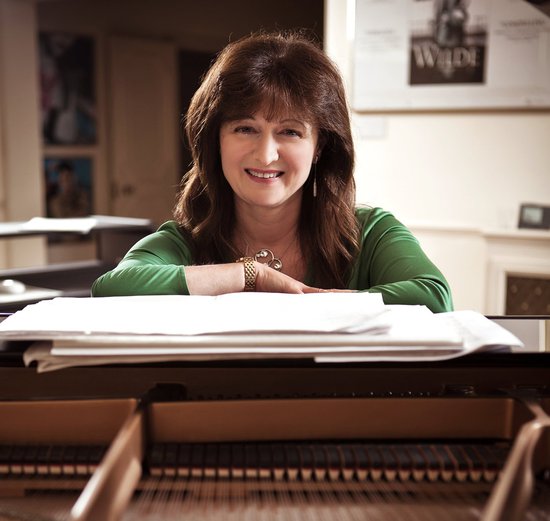 Debbie is an RTS winner known for her work on Wolf Hall, Dickensian, Edie, The State, A Poet In New York, Father Brown and many more.
Debbie Wiseman OBE
Composer
"I feel you can never stop learning your craft – and I'm sure there are more mentors out there yet to be discovered even now."

WHERE ARE YOU BASED AND HOW DOES THIS PLAY INTO THE WORK THAT YOU DO?

I live in London and compose from my home studio which means that directors and producers find it pretty easy to come over and listen through to ideas as the score is developing. We then will record in one of the top London studios - Abbey Road or Air Studios - when the score is ready to be completed. I also recorded for many years at Angel Studios, but sadly it closed down at the start of 2020 – a massive loss to the music industry.


WHAT INSPIRED YOU TO BECOME A COMPOSER?

I started to learn the piano when I was around 7 years old and became completely obsessed with music. I knew, almost from the moment that I started to learn, that I wanted to be a musician. The composing started when I was around 10 or 11 when I found I enjoyed coming up with my own tunes even more than I enjoyed playing! My formal training came at Morley College, Trinity College (the music school in London, not either of the Oxbridge ones!) and finally at the Guildhall School of Music and Drama, where I studied composition and piano – all inspirational places, bubbling with creativity.


HAS MENTORSHIP PLAYED A ROLE IN YOUR CAREER AND TO WHAT EXTENT?

My first real mentor was Buxton Orr, my composition teacher at Guildhall. He helped me build the foundations, as it were; but moving into the professional world, most of the directors I've worked with over the years could technically be classed as mentors - I've learned so much from working with them - and every new project presents its own individual challenges, demanding a musically bespoke tailored approach each time, so I feel you can never stop learning your craft – and I'm sure there are more mentors out there yet to be discovered even now!


WHAT HAS BEEN THE GREATEST CHALLENGE YOU HAVE HAD TO OVERCOME TO GET TO WHERE YOU ARE NOW?

Learning how to work fast under immense pressure of deadlines without compromising the quality of the output; and this is a continuing challenge. My current personal best is 75 minutes of orchestral film music in three and a half weeks, and I've come close to matching that a few times… not ideal for a happy sleep pattern, and it kills your social life stone dead, but that sort of speed is sometimes necessary. A reputation for delivering on time – and on budget! - is a very useful asset to have on your CV.


ARE THERE ANY WOMEN WHO YOU PARTICULARLY LOOK UP TO OR WHOSE WORK YOU HAVE BEEN INFLUENCED BY?

I hugely admired the composer Shirley Walker who managed to write powerful action scores at a time when women weren't getting hired to write action music. She also understood the orchestra and how to get the best out of it.


WHAT ADVICE WOULD YOU GIVE TO YOURSELF WHEN STARTING OUT?

Be tenacious, and write something every day to keep the compositional juices flowing… I'm cheating slightly – this was my composition teacher's actual advice to my younger self!


IS THERE ANYTHING THAT WOULD MAKE YOUR JOB/ GETTING WORK EASIER?

Maybe to have a little more time allowed for the composition process on each project - but having said that I feel I now work well under pressure after so many years of doing it!


THE TIME'S UP MOVEMENT IS NOW IN ITS SECOND YEAR. HAVE YOU NOTICED ANY CHANGES SINCE IT STARTED?

I find I'm working with many more female Directors, Editors and Producers which is wonderful.


WHAT ARE THE ESSENTIALS THAT YOU TAKE TO WORK WITH YOU?

My piano and manuscript paper - computers are brilliant but I still write the notes on manuscript paper before transcribing them into a music software programme to begin the orchestrating process.


WHAT HAS BEEN ONE OF YOUR GREATEST SUCCESSES SO FAR?

I've been hugely fortunate to work on many exciting productions over the years so it's impossible to pick one! Wolf Hall, Father Brown, Wilde, Judge John Deed, The Andrew Marr Show, A Poet In New York… to name but a few. All hugely successful in their different genres; and I'm so proud to have composed the music for them.


COULD YOU TELL US HOW YOU ARE KEEPING BUSY DURING LOCKDOWN - HAVE YOU DISCOVERED SOMETHING NEW THAT IS BRINGING YOU JOY?

I'm currently scoring "To Olivia", a feature film starring Hugh Bonneville and Keeley Hawes which tells the story of a traumatic time during Roald Dahl's turbulent marriage to Patricia Neal. There will also be a new series of Father Brown and Shakespeare & Hathaway to follow, and a series for Channel 4 with my long-time collaborator, Peter Kosminsky, called The Undeclared War. Plus new projects with Classic FM as I'm currently their Composer in Residence.


YOU HAVE BEEN SCORING JOHN HAY'S NEW FILM, "TO OLIVIA" DURING LOCKDOWN, WHAT HAS THAT PROCESS BEEN LIKE AND WHAT NEW WAYS OF COLLABORATION HAVE YOU AND THE TEAM DISCOVERED?

I managed to continue working with John by playing him the score via Skype instead of him coming round to my house. It was actually quite similar to how we'd normally work except he missed out on my tea and sandwiches…! We're going to be recording with a socially distanced orchestra soon. It will be a very new experience for the musicians to be seated so far apart from each other, but I know they'll all rise to the challenge.


WHAT IS YOUR BEHIND THE SCENES PASSION OUTSIDE OF WORK?

Swimming and snooker, although in recent years I've done a lot more of the former than the latter. A frame of snooker takes a long time – at least when I play – but one of my post-lockdown vows is to improve! I just wish I'd bought a little snooker table before lockdown…


WHAT IS YOUR FAVOURITE QUOTE OR MANTRA?

Write something every day!