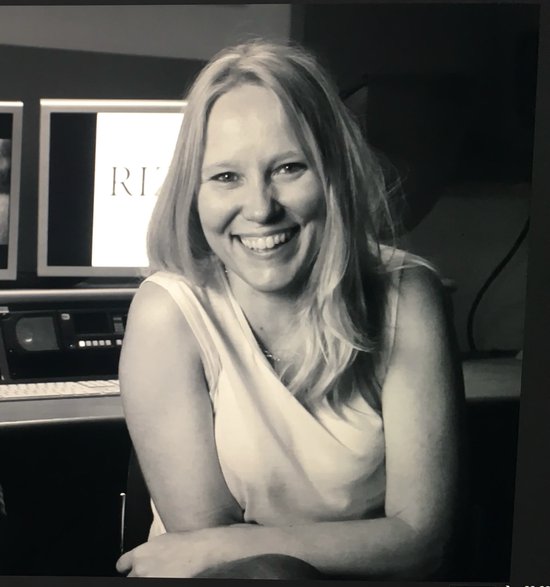 View Clare Pearce's Primetime Profile
Clare is known for her work on Murder in Provence on BritBox and Strike on BBC. She is repped by the Screen Talent Agency.
When I am lucky enough to be in the position that I am able to work with such incredible people, I make sure that I learn as much as I can from them. I always feel that you can never stop learning at any point in a person's career.

WHERE ARE YOU BASED AND HOW DOES THIS PLAY INTO THE WORK THAT YOU DO?

I am London UK based and a producer / line producer but I travel throughout the UK for my productions but also shoot internationally. London is well suited for film and TV production and the rest of the UK (outside of a city), is getting a little better for shooting needs. The UK Is a great place to live and work.

WHAT INSPIRED YOU TO BECOME A PRODUCER?
To be honest it just kind of happened that way. I always thought I would be an artist. I went to art school and was a photographer for a while but whilst at art school I fell in love with video instillation, Just the way imagery and sound is incredibly creative and mood provoking, it was incredibly inspiring for me. So when I left Uni I started running for a production company and I knew then that I wanted to be a film and TV producer more than anything, making content seemed to very exciting for me. I worked my way from running to finally producing content and I couldn't be happier. That was 22 years ago now!


HAS MENTORSHIP PLAYED A ROLE IN YOUR CAREER AND TO WHAT EXTENT?

No I wish it had been as I would have jumped at the chance to have been mentored and to learn the industry through that process too but I have met some wonderful people that have helped me. I know that Screenskills here in the UK offer the opportunity to emerging talent and I 100% support it, it's a great idea and I feel its so important to get new voices into the industry from all backgrounds and experiences, it will only improve the industry for the better.


WHAT HAS BEEN THE GREATEST CHALLENGE YOU HAVE HAD TO OVERCOME TO GET TO WHERE YOU ARE NOW?

When I first wanted to get into a creative industry (and at that time I thought I wanted to be an artist) , I just didn't know how and what steps I needed to take to get there. I knew I needed to have training and  I kept applying to universities and handing over my portfolio and getting refused by every university I went to. No one would tell me why. Shortly after, I went to a local career guidance talk and they kindly explained to me that I would need to go to college first and then try a uni. I was very poor living in London and I was about 24 years old at the time. I went to my local college and had a meeting with them, they kindly offered me a scholarship, I am so so thankful to them. They helped me build my portfolio up and I applied for University, I got into my first choice and the university too offered me a scholarship, I was so so lucky and very thankful for those wonderful people believing in me. After I graduated I started running in production companies but because I had that degree, it helped me get in the door for interviews, I never looked back and I was determined to never let those people down because they offered me help when I needed it and believed in me. I had never had the kindness before. Another challenge I had to face was sexism within the industry (this must have been around 2001), whist I was running in a production company,  I wanted to  take my first steps into the producing world and applied for an assistant producer role. I had an interview with the head of production and anther senior member of staff both male – and at the time a well known company -.during the interview they actually said to me "you will never be a producer as you are female." Surprisingly I didn't get the job. That made me so angry, so whilst  in my position as a runner I worked extra hours to learn and a different exec producer, started sending me on little jobs to shoot interviews etc… I also arranged a meeting with the owner of the company that I had previously had that awful interview with and explained what had happened during my interview and showed him all the work I had been doing since. Thankfully the owner offered me that assistant producer role and I ended up working within that team that had originally made that interview so awful and with that head of production guy, soon he retired, and I also moved on.


ARE THERE ANY WOMEN WHO YOU PARTICULARLY LOOK UP TO OR WHOSE WORK YOU HAVE BEEN INFLUENCED BY?

I have worked with inspirational producers in the past and produced alongside them on productions but that was later in my career. Some names that I have worked with and that are incredible producers and I would work with again at any opportunity are Grainne Marmion, Ruth Kenley – Letts, they are just kind and talented people who I have learnt a lot from. I would love to work with Betsy Beers and Gale Anne Hurd who between them have created incredible cinematic history, without them some amazing films would have never been made. When I am lucky enough to be in the position that I am able to work with such incredible people, I make sure that I learn as much as I can from them. I always feel that you can never stop learning at any point in a person's career.


WHAT ADVICE WOULD YOU GIVE TO YOURSELF WHEN STARTING OUT?

You've got this, its ok.


THE TIME'S UP MOVEMENT IS NOW IN ITS FIFTH YEAR. HAVE YOU NOTICED ANY CHANGES SINCE IT STARTED?

Oh yes for sure, times have changed now, thankfully. There is so much support and information out there now for people wanting to get into the industry, and just as importantly support while your actively working within it. It's a great how much its changed it needed it. Also there are new voices and talent coming into this industry and its a breath of fresh air. I myself have learnt from the bottom up and I make sure that wherever I work crew and cast or trainees are supported and opportunities are given. Production companies, crews, cast, exec's right the way through the industry now just do not stand for any bad behaviour, there is no need for it and its found out very quickly because of the support that is in place and offered. It's a great industry to be involved in and I love it with all my heart.


WHAT ARE THE ESSENTIALS THAT YOU TAKE TO WORK WITH YOU?

Apart from the obvious laptop etc… I always take with me a good mood and positive mind (ok that sounds very boring but very much one of my must have's) erm! a reusable water bottle, sometimes you do not get enough time to drink water through the day,  so I always carry that to remind myself to hydrate more, a good pair of boots, summer or winter some DMs. Oh and my vape! I need that 24/7!
WHAT HAS BEEN ONE OF YOUR GREATEST SUCCESSES SO FAR?

I know I'm not there yet! That's still to come.


THE LAST COUPLE OF YEARS HAVE CHANGED THE WORLD AND OUR INDUSTRY AS WE KNOW IT - DID YOU DISCOVER SOMETHING ABOUT YOURSELF OR TAKE UP A NEW HOBBY THAT BROUGHT YOU SOME JOY?
During lock down I took up running, I would do 6k 3 times a week. I found It was a good way to feel at peace and chill, it was fun. Sadly I just got too busy to keep up recently but I will get back at it now I am shooting in London again. It was hard work don't get me wrong but when you get to that space when you are able to run and not look like its killing you, that's a good space to be in.


TELL US SOMETHING ABOUT YOURSELF THAT MANY PEOPLE MAY NOT KNOW.
Apart from being a huge softie, no most people know that! Ha ha .. I broke my thumb when I was about 14 years old and I never got it fixed, so I have a bit of a messed up thumb. I have learnt that I hate injustice, I have only just recently realised how much that angers me to the core and I won't let it happen in personal or professional life. I cannot stand laziness, sometimes you are in the fortunate position to offer someone a really great opportunity and its shame if someone spoils it by just being lazy, you don't get anywhere in life being lazy. That really irritates me.
WHAT IS YOUR FAVOURITE QUOTE OR MANTRA?

"We all die, the goal isn't to live forever, the goal is to create something that will."