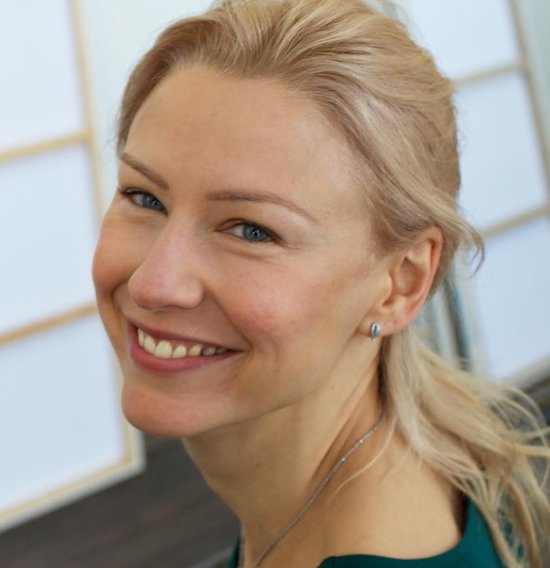 View Carly Reddin's Primetime Profile
Carly is repped by Anna Hird at United Agents and is known for: Hanna, Top Boy, Face Of An Angel and Hello Carter.
Carly Reddin
Production Designer
I believe that things have to change from the top-down, and that an equal number of women and people of colour should be on boards and involved in the decision-making at that level.
WHERE ARE YOU BASED AND HOW DOES THIS PLAY INTO THE WORK THAT YOU DO?
I'm based in London, which means I'm close to a lot of film studios and it's easy enough to pop into town for a meeting. I often travel aboard for work, which is just one of the aspects of my job that I really enjoy.
WHAT INSPIRED YOU TO WORK AS A PRODUCTION DESIGNER?
I remember watching films such as Space Odyssey, Brazil, and Dune when I was at Art College and being excited by the complete worlds that had been created on screen. When I realised that it was possible to do that for a living, I was hooked.
HAS MENTORSHIP PLAYED A ROLE IN YOUR CAREER AND TO WHAT EXTENT?
I've never had a mentor in my field as such, but I am grateful for the snippets of advice that have been shared with me over the years. I've met a lot of producers and directors for portfolio viewings and they have all been very generous with their time and encouragement.
WHAT HAS BEEN THE GREATEST CHALLENGE YOU HAVE HAD TO OVERCOME TO GET TO WHERE YOU ARE NOW?
I think it's been being patient. This industry has a long cycle of developing relationships, projects coming together and having the opportunities you need to build a reputation of being creative, reliable and responsible. It can feel like you're going nowhere for a long time but then suddenly something shifts and you've got a chance to do what you do. I feel like it's getting easier to get jobs as I'm getting older because I have enough work behind me that producers trust me with bigger budgets, big set builds and, of course, delivering the vision despite the unforeseen developments of production. That's why it's good advice not to give up and stick at it. If you keep your head down and make good work, the respect and the kind of jobs you want will follow.
ARE THERE ANY WOMEN WHO YOU PARTICULARLY LOOK UP TO OR WHOSE WORK YOU HAVE BEEN INFLUENCED BY?
The production designers Maria Djurkovic and Kave Quinn have always inspired me with their bold use of colours. I worked with the Production Designer Sarah Greenwood and found her to be a very imaginative designer (her sets for 'Anna Karenina' were breathtaking.) She taught me to be more playful with my designs. I'm also a huge fan of Andrea Arnold and the stunning visual worlds of Lynne Ramsay.
WHAT ADVICE WOULD YOU GIVE TO YOUR YOUNGER SELF WHEN STARTING OUT?
I'd tell myself to have more patience and that life is not a race. I've always been ambitious, which is something I like about myself, but sometimes I've been so consumed with getting to the 'next level' that I may have missed some of the fun along the way. With age, I'm learning to enjoy the view more and to stop every now and again to appreciate what I have.
IS THERE ANYTHING THAT WOULD MAKE YOUR JOB/ GETTING WORK EASIER?
More prep time! It's terrible when you feel you don't have enough time to break down the script or do necessary research before you're needed for location scouts and all the other things involved in running a department. I'm at my best when there is a balance between the different areas of my life, allowing my super dedication to my job and long hours to be refreshed by a healthy dose of sleep, family or recuperation. A few extra days with a clear head up front can go a long way to saving effort and expense later in the project.
THE TIME'S UP MOVEMENT IS NOW IN ITS SECOND YEAR. HAVE YOU NOTICED ANY CHANGES SINCE IT STARTED?
I don't think I have noticed a massive shift in the balances of power yet, but I am hopeful that things are changing slowly. I think people's awareness has changed, and more protections for workers have been introduced which should create safer workplaces – as well as better jobs for women and people of colour. I still think there is a long way to go in terms of equal pay and we need more diversity in not only the casting of a project but also within the crew. I believe that things have to change from the top-down, and that an equal number of women and people of colour should be on boards and involved in the decision-making at that level.
WHAT ARE THE ESSENTIALS THAT YOU TAKE ON SET WITH YOU?
My phone, the call sheet, a notebook, pencil and my iPad (which I keep my scripts on).
WHAT HAS BEEN ONE OF YOUR GREATEST SUCCESSES SO FAR?
I worked on the film version of HANNA years ago as a draughtsperson, and when I was invited to design the TV version for Amazon/ NBCUniversal and Working Title, it was a personal achievement reflecting how far I've travelled along my journey. Designing HANNA was a creative challenge; we had over 200 sets, with a fair number of builds and high-tech elements for the action and many shootouts to take place. We shot in the south of England, London, Paris and Barcelona. We cheated Wales for Romania, London for Paris, and a combination of London and France for Belgium. I had three art teams I had to navigate between simultaneously in London, Paris and Barcelona, and three different directors' visions to look after. It was hectic, but also extremely rewarding, and I'd do it all again in a flash!
COULD YOU TELL US HOW YOU ARE KEEPING BUSY DURING LOCKDOWN - HAVE YOU DISCOVERED SOMETHING NEW THAT IS BRINGING YOU JOY?
Our 2-year-old has been keeping us plenty busy! I've also been discovering music artists such as Angel Olsen, Monarchs and Branko, which has been a lot of fun. Podcasts have been a saviour during this time, and have helped me feel connected during this time of isolation. A daily run has stopped me feeling sluggish and helped me keep a positive mind-set.
WHAT IS YOUR BEHIND THE SCENES PASSION OUTSIDE OF WORK?
I love to read a good fiction book when I can and I enjoy rock climbing.
WHAT IS YOUR FAVOURITE QUOTE OR MANTRA?
I only recently discovered this quote by Abraham Lincoln:
'Things may come to those who wait, but only the things left by those who hustle.' I interpret this to mean that patience can potentially bring great things, but you have to proactively lay the groundwork early on, to be able to seize the opportunities that arise in time. Otherwise you risk being left empty handed.