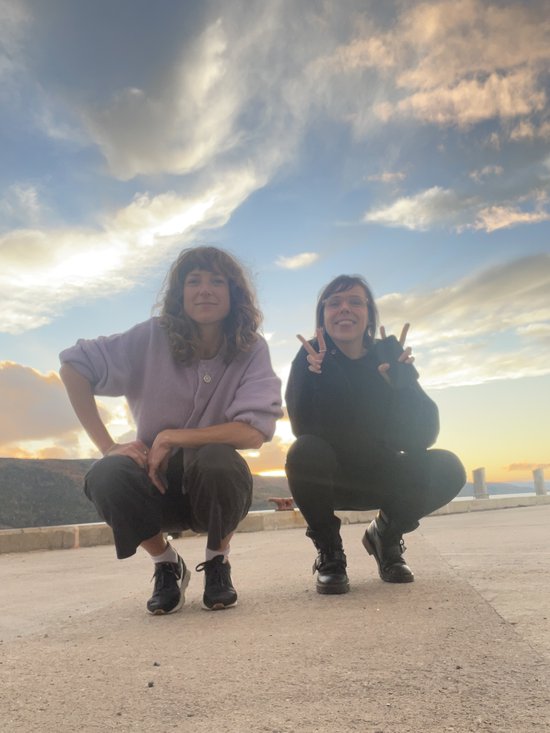 Posy (left) is known for her work on Keyboard Fantasies which is up for a BAFTA for Outstanding Debut by a British Writer, Director, or Producer shared with Liv Procter (right)!
BAFTA Nominee: Posy Dixon
Director
I didn't really know making films could be a job when I was younger. But once I twigged and wedged a foot in the door, I slowly fell in love with the weird alchemy of it all. That moment when everything comes together and emerges as a whole greater than the sum of its parts totally got me.


WHERE ARE YOU BASED AND HOW DOES THIS PLAY INTO THE WORK THAT YOU DO?

I'm half American / half British and come from a family with a bit of a nomadic streak, so I seem to live in a semi-permanent state of flux. That said 'home-home' is London - it's a city with very little band-width for bullshit, and where people let their work do the speaking - two characteristics I value deeply.


WHAT/WHO INSPIRED YOU TO BECOME A DIRECTOR?

I didn't really know making films could be a job when I was younger. But once I twigged and wedged a foot in the door, I slowly fell in love with the weird alchemy of it all. That moment when everything comes together and emerges as a whole greater than the sum of its parts totally got me.


HAS MENTORSHIP PLAYED A ROLE IN YOUR CAREER AND TO WHAT EXTENT?

I had an un-official mentor in a close friend, who I used to make films with - I learnt an inconceivable amount from him just by proxy. As for now, I'm actually on the look out for a new mentor, I'd love to work as a director's assistant on a feature fiction, to experience that deep intensive process. So if anyone's looking, holler. As for the other direction, there are several younger filmmakers I share time with - but it's very much a reciprocal advice situation - I'm a firm believer in the value of intergenerational exchange.


WHAT HAS BEEN THE GREATEST CHALLENGE YOU HAVE HAD TO OVERCOME TO GET TO WHERE YOU ARE NOW?

I used to Story Produce and despite moving over to directing about five years ago, it took a minute for people to take me seriously and stop calling me up asking me to produce for them.


ARE THERE ANY WOMEN WHO YOU PARTICULARLY LOOK UP TO OR WHOSE WORK YOU HAVE BEEN INFLUENCED BY?

I get inspired by fiction makers and those who are pushing what documentary can be. The list is LONG, but a few recents: I loved what Janicza Bravo did with Zola, I'm obsessed by everything Mica Levi attends to, Julia Ducournau's Titane blew my tiny mind, this incredible filmmaker Mariah Garnett is doing amazing stuff mixing performance and documentary (you have to watch her film TROUBLE) and DOP Rina Yang is doing stunning work both in image making and industry-improvements for which I am grateful.


WHAT ADVICE WOULD YOU GIVE TO YOURSELF WHEN STARTING OUT?

A generalisation of course, but I found when I was starting out that often female identified individuals got ushered into production roles. So fight that wave if you feel it sucking you in and it's not truly the direction you want to go in. Advice would just be shoot and edit as much as you can. Hone your skills and the rest will follow.


IS THERE ANYTHING THAT WOULD MAKE YOUR JOB/ GETTING WORK EASIER?

I'd love it if some of these editorial platforms that spend thousands on short form content would do something a little risky and invest in longer-form work. Appreciate that it probably doesn't make financial sense in our weird click economy, but I'd love it if the quantity/quality paradigm was flipped on its head.


THE TIME'S UP MOVEMENT IS NOW IN ITS FIFTH YEAR. HAVE YOU NOTICED ANY CHANGES SINCE IT STARTED?

I think I've been quite lucky in that I feel like I've had a knack for side-stepping abhorrent sex-pests from a young age, and I for sure saw a lot of them prowling in the earlier days of my filmmaking career. Do I think things are changing? Yes for sure. Predatory behaviours which used to be totally acceptable, are now not, so that is progress, but we've a long way to go. Roles on set are still extremely gendered, and I think that any female identifying person who is working to carve out a path in the camera, lighting & grip departments is going to face a whole pile of bullshit along the way.

WHAT ARE THE ESSENTIALS THAT YOU TAKE TO WORK WITH YOU?

A shot list I carry around like a comfort blanket but rarely look at. Baggy clothes I can lounge around in. I also try to wear a watch when I'm filming so I can chuck my phone in the bin and focus on what I'm doing.


WHAT HAS BEEN ONE OF YOUR GREATEST SUCCESSES SO FAR?

Keyboard Fantasies, hands down. I also do this series called Extreme Beauty on Vogue that features incredible artists playing in the realms of transgression, fantasy & fetish. I'm always tickled when I look at their YouTube channel and see the odd latex clad alien creature nestled amongst the super models and A-list actors.


THE LAST COUPLE OF YEARS HAVE CHANGED THE WORLD AND OUR INDUSTRY AS WE KNOW IT - DID YOU DISCOVER SOMETHING ABOUT YOURSELF OR TAKE UP A NEW HOBBY THAT BROUGHT YOU SOME JOY?

I went through a phase of painting butts, as in paintings of butts, not painting on butts, which I'd say was pretty joyful.


WHAT IS YOUR BEHIND THE SCENES PASSION OUTSIDE OF WORK?

I've got an activity problem that translates into lots of riding bikes around the city, going to shows & playing football in the park. Music, books & movement keeps me good.


TELL US SOMETHING ABOUT YOURSELF THAT MANY PEOPLE MAY NOT KNOW.

When I was younger I was a professional snowboarder. Weird eh. Even weirder, I learnt how to snowboard on a man-made plastic hill on the edge of the M25.


WHAT IS YOUR FAVOURITE QUOTE OR MANTRA?

"All that you touch you Change. All that you Change Changes you.
The only lasting truth
is Change. God
Is Change."
From Parable of the Sower by the great Octavia Butler, an incredible book. Terrifyingly prophetic in content & a story way to close to home with no happy endings. However, I find this sentiment comforting; change, the only constant we can rely on.