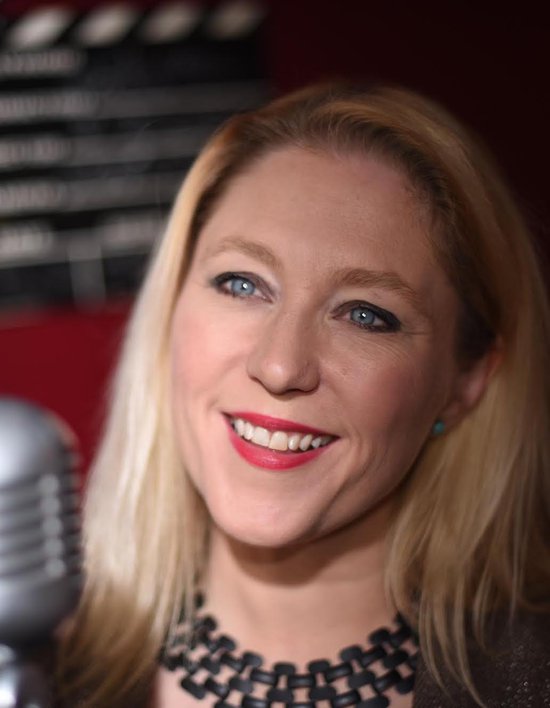 View Anna Smith's Primetime Profile
Chair of the Film Section of the UK Critics' Circle and a regular film critic for BBC News, Sky News, BBC Radio, Time Out, Metro, The Guardian, Sight & Sound, Empire and more. Twitter: @annasmithjourno. Photo credit: Ben Robards
"Listen to advice but trust your instincts. Not everyone is right."
WHERE ARE YOU BASED AND HOW DOES THIS PLAY INTO THE WORK THAT YOU DO?
London. I need to see films well in advance of release to review in print, TV and radio and on my podcast Girls On Film, and the majority of films are screened to press here, so it's crucial to my work. I also live very close to Channel 5 News/ITV News/C4 News HQ, which is very helpful when there's breaking film news - no need for them to send a car! I'm also chair of the UK Critics' Circle Film Section and our meetings and awards are held in London, though we do have members across the UK. 
WHAT INSPIRED YOU TO BECOME A FILM CRITIC?
Not only do I love film, but I always wanted to be a writer or broadcaster. Specialising in film has allowed me to do both. First, I read English at University which honed my analytical skills, then I did a postgraduate in Journalism Studies, before becoming an editor of music magazines and women's magazines. After I filled in for a film reviewer at Minx magazine, I was hooked. I remember taking my friend Rich to a press screening of The Faculty, and thinking, wow, this is the life!
HAS MENTORSHIP PLAYED A ROLE IN YOUR CAREER AND TO WHAT EXTENT?
Not directly, though I've learned from plenty of great journalists along the way, if only by watching and reading them. I'm now getting younger female writers asking me to mentor them, which is lovely.
WHAT HAS BEEN THE GREATEST CHALLENGE YOU HAVE HAD TO OVERCOME TO GET TO WHERE YOU ARE NOW?
Building a reputation as a film critic. It took a few years to make a full timing living from it, and many more to get to my current level. As a freelancer, I had a rule of approaching at least ten editors a day. I also took day shifts in magazine offices on the writing or production side, which helped build contacts. In most cases I ended up writing film reviews for them. After the Time Out Film Editor finally gave me a chance, other doors opened: Sight & Sound came calling, and when you write for the most prestigious academic film magazine, you're in. Another challenge was that until my late 20s, I was often told I looked "too young" to appear on TV. That problem has now been solved!
ARE THERE ANY WOMEN WHO YOU PARTICULARLY LOOK UP TO OR WHOSE WORK YOU HAVE BEEN INFLUENCED BY?
Mariella Frostrup - not only as a writer but I used to watch her on the Little Picture Show. I recently heard she is a fan of mine, which made my day.
WHAT ADVICE WOULD YOU GIVE TO YOUR YOUNGER SELF?
Listen to advice but trust your instincts. Not everyone is right.
IS THERE ANYTHING THAT WOULD MAKE YOUR JOB/ GETTING WORK EASIER?
A personal assistant.
THE TIME'S UP MOVEMENT IS NOW IN ITS SECOND YEAR. HAVE YOU NOTICED ANY CHANGES SINCE IT STARTED?
I do a lot of interviews with Hollywood actresses, and they usually say things have changed in terms of the atmosphere on set. And Time's Up has helped create a climate for me and Hedda Archbold to launch the all-female podcast Girls On Film a year ago. Whenever we do live shows, I have young women thanking me for helping them to feel more included in a man's world.
WHAT ARE THE ESSENTIALS THAT YOU ALWAYS TAKE TO WORK WITH YOU?
I do find it's useful to have lip balm and a snack to hand if I'm going on TV or stage - and a spare dress, just in case of any spillage disasters!
WHAT HAS BEEN ONE OF YOUR GREATEST SUCCESSES SO FAR?
When I was elected Chair of the Critics' Circle Film Section, I was the first woman in nearly 40 years in the role - the first was the legendary critic Dilys Powell. I was later elected President of the entire UK Critics' Circle - and not many women have held that role since the Circle was founded in 1913. One of my duties involved hosting an awards lunch with David Hockney, which was pretty amazing.
COULD YOU TELL US ABOUT YOUR FUTURE PROJECTS?
We are determined to take Girls On Film even bigger and are seeking sponsors/partners, so if anyone reading would like to get in touch about this, please do!
BEHIND THE SCENES PASSION OUTSIDE OF WORK
Handwriting analysis. 
WHAT IS YOUR FAVOURITE QUOTE OR MANTRA?
It's not a quote, but I always remember not to complain about my job. It's an incredible job and I love it. If the worst thing about your job is watching a bad movie that's a winner.