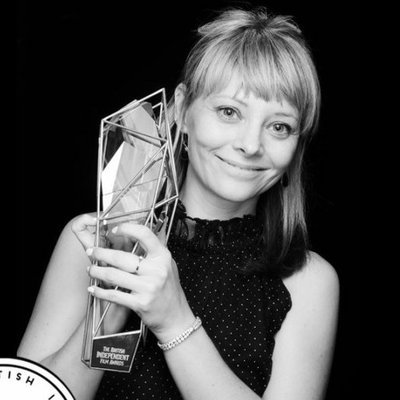 View Anna Bertmark's Primetime Profile
Anna is know for her BIFA nominated work on God's Own Country, Blue Story, Normal People, Chimerica, Gwen, The Goob and much more.
Anna Bertmark
Sound Supervisor
"I wanted to be an astronaut initially, but then when I realised I wasn't good enough at natural sciences, my love for computers and music took over."

WHERE ARE YOU BASED AND HOW DOES THIS PLAY INTO THE WORK THAT YOU DO?

I was born in Sweden, and I've been living in Brighton for 10 years. Everything's walking distance and I need to be near the sea. I moved here after living for a decade in London and it never really felt like home. I do most of my work from my sound editing studio which is a short walk from my flat and feel lucky that the train station is 15 minutes away, which takes me into Soho pretty easily. It works really well for commuting into town for meetings and the weeks when we're mixing. It's a good balance.


WHAT INSPIRED YOU TO WORK IN SOUND?

It took many years for me to discover that sound could be a job. I think almost every "soundie" starts their path in music. I wanted to be an astronaut initially, but then when I realised I wasn't good enough at natural sciences, my love for computers and music took over. I studied Music Technology at University as I wanted to become a music producer and have my own studio. I really didn't know film sound was a thing until I graduated and started looking for jobs online and I was lucky to find my first role in the industry as an assistant to Paul Davies. It really opened my eyes to the world of sound and the power it has. I just fell in love with it and wanted to be really good at it. Fortunately I was surrounded by really inspiring soundies at the time who taught me the ropes. 

HAS MENTORSHIP PLAYED A ROLE IN YOUR CAREER AND TO WHAT EXTENT?

Definitely. I won a mentorship with the great Dawn Airey (NXD at Getty Images and formerly CEO of Channel 5) and although she was from a corporate media background, she was a great reference and challenged me to think outside my previous experience. Her main advice was to really focus on building my network. It's something I tell all my mentees these days, although it's a cliché, as I think it's true no matter what you do - the most 'successful' people are the best connected.
I've also had similar help from a few others, including Paul Davies and my career coach Emily Man. As I started out and built my career without much reference of other women sound supervisors, these people helped guide me to where I am today.


WHAT HAS BEEN THE GREATEST CHALLENGE YOU HAVE HAD TO OVERCOME TO GET TO WHERE YOU ARE NOW?

It's hard to only pick one. I think hacking the freelance lifestyle and keeping afloat has been the biggest challenge. When I started out, freelancing remotely in media wasn't as common as it is now. This was around the time of the recession (great timing!), when technology had just about made it accessible. Self-management is not something we get taught at school and there are many myths around how to do it well. Thankfully these days there are many more support networks and resources to help freelancers out. 


ARE THERE ANY WOMEN WHO YOU PARTICULARLY LOOK UP TO OR WHOSE WORK YOU HAVE BEEN INFLUENCED BY?

I'm constantly influenced and inspired by my colleagues and mentors. Especially those who live their passion and lets it lead them totally and fearlessly. Meeting Catherine Hodgson and hearing her talk about her career and experiences was a very important moment for me. 


WHAT ADVICE WOULD YOU GIVE TO YOURSELF WHEN STARTING OUT?

Just to trust my instincts. Take things a bit slower and less seriously.  


IS THERE ANYTHING THAT WOULD MAKE YOUR JOB/ GETTING WORK EASIER?

Bigger budgets, haha! 
I think having more resources to employ more people and especially assistants. It would be great to be able to give back and train people up, plus I could do with an extra hand now and then! 


THE TIME'S UP MOVEMENT IS NOW IN ITS SECOND YEAR. HAVE YOU NOTICED ANY CHANGES SINCE IT STARTED?

I think it's definitely been the catalyst for conversations about well-being at work, which was almost unheard of a few years back. It's brought greater awareness of how to behave around your colleagues, what the consequences are and why it's important to be excellent to each other. 


WHAT ARE THE ESSENTIALS THAT YOU TAKE TO WORK WITH YOU?

When I leave home for the studio, I always take my mobile and hard-back diary. I need to write plans down using a pen - feels more real for me. 


WHAT HAS BEEN ONE OF YOUR GREATEST SUCCESSES SO FAR?

I think it's important to define what success means for ourselves. For me, there are so many important moments, but winning a BIFA for the work on God's Own Country and then getting signed with Anna Hird at United Agents was a huge milestone. It felt like the culmination after years of hard work.


WHAT IS YOUR BEHIND THE SCENES PASSION OUTSIDE OF WORK?

Eating and drinking with friends. In winter by a fire and in summer in the sun on the pebble beach. I'm also really into sustainability and how we can live and work in more environmentally friendly ways.