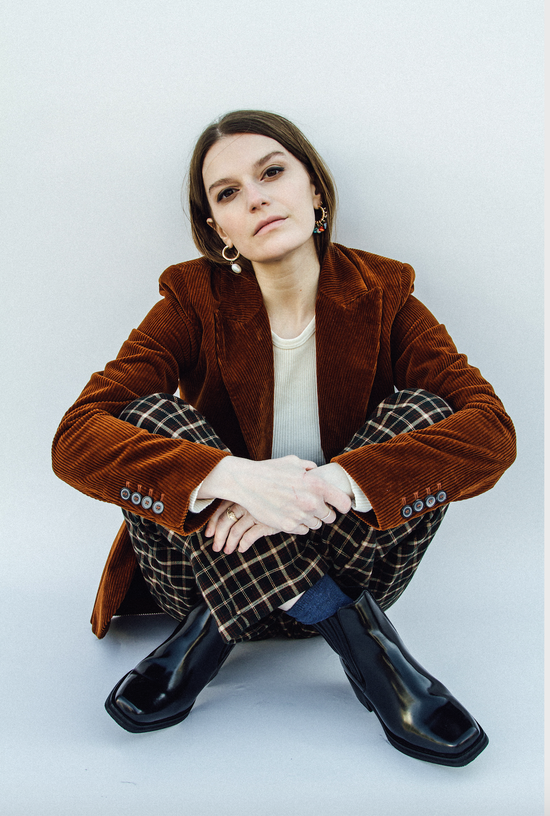 View Ally Pankiw's Primetime Profile
Ally is known for her work on Feel Good, Shrill, Schitt's Creek, Terrific Women and is represented by WME and Partizan.
Ally Pankiw
Writer/ Director
"Just trusting that even though you've heard 1000 'NO's' you will one day hear a 'YES' that will make all of the rejections null and void."

WHERE ARE YOU BASED AND HOW DOES THIS PLAY INTO THE WORK THAT YOU DO?

I'm based in both Toronto and LA. But I work everywhere, and have recently shot a fair amount of work in London.


WHAT INSPIRED YOU TO BECOME A WRITER/ DIRECTOR?

So many things. My childhood as a dancer and choreographer. Watching Christoper Guest movies with my cool older sister as a teen. How it felt the day I started writing my first short film (and used Final Draft for the first time). Loving the painful act of editing my first documentary in university. And the fact that it seemed like a secret message was being sent directly to me when I finally saw a picture of Sofia Coppola on set after I had only ever seen directors that looked like Peter Jackson my whole life.


HAS MENTORSHIP PLAYED A ROLE IN YOUR CAREER AND TO WHAT EXTENT?

It hasn't unfortunately, no! At the time that I was coming up, there were only really highly competitive, more formal mentorship programs in place at studios and networks (usually only available to people who didn't have to work to afford life), and the mentors were mainly older straight, white men (because that's who was allowed to get paid to direct at the time lol). And the idea of learning how to look at the world through that perspective never really appealed to me. 


PRIMETIME ASIDE: Ally is known for creating paid opportunities for underrepresented voices on her own sets and when we last spoke she has just been shooting in London and Writer/Director & Primetime Member, Abena Taylor-Smith, joined her.

""It's pretty rare for directors to get the chance to see how other directors work in person so shadowing Ally was an amazing experience." ~ Abena Taylor-Smith. Abena is repped by Nicola Biltoo at The Agency - check out her award-winning work!


WHAT HAS BEEN THE GREATEST CHALLENGE YOU HAVE HAD TO OVERCOME TO GET TO WHERE YOU ARE NOW?

Just trusting that even though you've heard 1000 'NO's' you will one day hear a 'YES' that will make all of the rejections null and void. 


ARE THERE ANY WOMEN WHO YOU PARTICULARLY LOOK UP TO OR WHOSE WORK YOU HAVE BEEN INFLUENCED BY?

Totally. They include but are not limited to: Lucia Puenzo, Lulu Wang, Nicole Holofcener, Lisa Cholodenko, Chloe Zhao, Amy Heckerling, Nora Ephron and basically any woman who was trying to make anything in a time before 2015.


WHAT ADVICE WOULD YOU GIVE TO YOURSELF WHEN STARTING OUT?

Don't let people say things in front of you or to you that you will be ashamed that you didn't call out. Even though it's scary or even if it will affect a project, people will respect you so much more in the long run if you denounce problematic behaviour in our industry.


IS THERE ANYTHING THAT WOULD MAKE YOUR JOB/ GETTING WORK EASIER?

If men stopped taking directing jobs. 


THE TIME'S UP MOVEMENT IS NOW IN ITS SECOND YEAR. HAVE YOU NOTICED ANY CHANGES SINCE IT STARTED?

I've noticed that there is finally some support for people who are coming forward to denounce problematic behaviour. But it's not like the problematic behaviour has disappeared. I think it's just easier to feel like you won't be fired for pointing it out.


WHAT ARE THE ESSENTIALS THAT YOU TAKE TO WORK WITH YOU?

Scripts and storyboards with my terribly messy handwritten notes ALL over them, a reusable water bottle, and collaborators that I love and trust. 


WHAT HAS BEEN ONE OF YOUR GREATEST SUCCESSES SO FAR?

Directing the first season of Feel Good (a show that is so special to me both personally and professionally as a queer woman) and having it receive a 100% Fresh score on Rotten Tomatoes.


COULD YOU TELL US HOW YOU ARE KEEPING BUSY DURING LOCKDOWN - HAVE YOU DISCOVERED SOMETHING NEW THAT IS BRINGING YOU JOY?

Yes! I'm writing a few projects with my good pal and writing partner, Dan Levy.


WHAT IS YOUR BEHIND THE SCENES PASSION OUTSIDE OF WORK?

Watching good movies and making time with my friends to simply, for lack of a better word, chill. 


TELL US SOMETHING NOT MANY PEOPLE KNOW ABOUT YOU.

I used to want to be a journalist like Hunter S. Thompson, but that's probably because I suffered from major internalized misogyny as a teen.


WHAT IS YOUR FAVOURITE QUOTE OR MANTRA?

If your ten-years-from-now self came back in time and asked you if you were doing everything you possibly could to achieve your dreams today, would you be able to say yes? If the answer is 'no,' then you know what you have to do!